Composer and vocalist Staytus explodes on the scene with her debut LP, Disease Of The Mind. The album promises to make the ground shake, as a "seismic first strike on the goth/industrial scene", with impactful songs sung about heartbreak, despair, resentment, and elusive reality. Built around elaborate synthscapes, with warped guitars and pulsating beats, the industrial soundscape takes you through the shadow work of emotional catharsis.
The album serves as an emotional exorcism for the artist; a primal scream for justice and mercy, then reclaiming your power. "I had to write Disease Of The Mind to cope with my mental health struggles," they say. "I truly felt like a broken, fallen angel when I composed this album. Acknowledging your feelings of hurt, anger, and despair can help you move through them to find hope and relief."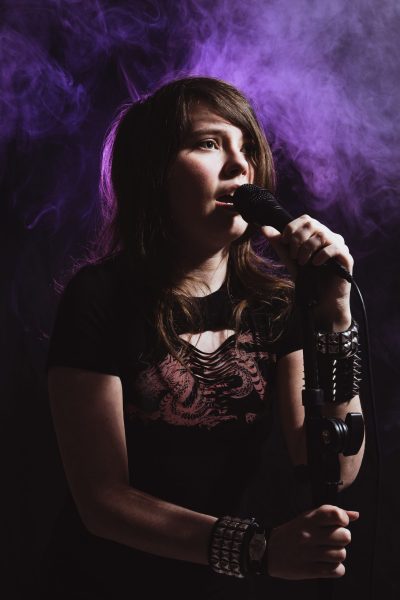 Staytus is not a performer you can simply put on as background music. These songs demand an active audience, healing, and solidarity with others enduring similar heartache. Bringing to mind the powerful messages from Sinéad O'Connor with the caustic, raw delivery of Courtney Love, Staytus demands you feel her anguish and pain.
"Dreams From Hell" describes the pain and anguish of repeated abuse.
It moves toward the pleading "Hourglass", asking for validation and love before 'time runs out.'
Finally, "Part of Me" is a haunting appraisal of unrequited love.
Sam Grundemann, the alter ego of Staytus, is a fiery powerhouse of musical talent. The 25-year-old Scottsdale, AZ, native is a composer, songwriter, musician, vocalist, audio engineer, and producer. Known for creating immersive music and sound design, Staytus produces and writes for a wide variety of genres, including industrial rock/metal, progressive electro/dubstep/EDM, hyper pop, and television/game/film soundtracks.
Staytus wrote, sang, produced, and recorded Disease Of The Mind, as well as played every instrument on the record. Abrasive and aggressive, the production of the album reflects the uncomfortable turmoil of the material – because it, too, comes from within. Adam W. Berg mixed and mastered Disease Of The Mind at Manifest Music in Santa Monica.
Follow Staytus: