Deborah Curtis, the widow to Joy Division's Ian Curtis, has compiled a book of his original handwritten lyrics along with journalist Jon Savage. Deborah spoke to Jenny Stevens of The Guardian regarding the new book, called "So This is Permanence: Joy Division Lyrics and Notebooks
", the title taken from the haunting  Joy Division song "24 Hours"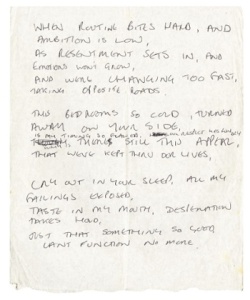 Deborah explains that Ian was more of a 60's style poet more akin to Ballard, and Burroughs than his hero Bowie, and it was the writing that was more important to him than performing:
"We grew up watching pop programmes on television. That was part of the era – the rock-star aspect. At the time, poetry was considered old-fashioned. It seemed like a logical progression to put it to music. I don't think the fame and life on the road suited him very well. I think he would have continued to write even if he didn't want to perform. When he got to 40 or 50, he probably could have written a terrific book."
I think we can all agree that if Ian Curtis had written a novel, it would have most likely been a masterpiece.  However, having his lyrics compiled into a book of poetry is fantastic, Deborah goes on to explain:
"Having the whole thing together as a body of work, the music and now the lyrics, is wonderful," she says. "I wish he was here. He'd be so proud."
Read the entire Interview at The Guardian here
*So This Is Permanence is published on Thursday by Faber.

Order Here