honey, butter
and a swine my child
while mankind all pluck their eyes
my satan will bring you the sight
Steel yourselves as the all-femme Vancouver creatures of the night Momy Fortuna unleash their gorgeous new song Hexennacht.  As we move into the Spring Equinox, the title of this song is fitting. In various European traditions, Hexennacht (also known as St Walpurgis Night) occurs on May Day Eve, where legend tells of witches meeting to hold revelry with the Devil himself. (Fittingly, Anton LaVey also founded The Church of Satan on Hexennacht 1966, acknowledging the Eve of May as "symbolizing the fruition of the spring equinox.")
Momy Fortuna's intense sound is ready to summon forth demons and spirits alike: with their howls of incantation, banshee shrills, electric violin, neoclassical keyboards, dark-wave bass guitar and ominous drum beats, Hexennacht is dynamic, eerie and ethereal as it orchestrates a truly out-of-body, hair-raising experience. This is a cult-wave coven slumber party that you don't want to miss: satiate your curiosity in the occult and throw yourself into the Black Mass of the haunting Momy Fortuna.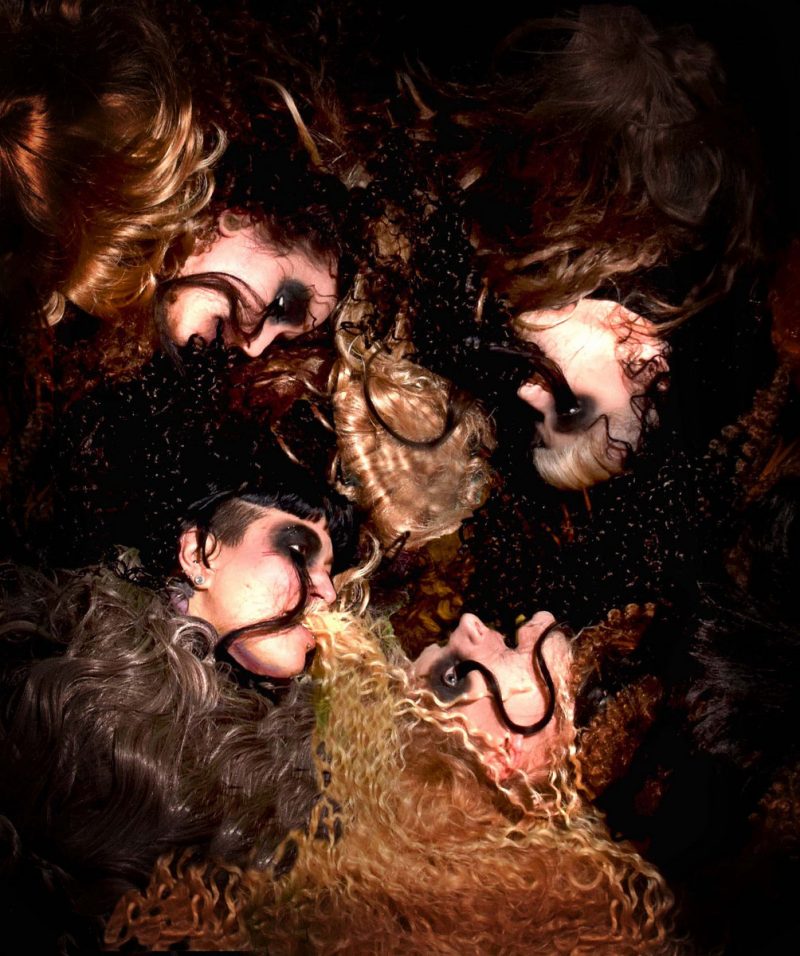 Founder Brandy Bones is best known for being the upright bass player, singer, and co-writer for Vancouver's Big John Bates Noirchestra. Originally from the USA, she moved to Canada to make touring and music her priority. Influenced by Dead Can Dance, Goblin, and composer Carl Orff, Bones started writing different music on various tours with different instruments to write music befitting the horror film atmosphere. The name of the band, Momy Fortuna, was derived from the witch in the book The Last Unicorn.
After releasing a single in 2014 with 3 Inches of Blood's Justin Hagberg, Bones sought out like-minded women in Vancouver's underground music scene to take her dark compositions to the stage. She was joined by electric violinist Emily Bach, keyboardist and vocalist Kat Bastow, and drummer Bina Mendozza. The sinister ensemble of an all-female neoclassical gothic act (with a tinge of black metal and 70's occultism) had formed.
Wander, if you dare, to the wilds of Hexennacht, for your Rites of Spring festivities. Happy Equinox!
Follow Momy Fortuna: