Pink Turns Blue are about to hit the road next month: the celebrated German darkwave legends have announced their 2022 TAINTED tour.
The international trek kicks off on the 2nd of September in Seattle, Washington, supporting last year's critically acclaimed Tainted LP. They'll make stops all over North America, including Vancouver, Portland, LA, San Diego, Austin, Miami, Brooklyn, and Philadelphia. From there, they hop back across the pond, performing in Spain, Germany, and England.
Upon the tour's launch, they will also release a Tainted Tour 2022 EP of four songs, reflecting the emotional state of today's world, its current disarray, and the seemingly powerlessness of today's youth.
"This album is also a call to never give up, to never lose faith or the understanding that making this world just a bit better every day is what makes our lives worth living," insists frontman Mic Jogwer. "Since Covid, playing live has been either impossible or very difficult. Until lately, German musicians were not allowed to travel to the USA and Canada at all, and many shows were either postponed indefinitely or cancelled due to legal or travel restrictions or bankruptcy for promoters. Other shows, including festivals, happened under very limited or difficult circumstances. Often, people bought tickets but didn't dare show up because they feared for their health. 

The Russian invasion of Ukraine complicated matters for the band's touring plans. "Instead of slowly getting back to "normal" and trying to get our humanity's shit together and to alleviate climate change and the consequential effects, now we have to cope with war and an energy, food, and financial crisis (again) with the risk of losing the battle for equality, climate change, peace… you name it."
Tickets for the tour can be pre-ordered here. See the complete list of cities on the itinerary below: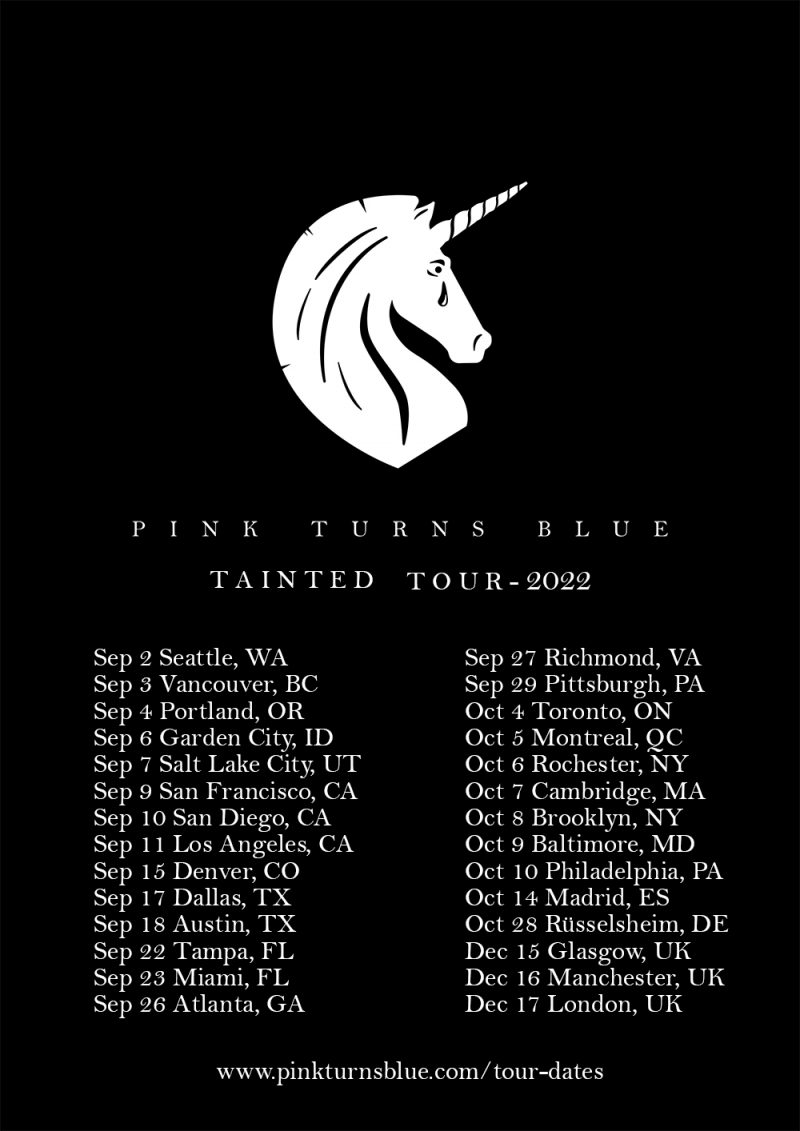 Pink Turns Blue formed in 1985, naming themselves after a Hüsker Dü song and becoming part of the first generation of gothic rock in Germany. Originally a duo consisting of Thomas Elbern (vox, guitars), Mic Jogwer (vox, bass, and keyboards). and a drum machine, the band initially oriented themselves after The Chameleons, Clan of Xymox, and The Cure, taking the sound into a new direction entirely. Their first LP, If Two Worlds Kiss, gave the new wave sound dark undertones, developing the sub-genre of darkwave, becoming a seminal album in the post-punk genre. Contemplating the fear and uncertainty during the Cold War under a divided Germany, the band longed for a more romantic side. The band went on to produce eleven full-length releases in total, most recently with 2016's The AERDT – Untold Stories (Orden Records).
Follow Pink Turns Blue: