Hamburg Germany's post-punk newcomers GRUNDEIS make a fantastic debut with the video for their first single "Bleach", a propulsive track imbued with a whirl of multilayered guitars that drive forward an intensely melodic hook overlaid with tenebrous vocals.
Splicing together the sensibilities of several genres, such as garage noise, positive-punk, and gothic rock, the song cuts to the quick, existing as both a fulminant burst and melancholic catharsis, as vocalist/guitarist Laura Mueller explains:
"BLEACH is about overcoming despair by seeking energy in it. The protagonist is torn between accepting his/her anxiety to find renewal and being overwhelmed by it, unable to change. The song is inspired by the struggle with loneliness, social anxiety, and finding a place in life."
On creating the shadowy video for "Bleach", Laura continues:
Video Info: "Nils and I had access to an old farmhouse near Hamburg in summer this year and we felt instantly inspired by the dilapidated surroundings. The decay got to us. Since the first thing that goes through my body when I hear "Bleach" is an impulse to move in some way or the other that's actually what I did while Nils was filming. Dancing has always been an important way for me to release my emotions. We made a couple of more shots with Nils' 90s VHS cam and I combined it all in the post-production with video footage I had already shot sometime before." –
Watch the video for "Bleach" below:
Formed in 2018, Grundeis has cut their teeth live opening shows for Bleib Modern, Isolated Youth, Suir, Jaguwar, and Ezra Furman (among others). In 2020 they finished recording their first set of songs.  The band is comprised of  Laura (vocals, guitar), Nils (guitar), René (bass), and Tomas (drums, synths).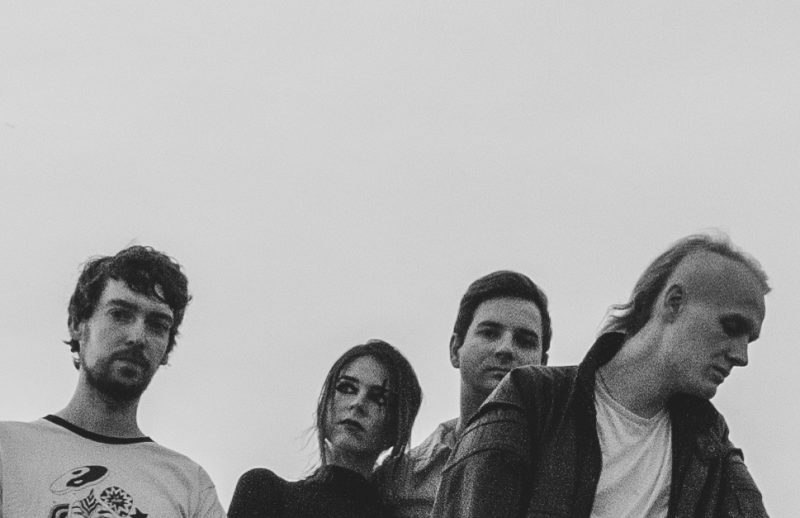 Find Grundeis' single "Bleach" on your favorite streaming service here, and follow the band on social media here.