Gang of Four inspired countless artists over their four-decade career, from guitar playing styles to their fiery political lyrics.  Guitarist, composer, and producer Andy Gill was the only remaining original member until his untimely death in February 2020.
This May sees the release of The Problem of Leisure: A Celebration of Andy Gill and Gang of Four, a double album of tracks written by Andy Gill/Gang of Four, all newly reinterpreted and recorded by artists from around the world. The album features songs individually chosen by the artists who covered them. The list is formidable indeed: Gary Numan covers Love Like Anthrax. La Roux covers Damaged Goods. Killing Joke/Gang of Four on Forever Starts Now.
Every musician who committed to the project was given the freedom to create new versions of Gang of Four songs. Andy oversaw some of the earlier productions, but largely left the artists to their own interpretations. The album will be released on the Gill Music label, and distributed by Ingrooves.
The first single, Natural's Not in It by Tom Morello (Rage Against the Machine) and Serj Tankian (System Of A Down) was released on 8 January.
"Gang of Four were just incendiary and completely groundbreaking with Andy's confrontational, unnerving and sublime playing at the forefront," says Morello. "His jagged plague-disco raptor-attack industrial-funk deconstructed guitar anti-hero sonics and fierce poetic radical intellect were hugely influential to me."
"It was a real pleasure to work on this track with Tom and honor the legacy of Andy and Gang of Four at the same time," adds Tankian.
This album was not originally intended as a postmortem tribute: Andy Gill thought of the album's concept himself in 2019 to mark the 40th anniversary of Gang of Four's debut LP Entertainment!. Gill had already revised his vision in the months before his death. He was passionate about the project and continued to work on it, even after being hospitalised in January 2020. His widow Catherine Mayer assembled a small team to expand and complete the album.
"There was never any doubt in my mind that I should finish what Andy had started," Mayer says. "He took so much pleasure from hearing from artists which track they had chosen and why. He was delighted by the tracks he lived long enough to hear. Even in what turned out to be his final days of life, he listened to mixes on a laptop in his hospital bed and asked me to send notes and responses to the contributors on his behalf. He also talked to me about further musicians he hoped to coax to come on board. After he died, I made contact with several of these. All said yes."
The album is available to pre-order now in a variety of double vinyl and two CD formats, with the most deluxe vinyl format, Dogluxe, only available from the Gang of Four website.
The album's artwork, Dog With Bone (2017) was created by Damien Hirst, a long-term Gang of Four aficionado. Andy chose the cover art from a selection of options provided by the artist. All physical formats feature different versions of the artwork from Hirst.
A beautiful tribute to one of the most influential groups of the post-punk era.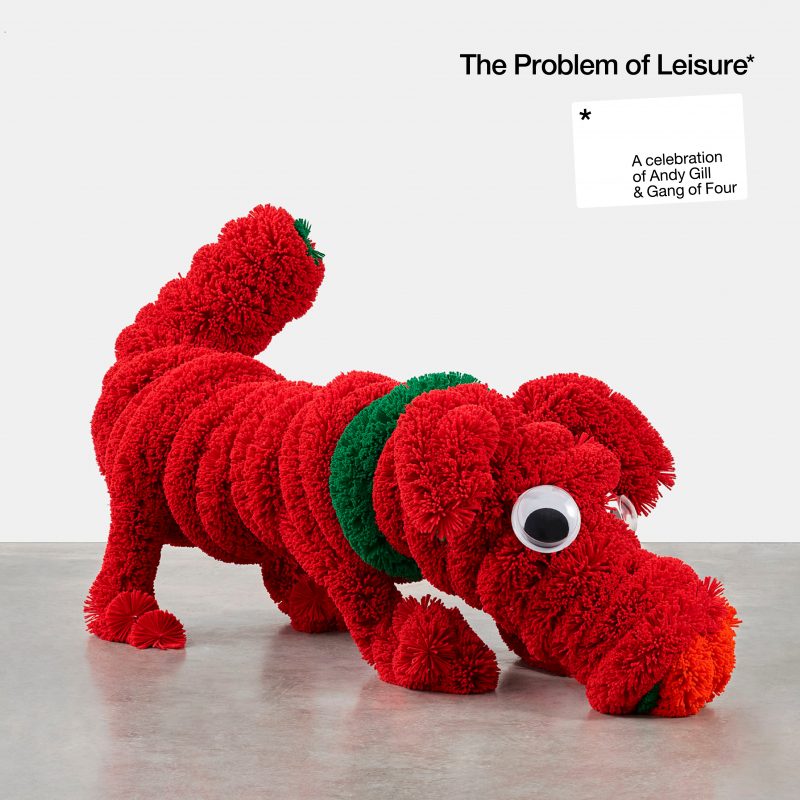 Complete track listing:
IDLES – Damaged Goods (UK)
Tom Morello & Serj Tankian – Natural's Not in It  (USA)
Helmet – In the Ditch (USA)
3D* x Gang of Four feat. Nova Twins – Where the Nightingale Sings (UK)
Hotei – To Hell With Poverty (Japan)
Gary Numan – Love Like Anthrax (UK)
Gail Ann Dorsey – We Live as We Dream, Alone (USA)
Herbert Grönemeyer feat. Alex Silva – I Love a Man in a Uniform (Germany)
LoneLady – Not Great Men (UK)
JJ Sterry – 5.45 (UK)
La Roux – Damaged Goods (UK)
Everything Everything – Natural's Not in It (UK)
Dado Villa-Lobos – Return the Gift (Brazil)
The Dandy Warhols – What We All Want (USA)
Warpaint – Paralysed (USA)
Flea & John Frusciante – Not Great Men (USA)
The Sounds – I Love a Man in a Uniform (Sweden)
Hardcore Raver in Tears – Last Mile** (China)
Killing Joke x Gang of Four – Forever Starts Now (Killing Joke Dub) (UK)
Sekar Melati – Not Great Men (live version) (Japan)