Peter Murphy is one of the last "rock star messiahs". More Ziggy than Bowie and perhaps more alien as well. The Gothic irony of Bauhaus is perhaps as misunderstood as Mr. Murphy is himself. Two recent situations illustrating this come to mind. The first being that last year's motor vehicle episode resulting in Peter's arrest which sources have conveyed as being an expression of severe grief from the passing of a loved one. The other misconception is that Peter is having a feud with Daniel Ash, which isn't in fact true; the Godfather of Goth actually desired to have the Bubbleman be his Mick Ronson one more time for the 35 Years of Bauhaus tour. Sadly, this was not to be.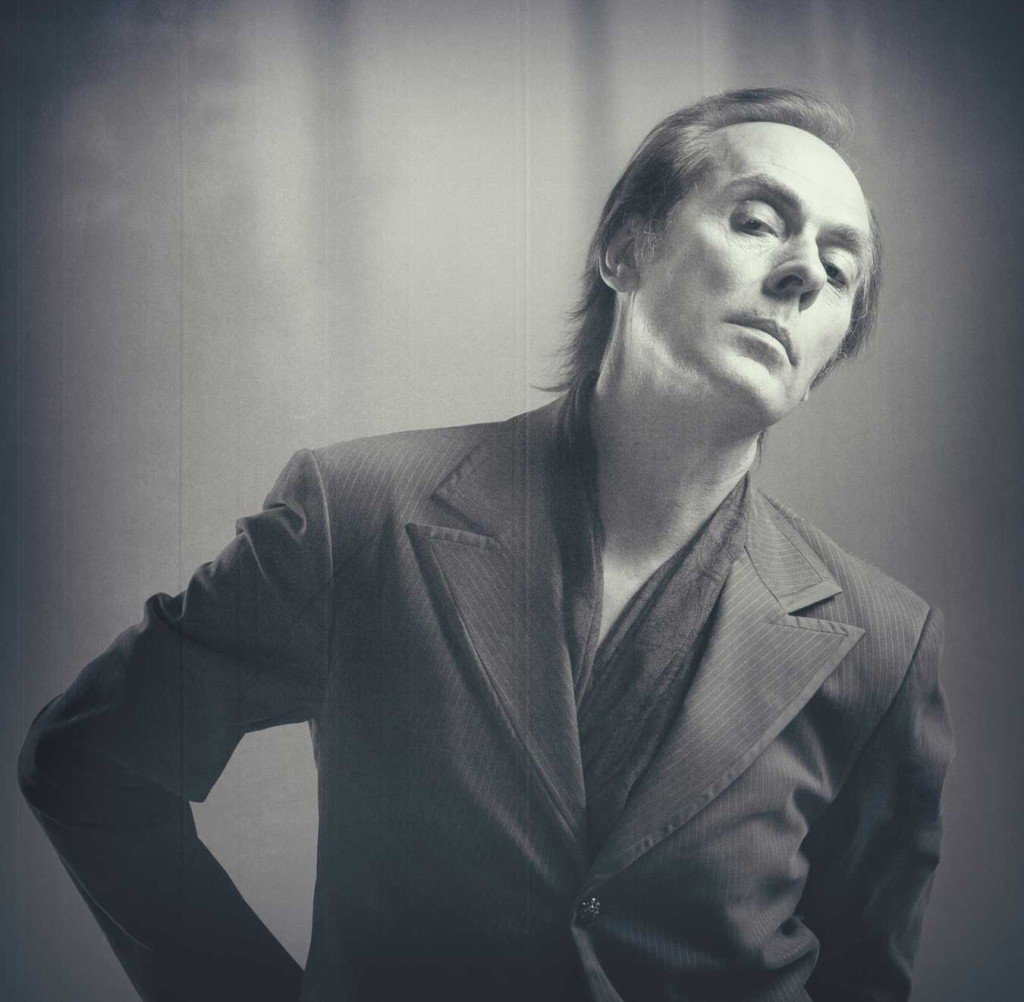 Ahead of the upcoming release of Peter Murphy's 10th Album "Lion," I interviewed him to learn of his origins, and finally get the eulogium for the fall of the Haus of Bau:
"Growing up, no doubt there was music that influenced you and artists you admired. What really shaped your style?"
Peter Murphy: I was the youngest in the family, and we ran the gamut from Doris Day to Second World War songs, through to Irish folk songs, and then from rockabilly to the Rolling Stones. The Beatles exploded when I was six or something, and that made England very happy. There was a resonance about them that had some joy in it, and we needed that. But I was only six. Then my brother, who was 18 months older, was into northern soul and reggae and stuff. The first 7″ vinyl I bought when I was seven was "A Hard Day's Night."
Later, while I was rifling through my brother's records – he's like my twin but is a bit older than me – I was like, "Who are they? Look at them." And it was Marc Bolan and Mickey Finn – and a Fly album. It was like that kind of folk but it had this wistful, mythical edge to it, and I thought it was nice.
"Do you think your music is reflective of Marc Bolan's spirit ala Cosmic Dancer?"
Peter Murphy: Right, yes, it is. "Hollow Hills" and all of that sort of stuff. And "Indigo Eyes" too…But yes, then I was at school and met Danny and Joseph and they were artists and I was arty too – I could draw well and stuff. Danny Ash and Joseph and I had a commonality.
I remember I saw "Starman" on Top of the Pops and was like, "What is that?" Not "Who." It was this asexuality that was of pure decadence. That's how I took it. It wasn't homosexual or heterosexual; it was just beauty. And a male beauty. Almost better looking than any woman I had ever seen with red hair and a beautiful voice. Then I saw a black and white photo of him doing a show at the Rainbow with Lindsey Camp and there it was. There was a bit of a testicle showing through his mime outfit and I went, "Woah!" – there was this big pungent sexuality along with it. Theatre, you know?
So I bought Ziggy Stardust…but I was listening to Marc Bolan much more before that, and he was beauty and light, vanity and innocence really. But then I got this other thing from Bowie. I got The Man Who Sold the World and Ziggy Stardust, and that was our staple diet. Then Danny showed me Roxy Music's first album, especially the photographs. Danny was brave enough and had the money to go see Roxy and Bowie but I wasn't, I was just in my hometown living off my imagination and photographs. Nothing else.
Quite the flâneur, with every exclamation and point Peter makes, the tip of his umbrella rattles the toe of my shoe.
There was no MTV at that point. So, I created this world in my head, I projected what I thought was happening from the evidence of the photographs. That, I think, informed what I do. It was kind of my own thing really. So when I met Bowie later I thought I've now got to understand the relationship between the artist and audience. It was my creation. A fan creates his own world out of music and that is the power of music and that is power for yourself. They are right, too. Artists are what you think they are because they are characters.
Again, my foot takes abuse from Peter's umbrella.
So that was what happened to me. I had never been in a band, I had never sung, and Danny called me later on when I was 19 or 20 and asked if I could sing. He said, "I have to start a new project, can you sing? You look great." And I said, "Yes, of course." We wrote half the first album in the first weekend. I'd never sung or written a lyric before in my life and I had to write the thing. Danny was inspiring, so there was this immediate common ground, unspoken and all. We were the heart of the band's image. David and Kevin came along and intellectually joined the aesthetic. They would make comments on it lyrically and Danny would interpret it at times ironically, at times seriously. But Danny and I were it. Whatever that is. Problematic…as well as marvelous.
The first ever song I sang in the studio on a microphone, the first-ever one-take was "Bela Lugosi's Dead." One take, live. And I heard myself back and said, "Yeah, I know." I'm not being arrogant. So for me, I was very famous immediately. That's it, so what now?
Danny took us down to London and we got a record deal and I said, "Well it's just a matter of time." He was like, "No no, we have to do this and this…" And I said, "…just get this on a stage and I'll do the rest." It was like that – sort of arrogant really, but I was certain. And Bauhaus came and was what it was. Bauhaus got together again, as you know, in 1998. But at the end of the first Bauhaus thing, I thought Well what am I then, without a band?
At this point my foot is quite sore from Peter's umbrella. However, he has switched to poking me in the knee with his index finger from here on out.
So I had to learn how to make music and give myself the backdrop against which to sing. I wrote the first album and that was great. It had loads of musicians on it; it was my first experience of doing something like that ever. That was prototypical. Then I made some great records. I didn't realize I had really, I was just making songs. Of course, Peter Murphy's name grew with the Bauhaus legend, and I was paralleling that with my own thing and people saw the two as blurred. "This is fantastic!" they said, "Just as amazing as Bauhaus but not Bauhaus." I wondered why they were talking about Bauhaus… "Forget it. Not really…but yes, it's great." I wouldn't play a Bauhaus song live, as I was keeping it in its own special place. I'm not capitalizing on it. If I was going to be successful it had to be with my own work.
That went on for ten years, and then the band got back together and it was brilliant, as I knew it would be. Then: "No, we can't carry on; we've got Love and Rockets." And I said, "Ok then, bye bye." I thought it was a terrible tragedy. I thought Again? This story again? The others don't get it somehow. I don't know. So we split. They did their last tour. I told them it would be their last ever tour, that they can't ever do Love and Rockets again after this. It was really just passionate objectivity. They said, "Fuck you, you bastard," and I said, "No, I'm sorry, I didn't mean to…" But they did it, and it was their last tour. But they're good, and they wrote some very great stuff.
I thought in 2005 that I should approach them with a hard business plan. To say, "Look, this is where we were out there, as a band," but they didn't want to do it again. Then Kevin gets an offer from the Coachella Festival and he calls me begging me to do it. And I said, "Of course Kevin," you know what I mean? So I put my world tour on hold and did Coachella and said, "OK, we're gonna come on with Bela, I'm going to do it upside down, it's going to be complete irony, tongue in cheek, but completely serious as well." A lot of people don't get that ironic aspect of the humor. It's satire, comedy. Serious comedy. And with one gig out of nowhere, we headlined the thing and we blew the audience away. "This is it, see you then, bye." Eventually, I was able to persuade the others to do a world tour and we did two years of touring.
We're like brothers, fucking family, we just get uptight and neurotic and like too many cooks in the kitchen, really. We're all good cooks, but it's still too many. Then I get hurt and they get hurt, and they default to three and "him" and it's too painful. But not really. I was very happy, all of us were happy. That's reflected in the recording of our final album. We said, "We don't have to write anything, we just have to play together." No talking, just playing. That's what the album is. It's a series of jams. We write as we jam, and we captured that on Go Away White, but it fell apart on the road.
There are always incidents, so I thought, "After all that, what am I gonna do now?" I mean, I'm a solo artist, I'm great and all that stuff, but that was exhausting! Then I went out and did a tour to revisit Bauhaus and say look, this is cool, and that's it. I think that's all you need.
What do you think of  Joy Division because there is that obvious ongoing comparison between two of the first "Gothic" bands.
I never really knew Ian, but I am friends with Peter Hook. You know, I was going to sing for a Joy Division tour, I am the only one who could do it…but Peter Hook told me that I could not…wear any eyeliner…Ha, I said that maybe I would then, I just might!
I couldn't help but think Mr. Murphy was pulling my leg with this one. Fronting Joy Division? Come on! Though, he has been regularly covering "Transmission" while touring with Bauhaus and solo…Perhaps before Peter Hook started with his band The Light, he was considering having guest singers do the vocals for the Joy Division classics.
---
Lion is out now, and Peter Murphy is currently Touring in Support.  Check out the dates below