Over the course of 40 years, England's And Also the Trees have stunned audiences with their powerful, pastoral sound. For the uninitiated, the band's rich discography yields many aural pleasures, combining post-punk's heady atmosphere and fury with delicate acoustic passages, frenzied, yet emotive lyrics, and poetic beauty. Their latest album, 2016's Born Into the Waves is as strong as anything in their catalog, a latter-day classic that finds the band at the peak of their powers. Meanwhile, a much-deserved reissue of the band's first self-titled record, complete with a bonus LP featuring early singles, b-sides, and their first demo recording, was issued for this year's Record Store Day.
Of course, we'd be remiss not to mention that And Also the Trees are a forever favorite of The Cure, with both Robert Smith and Lol Tolhurst offering production, remix, and live support to the band at various points throughout their storied career. After such a long, fruitful history, the band has also been sharing tales from over the years on their Facebook page, capturing a series of early memories and moving highlights that are well worth reading while poring through their discography. You can also spot photos of the band in their earliest moments and catch up with a series of live performance videos from across the spectrum. Normally, nostalgia can have a poisonous effect on us all, but in a year filled with so much distress, there's certainly value in revisiting these memories with fond recollection, both to soothe the mind and reconnect to something more tangible.
With all of that in mind, we had the pleasure of catching up with vocalist Simon Huw Jones about the band's early days, including the formation of the band and early collaborations with The Cure, as well as some future plans and aspirations.
I'd love to ask about the band's early early moments. How did you all come together? Was there an evolution of sound at first, or did the band's style click immediately?
As you might know, Justin and I are brothers and we started the band with our best friends Nick and Graham Havas who lived in the village up the road. None of us had any musical background or knowledge but we were music lovers and the coming of punk rock planted the idea in the heads of kids like us that musical ability wasn't essential—it was more about passion, attitude and energy… which we had plenty of. So Justin had bought an acoustic guitar and a Bert Weedon Play in a Day book and learned to play a few chords and a couple of tunes on one string… ("ESP" by the Buzzcocks and "Interstellar Overdrive" by The Pink Floyd if I remember well), which gave us the thought that we could form a band.
I was the vocalist because at 19 I was the oldest…although I'm not sure what kind of sense that makes. Nick and Justin were still just 14. Anyway, we learned as we played—it was all based on instinct, we never played a cover version, we just tried things out and if they sounded good we tried to remember how to play them and took it from there. At first it was a kind of bad, aggressive punk, but as the punk scene lost its direction and started to evolve with bands like PIL, The Banshees, The Cure, Joy Division, and The Bunnymen, we took a step back and realised that the slate was pretty clean for bands at that moment. So, we slowed down and things started to develop and form as we learned to play our instruments. I stopped shouting and began to talk or sing.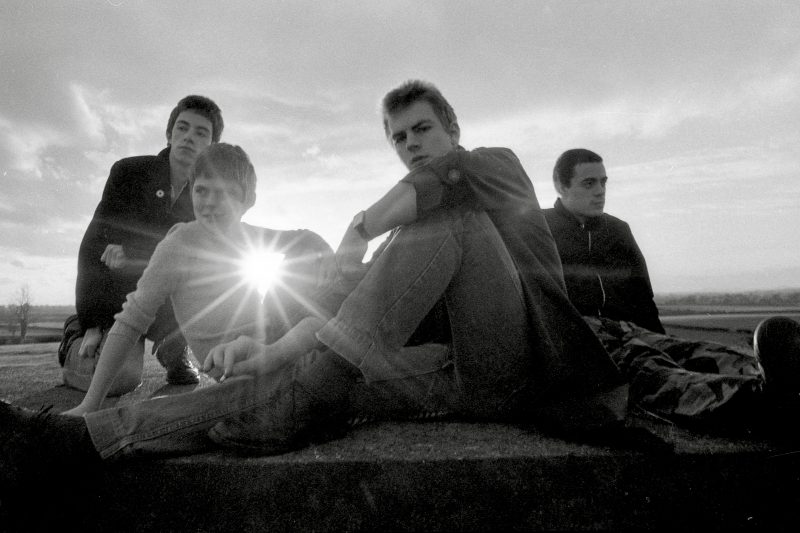 And Also the Trees in 1980
I love that shift in atmosphere that happened right at the turn of the decade; it was such a rich time for experimentation. Punk can only take you so far, in my experience.  Otherwise, I've always known And Also the Trees to pull inspiration from things outside of the musical sphere, including art and literature. What were some of your non-musical influences at the time?
Well… a big turning point for me was picking up a novel by Aldous Huxley in a desperate attempt to have some words to sing. It was a complete chance moment as the book could have been anything. I hadn't actually read any book outside of enforced school books so I was very ignorant in this respect and field, but I found some fascinating words and afterwards felt obliged to read the book—which turned out to be the doorway to literature—which has been a huge influence for me ever since.
Then after our first album we started to take influence from our direct surroundings and its history. We lived in a hamlet with a population of less than 20, surrounded by fields and woods and the farmyard. It was very different from where other bands were coming from but it was what we knew and it made sense to take influence from this.
Most of my favorite bands have that literary influence, and it's always been important to me too when I write my own lyrics. What literature has had the biggest impact on your lyrics?
The three H's were my first love—Huxley, Hardy, and Hemingway. But then Virginia Woolf, Camus, D. H. Lawrence, Dylan Thomas… too many to mention of course. Discovering books was a huge and exciting moment for me and changed me a lot. I was a bit of an out-of-control adolescent up to that point. 
Did you play live often during the band's early days? What were the early live shows like?
It took us a year or so to have the courage to play live. It was very odd because our fourth live show was supporting The Cure… after supporting a local punk band at a charity event and a riotous occasion at a 'Young farmers pig roast and disco.'
Was securing that spot really as simple as sending in a demo tape? How did the crowds react to the band?
 It was that simple, yes—they asked for bands to send tapes, we sent ours, they liked it and chose us for a show at Loughborough Uni. After that, because they were really into what we were doing, they asked us on a tour of eight dates in the UK. The first gig was amazing because the crowd loved us, then we had to go on very early on the tour so it was a more…polite reaction.
What a fortuitous event—I know there's a lot of history there over the years. I'd love to hear about both the demo and the first album (both, of course, being packaged together for the recent RSD reissue). What was the recording process like?
The From Under the Hill recordings were a bit daunting for us—we didn't know how to behave, so we stood behind the sound engineer at Playground Studios in London nodding sagely at everything they did and pretending we could hear the difference in one bass drum beat to the next. Then Robert (Smith), who had organised the session for us (he'd just recorded "Charlotte Sometimes" there, I think), was able to make the following sessions with Mike Hedges at the desk, so things became more relaxed. 
Siouxsie turned up one afternoon with Severin—she was a bit like a goddess to us at the time as we'd followed her progress from the punk days before she was signed. We were totally overwhelmed and didn't say a word. Robert was cool, and very funny. And of course helpful and full of encouragement.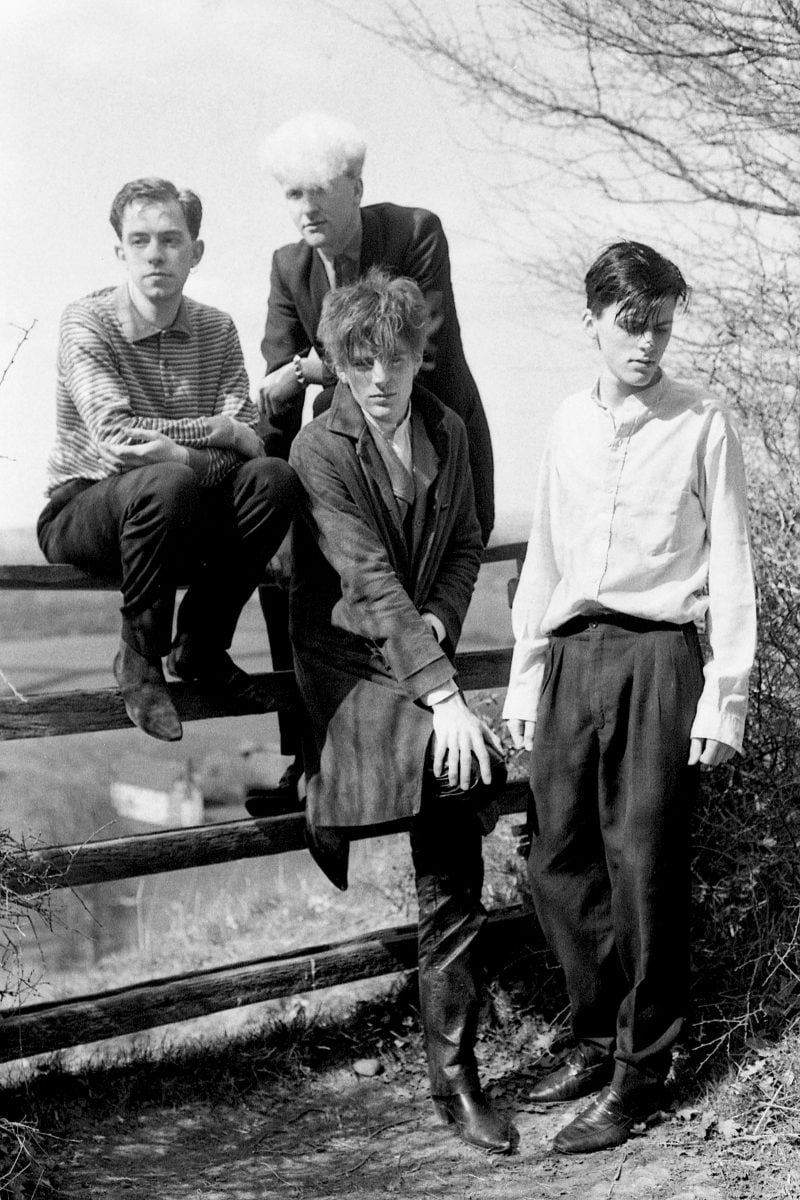 And Also the Trees in 1984
Was Robert more of a hands-on producer, offering creative changes, or did he just bring out the best overall sound from the band? How about Lol Tolhurst, who was tapped to produce the first record? 
Robert was the latter.
Lol (Tolhurst) was very good for us, he did the job you'd want a producer to do—he directed each one of us through our performances until he had the one we both wanted and he made suggestions of additional keyboard parts and sounds and added them. He was very professional. Of course we had a good laugh too. I think this is pretty essential when you're making music of this kind that goes pretty deep and we all took very seriously… you need a release and a good sense of humour is important.
 What are you reading and listening to at the moment?
At the moment I'm reading a novel called The Overstory by Richard Powers which roughly speaking is about trees, and people, and the relationship between the two. Before that I read Soldiers' Pay by William Faulkner which blew my mind at times. His writing is astonishing. Before that it was Margaret Atwood's latest, The Testaments. 
I listen to instrumental music mainly, as I prefer to not have other people's words distracting me from any thoughts the music might encourage. Having said that, I bought Angel Olsen's album All Mirrors yesterday, as although when I heard it at Justin's house a few months ago I wasn't particularly taken by it, but he insisted it is a very good record and gets better with familiarity. I am also quite stuck on Anna Von Hausswolff who I think is brilliant. I listen to Brel frequently, and Bowie… and I played The American Prayer by Jim Morrison for the first time in years last week and liked hearing it again.
Has the band been able to get together during the pandemic at all? Any current writing/recording at the moment?
No, I saw Justin back in March and the band last November. I like all the members of the band and miss seeing them. We are nearing a point where we will start recording the new album—it's mostly written now. The problem is there is a quarantine required for visitors to the UK from Switzerland so I don't know when I'll be able to get there… it was supposed to be mid-October.
Other than that I met up with Bernard Trontin of The Young Gods, as we have a project called November, and we are working on live arrangements of songs from our 2 albums with a musician here in Geneva—it's hard to know what the future holds for live performances but still we have to stay positive and work towards playing live. 
Once live shows resume, do you have any plans to tour? Any chance you'd make it to the States?
Yes, we have re-arranged shows to play and we'd like to add to them. As this year was our 40th, we'd planned a special retrospective set to take on the road so if things turn out well we could celebrate our anniversary a year late… or just forget about it and play the new album. Or both. There is often talk of playing in the US and plans to play this autumn in a few cities had gone quite far before Covid arrived. 
Wow, Simon—40 years indeed. That's quite a run. With that in mind, are there any other memories or highlights you'd like to share from over the years? Is there one record from the catalog that you feel is especially underrated?
It's hard to pick out highlights from such a long period of time—there have been many, many highs and of course some lows. I remember one random low being after the release of Angelfish in 1996.  We'd hired someone to get some press and reviews for us in the British press and they consequently mailed out about 20 copies of the album to journalists. The result of this was that we got no reviews; not one person wanted to review the album. It wasn't necessarily because they didn't like it—it was because they reckoned that no one was interested in reading about an And Also the Trees record. "It wasn't newsworthy" is what we were told. This was demoralizing because it had nothing to do with the music we'd made. It was a very tough time for bands that had come out of the post-punk period. Promoters were just interested in britpop or DJs. But we survived, and in my opinion and that of others, we came back stronger in the new century.
If I were to spontaneously pick out two 'highs' I'd say… our 2010 acoustic show in the Temporäre Kunsthalle in Berlin when we performed in front of the chosen curating artist John Bock's huge surrealist house, which he'd filled with the work of some extraordinary contemporary artists. We played very well to a large, attentive audience and it felt like a very special moment where we were moving in a new and progressive direction. The other would be our 2016 show at Le Cafe de la Danse  in Paris where we started with a Brothers of the Trees performance quickly followed by a full band set featuring our last album Born into the Waves. It was perhaps my favourite ever 'Trees' gig.
For the under-rated album… maybe Further from the Truth which was released at a time when we had no promotion and very low expectations as we thought we might have lost our audience. It was released in 2003 before social media had provided a platform for underground bands so its release felt a bit like a firework that shot up into the night sky and didn't explode…
Much love to Simon and the band in the years to come. Be sure to visit And Also the Trees' Facebook and Instagram pages for more stories and photos, and check below for reissue details of the band's first LP.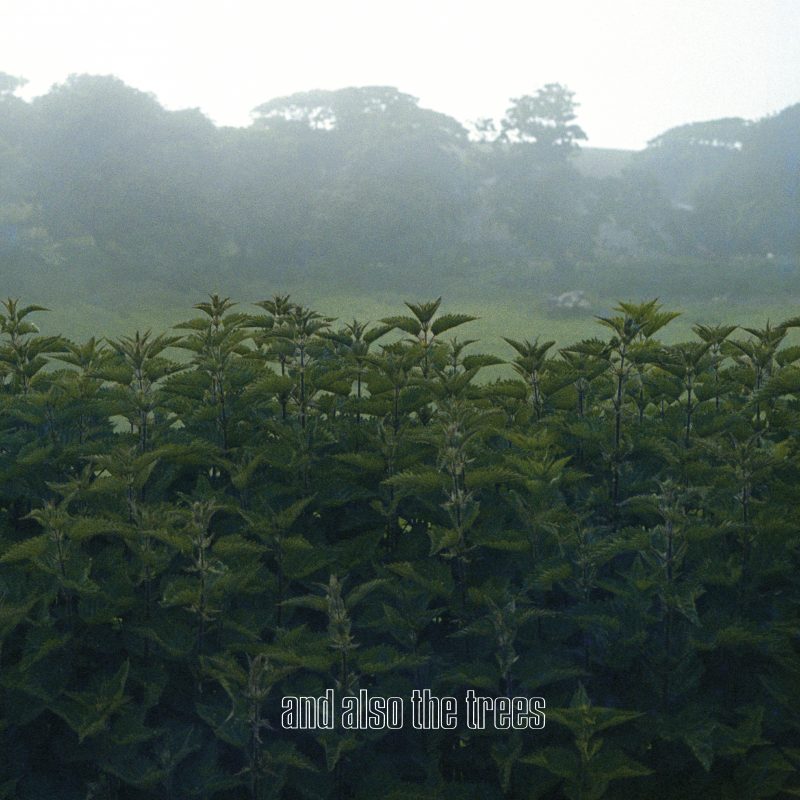 And Also the Trees- And Also the Trees (2020 reissue)
1. So This Is Silence
2. Talk Without Words
3. Midnight Garden
4. The Tease The Tear
5.  Impulse Of Man
6. Shrine
7. Twilights Pool
8. Out Of The Moving Life Of Circles
9. Shantell
10. Wallpaper Dying
11. The Secret Sea
12. There Were No Bounds
13. So This Is Silence
14. Tease The Tear
15. Out Of The Moving Life Of Circles
16. Impulse Of Man
17. Midnight Garden
18. Talk Without Words
Tracks 1-8 from And Also the Trees LP (1984)
Tracks 9-10 from the Shantell 7" (1983)
Track 11 from The Secret Sea 7" (1984)
Track 12 from The Secret Sea 12" (1984)
Tracks 13-18 from From Under the Hill cassette (1982)
Purchase CD/LP editions via the And Also the Trees web store
Purchase digital edition via Bandcamp
Header photo by Jerome Sevrette