Flesh Prison have launched their label with three Industrial, Techno, and Noise Releases, including HRT's caustic industrial/techno live video for "Weight".
Flesh Prison is an artist-owned and operated label & imprint where the artists we work with retain ownership of their material and maintain an equal share of the proceeds from that material. The label has no aesthetic directives other than to deliver what they feel is the best creative work. Informed by Industrial Music, Experimental, Minimal Electronic, and the Occult, Flesh Prison's ethos is defined by a sense of community, inclusively, and integrity.

Flesh Prison member Craig Leonard provides a penetrating perspective into the two 90 minute audio recording archives from proto-drone master Charlemagne Palestine. Given the fact that his first official release, Four Manifestations On Six Elements (issued in an edition of 2000 copies by Sonnabend Gallery in 1974), these recordings may be presented as the first to be released by Palestine. Leonard put together this more in-depth review of the release, its circumstances, and its significance:
"January 1973: Charlemagne Palestine presents to the Art Now class at the Nova Scotia College of Art and Design with synthesizers built by Serge Tcherepnin at California Institute of the Arts and some hand-made chimes built by a friend. I am not a musician, he explains to the students, but an artist shaping sound to a space, a continuous sound, a mass of sound changing its hue, its colour, its pure essence of sound-colour. He says continuous sound approaches its pure essence, lets you get involved with it, live it, see what one sound does to another devoid of the composer's presence. Real chemical properties mixing with other chemical properties like a painter mixing colours or the alchemical magic of the mixing over incredible lengths of time. A month, a year of continuous sound where Charlemagne can get close to the voice of sound as material by becoming intimate with its properties, not just the composer manipulating things, but by becoming an extension of those properties—as close to sound as he can be. The presence of the artist merges with the essence of the material, a desire to be less aware of the difference between himself and sound, how he can meld with sound without tension, living with sound to become intimately acquainted with it. Where Charlemagne begins and sound ends cannot be discerned. Let the material do something it wants to do, not something you bend to your will so quickly, he says. His intimate acquaintance with sound is the prerequisite before going on to make a statement with it. This recording is a statement to Charlemagne's intimacy with the material of sound by choosing to leave it alone more often."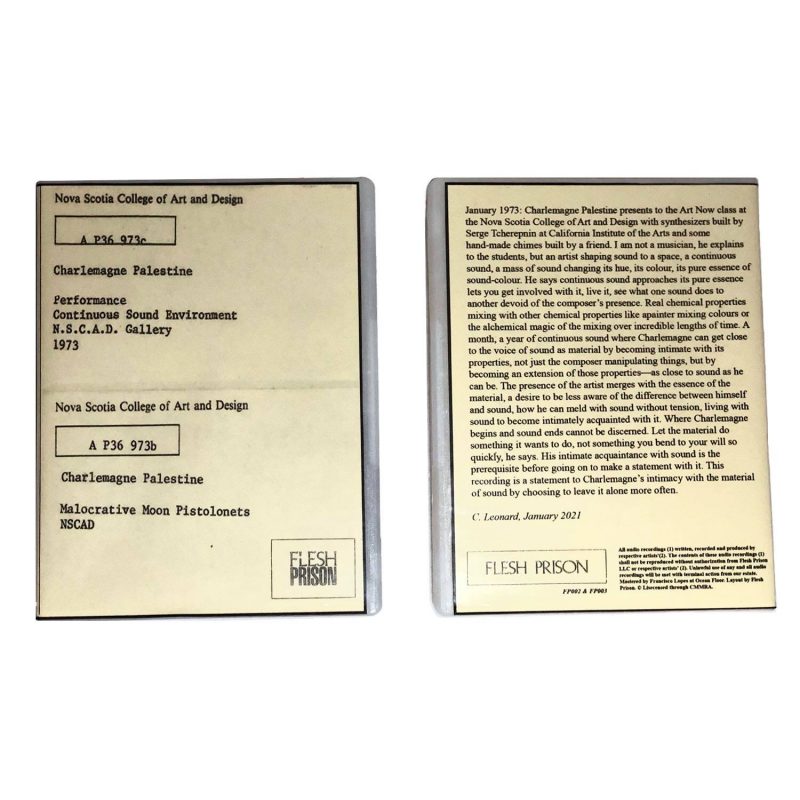 Listen to "Continous Sound Environment" below:
Next is Flesh Prison's compilation entitled " …The Wild World Itself Is Holy " is a collection that features songs recorded over the last 40 years which despite the differences in time and climate collectively offers a communal reflection on the state of global affairs. The compilation features Flesh Prison artists Thee Majesty, who offer an eerie, nostalgic soundscape fronted by the voice of late and great Genesis Breyer P-Orridge, as well as a contrasting cut from Black Leather Jesus' harsh noise wall. With an LP to be announced at a later date, Sprung Aus Den Wolken lay their classic avant-garde/bizzaro industrial imprint. The label's magick council Carl Abrahamsson offers a spoken word introduction, a track that hints at his spoken word release currently being worked on. Xambuca, one of the most recent producers to join Flesh Prison's catalog, fills an industrious soundscape mirroring our current realities. Additionally featured are contributions from Silent Servant, Bourbonese Qualk, Das Ding, Cipolla Varieté, Parade Ground, Staccato Du Mal, and No Master, No Servant.
Watch the promo for "The Wild World Itself Is Holy" below:
The third release from the label's debut is especially noteworthy and perhaps monumental for the members of Flesh Prison, as it was the last live music show the collective attended together before the pandemic. The event was a live performance of HRT (formerly known as Dregqueen) who performed at Montreal's oldest strip club, Cafe Cleopatra.
The release also marks the debut from the hot live Montreal trans EBM duo who have been performing for quite some time, and, needless to say, the release is overdue. The audio was recorded straight from the mixing board into a handheld recorder, Anastasia Westcott and Lees Brenson managed to bang out a punishing full stereo master, a close analogue to the visceral live experience that is an HRT performance.
As Flesh Prison's Matthew Samways, who founded the label and collective under the mentorship of Genesis P-Orridge recounts:
"I can recall that night and their set with the sonic energy booming through my body, a possession dictating my actions on that dance floor – thrashing around the floor into lead singer Lees Brenson, where she is often known for joining the crowd as a rhythm marker. I've heard some say she appears demonic while performing – but for me it is a kindred spirit. Anastasia's live complex sequences and visceral – hard hitting – percussion all comes from her own programming using a conjunction of predominantly analog eurorack and digital synthesis. There simply has never been, or is, a genre or band quite as defying and unique as HRT – perhaps a historically prominent precedent and imprint to be set for new performers and groups to come.
Watch the video for HRT's "Weight" below:
Flesh Prison's first three releases are out now.