Forever challenging and subverting perceptions. bicoastal masterminds Collapsing Scenery embrace the joyous, carnivalesque aspects of outsider art and political protest. Together they straddle the gaps between music, art, film, and politics; seamlessly moving between each with the same ease at which they traverse the globe.
Forming in 2013 "under a pall of paranoia and disgust," Don De Vore (Ink & Dagger, Lilys, The Icarus Line, Amazing Baby) and Reggie Debris began collaborations with a variety of characters: Jamaican dancehall legend Ninjaman, Beastie Boys producer/collaborator Money Mark, and no-wave pioneer James Chance. The band also has remixes out or on the way from Genesis P-Orridge (Psychic TV, Throbbing Gristle), Jennifer Herrema (Royal Trux), Uniform, Youth Code, Brian DeGraw (Gang Gang Dance), and more. During a 2016 artist residency in New York, the artists created a psychedelic immersive art installation that incorporated projections, layers of colorful plexi-glass, a reading from Genesis P-Orridge, and performances from De Vore and Debris.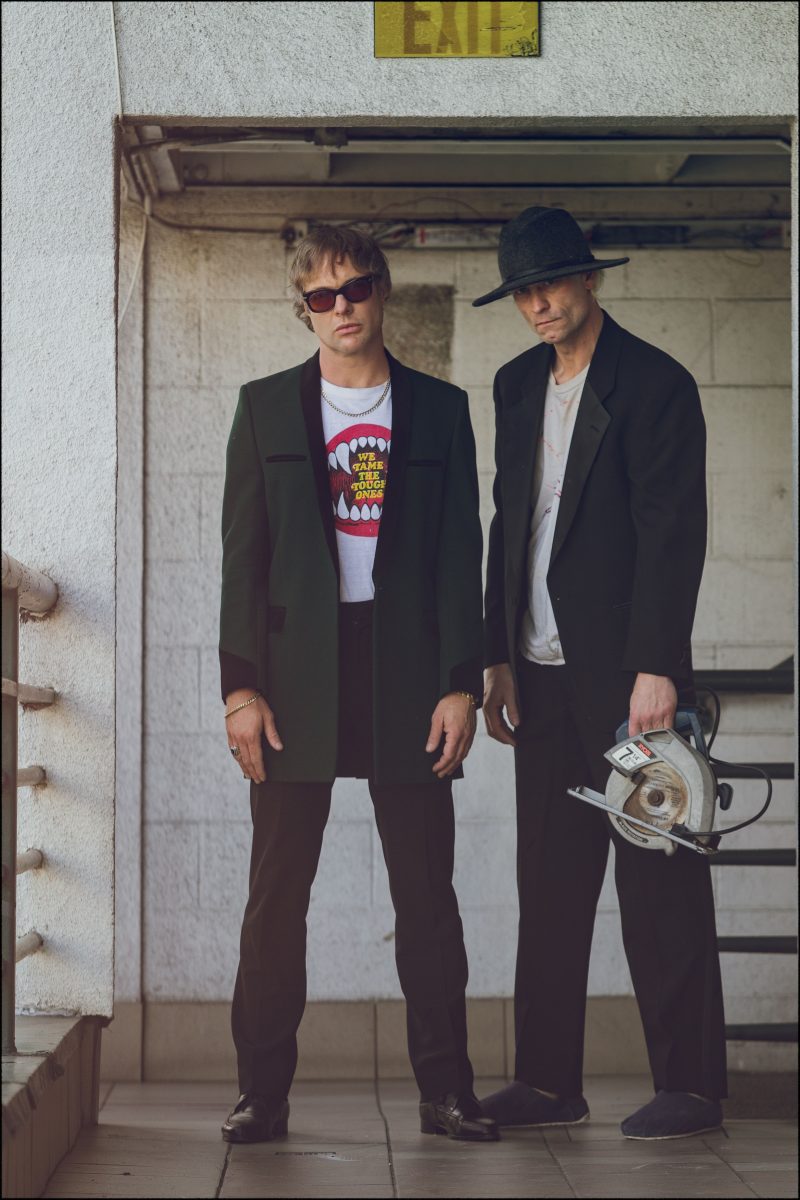 Out of this came Collapsing Scenery, the musical wing of their collaboration. Don De Vore, a mainstay of various bands. also had a stint as curator for Brooklyn arts space Trans Pecos. Joining him on vocals is vocalist Reggie Debris, an enigmatic, shamanic stage presence. The band's forthcoming Acid Casual EP is the first batch of many hours of recordings made during the pandemic.
Collapsing Scenery describe themselves as curators of a series of planet-spanning events, expressions, exhibitions, albums, installations, journeys, adventures, and parties, all operating outside of the confines of the tired traditional industry: "We've tried to mostly play in spaces outside of the usual club circuits," says Debris. "We generally play in basements, warehouses, garages, parks, galleries, living rooms – and traveling with our own sound-system, power supply, and visuals has enabled that. We're 100% self-contained."
The disturbing video for "You Already Know" was directed, shot, and edited by Kansas Bowling, with the band making cameos as bellboys. It plays out as a psychedelic B-movie riffing on a classic horror trope, but with bizarre imagery and intriguing characters.
Watch the video for "You Already Know", below:
The band's debut album Stress Positions is a glorious collision of futurist electro, glacial goth tones, techno, post-punk and chillwave recorded using analogue electronics: samplers, step sequencers, synths, and drum machines. Aesthetically it recalls pioneering synth-punk such as Human League, Screamers, and The Normal. Dig deeper, however, and it reveals a modern, highly politicized collection.
Stress Positions looks to the future with its strong state-of-the-world lyrical content. In the tradition of so many defining electro duos – whether Suicide, Pet Shop Boys, or Underworld – Collapsing Scenery's architecture is entirely of their own creation. The album also features contributions from UK grime artist Jammz, award-winning Palestinian hip hop group DAM, LA shoegazer Tamaryn, and several other kindred spirits.
With this EP, Acid Casual, following up the album, the band continues to push further into sonic and genre experiments while finding beauty and even joy hiding in the cracks of the ambient existential dread of these anxious years.
Order the new EP here.
Follow Collapsing Scenery: