Have you ever crushed so hard on someone that you've been brought to your knees? Those intense emotions are brought to light with "Crusher", the new single from Taleen Kali. Taking inspiration from Chapterhouse, Lush, Ride and Curve, this shoegaze love song addresses all those butterflies, sweaty palms and euphoric rushes of dopamine.  Straddling the realms of alternative 90s and Dream Pop, Taleen Kali's voice is a gorgeous combination of Debbie Harry and Toni Halliday. Jeff Schroeder of Smashing Pumpkins even makes a cameo on this dizzying track.
The accompanying video, directed by Kristin Cofer and Bailey Kobelin, is a lighthearted psychedelic take, with prism shots galore and a beefcake model showered in slow-motion rose petals. The whole sequence manages to tread between cheeky and earnest – and quite frankly, in these gloomy times, we need a little romantic optimism in our lives. Crusher explores a resurfaced schoolgirl fantasy; it explodes in joy with this delightful indulgence of the heart. Sometimes the dreamy crush part is more fun than reality, anyway.
Watch below:
Hailing from her native Los Angeles, Taleen Kali composes a cosmic sound that's dreamy and defiant alike. Influenced by melodies and imagery from her Armenian heritage and her parents' birthplaces of Lebanon and Ethiopia, Kali fuses her lineage with sonics of the modern countercultures she grew up embracing, exploring everything from punk to Brit-pop. With fiery live sets and swirling sonics, her band has quickly become a staple in the L.A. music underground.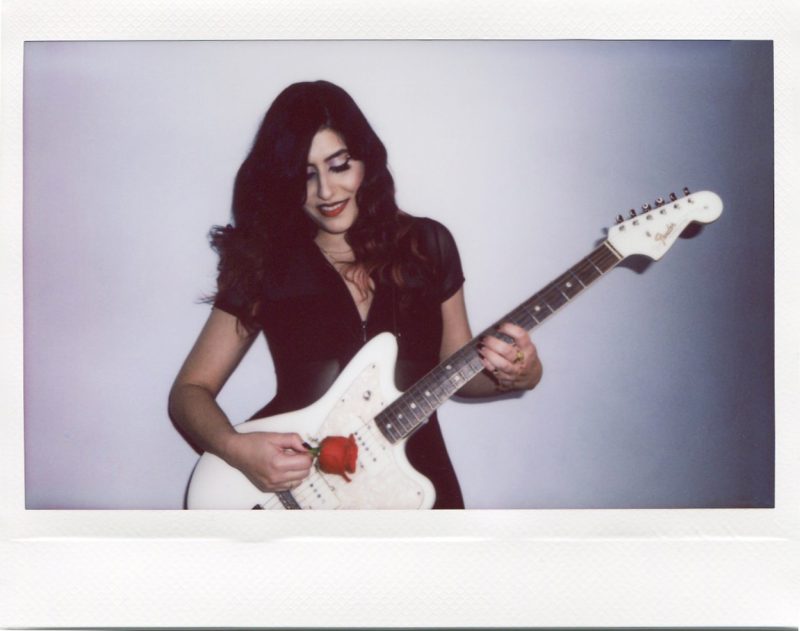 Kali is also the founder of experimental label Dum Dum Records and DUM DUM Zine. A sound healer who often leads group meditations, she briefly pivoted from punk psychedelia in late 2021 for the release of her soundbath album Songs For Meditation. Her poetry, essays, and visual art have appeared in digital and international publications including The Onion, SPIN, Razorcake, Los Angeleno, and The Bushwick Review.
You can preorder the vinyl pressing of Flower Of Life (via Dum Dum), which is out 3 March, here.
Pre-save the album here.
Kali and her band are currently gearing up for the release of their first full-length album, Flower Of Life, which they recorded at The Cave Studios in the winter of 2022 with producers Jeff Schroeder (The Smashing Pumpkins) and Josiah Mazzaschi (Bizou, Light FM, Child Seat).
They'll be on tour in support of the album from March until May. Tickets available here.
TOUR DATES:
3.03 MOROCCAN LOUNGE • LA, CA
("FLOWER OF LIFE" ALBUM RELEASE PARTY)
3.13⁣ SODA BAR • SAN DIEGO, CA
3.14⁣ YUCCA TAP ROOM • TEMPE, AZ
3.15⁣ SISTER BAR • ABQ, NM
3.16⁣ NODAL RESOCRD • EL PASO, TX
3.17 – 3.18⁣ SXSW • AUSTIN, TX
3.19⁣ BIGTOP LOUNGE • HOUSTON, TX
3.20⁣ OPOLIS • NORMAN, OK
3.21⁣ KIRBY'S BEER • WICHITA, KS
3.22⁣ SKYLARK LOUNGE • DENVER, CO
3.23⁣ BLACK LUNG SOCIETY • SLC, UT
3.24⁣ – 3.25 TREEFORT FEST • BOISE, ID
3.26⁣ ARTIFICE BAR • LAS VEGAS, NV
5.16⁣ KUNG FU NECKTIE • PHILADELPHIA, PA
5.17⁣ OUR WICKED LADY • BROOKLYN, NY
5.19⁣ COLE'S BAR • CHICAGO, IL
+ MORE TO BE ANNOUNCED
Follow Taleen Kali: