Ireland's Emperor of Ice Cream has announced a new single, entitled "Weather Vane," via FIFA Records.
The band captures the zeitgeist of this increasingly isolationist day and age, with strained social relations and long periods of forced solitude – both pandemic enforced as well as technologically orchestrated. These elements reflect the way the band has had to work during lockdown at great distances. Now based in Cork, Waterford, New York and Amsterdam respectively, Edward Butt (bass),  John 'Haggis' Hegarty (vocals), Graham Finn (guitars) and Colum Young (drums) decided to right the karmic wheel and revisit their legacy.
Almost three decades after forming, the band has finally released their long-shelved and dearly awaited debut album, No Sound Ever Dies. Since re-emerging on the scene in May 2020, Emperor of Ice Cream have embarked on a chapter few anticipated would be written.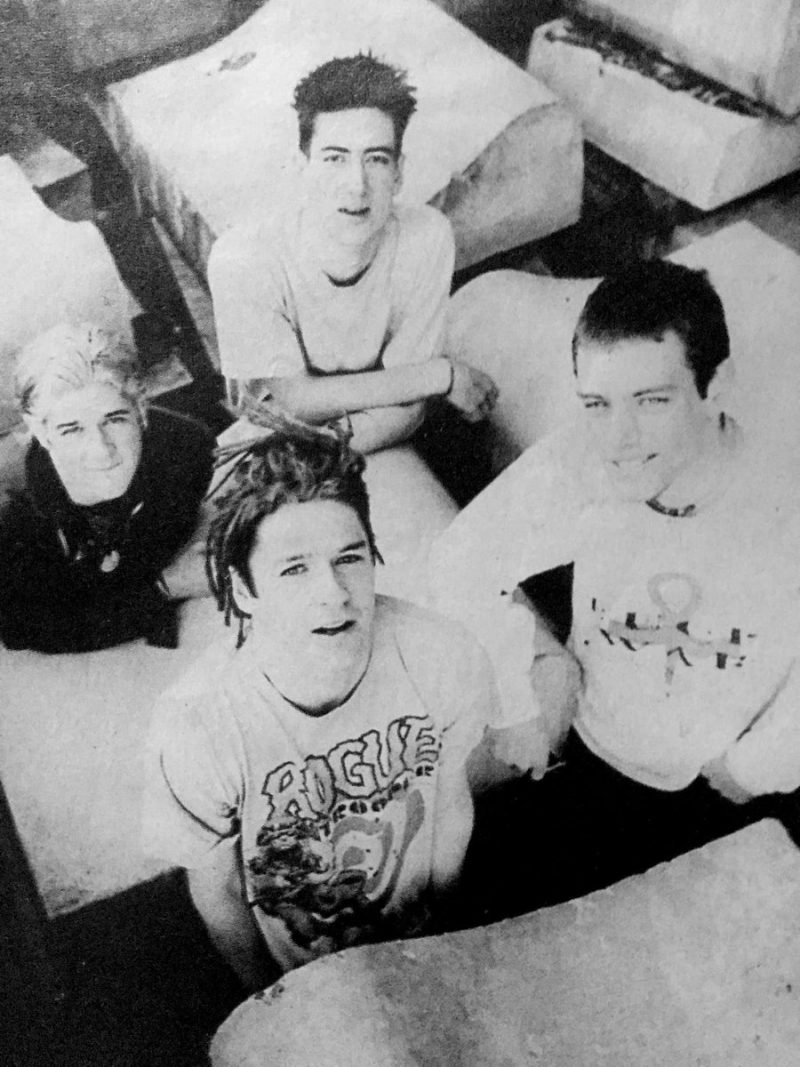 "It's a strange task, to make music with people you haven't been in the same room as for over two decades, but the challenge was a welcome one," says John Haggis. "Assembling parts from home studios in Cork and Waterford, the final touches, edits and mixes were completed in NY. It's an unusual way of doing things, but with the year that world has experienced collectively, not an uncommon one these days, unfortunately."
"Moods, motives and expectations can sometimes make us feel like we are caught up in a tornado of emotions when a relationship hits a rocky patch; this song is about the hope that remains even when things are falling apart," the band explains.
Offering driving rhythms and thumping bass lines, the band lays the foundations for raw and melodic guitars, topped by elegant, lush vocals and harmonies. They allow the the parts to speak for themselves, rather than enveloping them with pedals and tricks. Mixed and produced by Graham Finn, this single was mastered by Tom Volpicelli (Iggy Pop, The Alarm) at The Mastering House in New Jersey.
Overseen by Graham from his New York abode, the drums were recorded in Amsterdam at IJland Studios by Remko Schouten (Pavement, Stephen Malkamus, The Jicks and Devendra Bernhardt).
The accompanying video is a gorgeously-filmed romp through poignant symbolism, tethering together freedom and constriction in isolation.
Weather Vane is available digitally on Spotify, Apple Music, Bandcamp and other platforms. In the meantime, to celebrate the record's first anniversary, the band is offering a second pressing of  No Sound Ever Dies LP  – available for pre-order on white vinyl, CD, cassette and digital download, shipping out August 27. Order Here.
Follow Emperor of Ice Cream
Follow FIFA Records