"You asked me a question, you didn't want the answer to, so why the suggestion, that maybe one is better than two…"
When a relationship deteriorates, one feels a unique powerlessness as the person they love metamorphoses into something unfamiliar and unwanted. Dublin quartet Scattered Ashes explores this specific heartbreak in their new single, "Slow Motion", and their sleek, cinematic accompanying music video.
"…You become a prisoner of time, waiting for the final nail in the coffin to declare your commitment null and void," frontman Rob Dalton explains.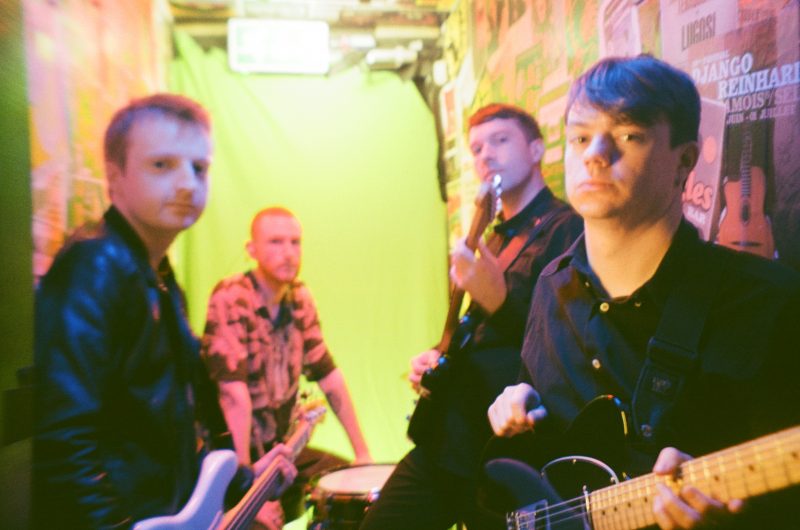 Scattered Ashes ranges in influence from Brutalism to classic punk, matching aggressive sonic textures with a strict sense of space, created by urgent guitar stylings and prophetic vocals. From the abstract to the oppressive, the band defies expectations in their bid to take post-punk back to its murkier roots.
Stepping out of their usual influential shadows of Bauhaus and Interpol influences, the band detours into shoegazey dream-pop territory with Slow Motion. Dalton's voice barks out those final moments of a doomed romance with clarity, purpose, and determination to finally drift into the next state.
The beautiful video, directed by Conor Dockery, is a stylized performance video, depicting the singer in a state of suspended animation, detached from reality and clutching a bouquet of optimistic daisies. Finally, the daisies disappear in favour of an instrument of emotional expression.
Watch the video for "Slow Motion" below:
Slow Motion was recorded with Fontaines D.C. producer Daniel Doherty as part of a new EP that will be released Summer 2022. Scattered Ashes will round off the year with a campaign for their next two singles, including a special hometown headline show next month at The Thomas House Dublin, on 16 December. Tickets are on sale now and are available here.
You can stream and order the track below:
Follow Scattered Ashes: