North Texas dream-pop project Lorelei K is the brainchild of singer-songwriter Dahlia Knowles, a crooner of no mean talent whose 5-person project has garnered recognition across the Lone Star state, several award nominations at home, and whose national (and, indeed, international) profile is growing steadily—and rightly so. The band has just announced a slew of single releases and a much-anticipated, upcoming LP, "Swimming Pool Eternity," on Idol Records.
Given the band's name, one could be forgiven for assuming that Lorelei K's primary influence is the Cocteau Twins, vis a vis the Cocteau Twins' "Lorelei" song off that band's 1984 Treasure LP on 4AD. But that's only somewhat right. As singer Dahlia notes in our interview below, the choice of her band's name reflects an encounter with a primary source of the Lorelei legend—that is, Dahlia's encounter at age 16 with the statue of the famous Lorelei aquatic siren on the banks of the Rhine in Germany.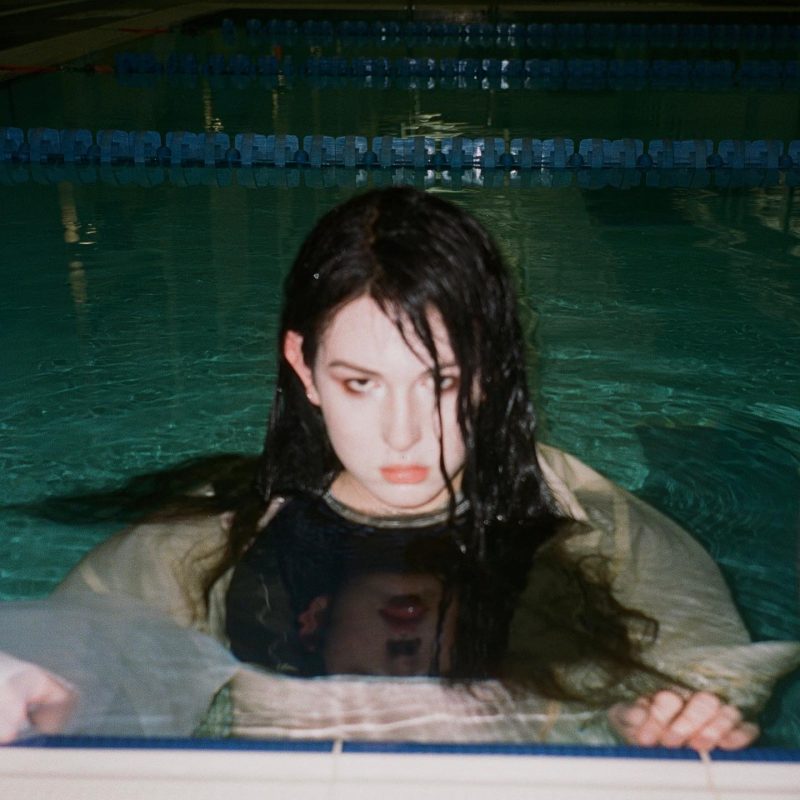 And yet—the Cocteau Twins, still, really aren't a bad place to start when discussing the shimmering and immersive vibes that do flow, fluidly, from the music of Lorelei K; and this is seen in full effect on their upcoming "Swimming Pool Eternity" album. I was privileged to get an early digital copy of the LP, and it is indeed hard to assign it neatly to any single genre: On display are elements of ethereal wave, dream pop, and some more straightforward postpunk tunes. It's a solid 7-track album, and the LP's entirety amounts to a well-rounded, captivating, listening experience. In fact, on repeated listens—and the LP does lend itself easily to repeated listens—I've come to think of the "Swimming Pool Eternity" LP as something like a musical sapphire—blue and sparkling, like the gemstone itself, and also deeply blue like the watery inspirations behind Dahlia's concept for the band, but still fluid—maybe like a liquescent sapphire that shimmers as it's melted into a purely liquid azure—like a musical sea of liquid cerulean crystal. And like a sapphire, too, every song on the LP seems to constitute a different facet or side of its cohesive and gem-like whole—that is, the LP is like one whole gem that features various glistening fascia, but which nonetheless combines at its solid center to form one lapidary and lush aural object.
There are elements of dreampop, shoegaze, straight-ahead postpunk, and darkwave on the LP. Dahlia describes the LP's songs as "dreamscapes," and it's hard to argue with that description. The band is releasing the "St. Groupie" single off the album on Friday, August  6, with a special show in Denton, Texas, at Andy's.
But it's best to go to the source (Dahlia K) for more info on the upcoming singles and LP, and so that's what we did:
Lorelei K was interviewed for post-punk.com in late July 2021
First things first: Who all is in Lorelei K, and when and where did the band start?
Dahlia Knowles (vocals): There's a total of five of us in the group. We have Rex Davis on bass, Mills Chaiken playing guitar and synth, Michael Briggs on synth and backing vocals, Dean Adams on drums, and of course, myself, performing lead vocals. When this core band formed, I briefly considered renaming the project Lorelei and the K-Holes, just for the camp of it. All of my band members live in Denton, Texas. I live in Old East Dallas.
About the name—who chose it? I like the legends behind the idea of the "Lorelei"—watery vamps, sort of, like the sirens that sang to Ulysses on his ocean voyage. Am I on the right track, thinking that? And yet, the band's name is "Lorelei K"—what is that K for?

Dahlia K: I found the name Lorelei at sixteen. I was at the Rhine in Germany when I saw the dark and shining siren sitting at the top of a steep hill, ducking her head as if, instead of peering out, she was looking inward. That long hair that lured men to wreck their ships in their lustful state, slick and waving down her spine, her likeness in a statue by her dominion.
Like those men at sea, I was seduced by the name—the way it felt on the tongue, so easy. I knew early on that my first chief project had to honor this mythic girl, and it stuck. The "K" in Lorelei K used to represent my last name. Now I think of it as a sound, a punctuation.
I notice your upcoming LP on Idol Records is called SWIMMING POOL ETERNITY, and given the history of Lorelei being the watery, "seductively dangerous" feminine entity that brings folks to a watery death, to me the LP title has a darkly comic effect, referencing not an ocean, but a swimming pool. Was that intended?
Dahlia K: Yes, and I'm glad you picked up on this angle. I've referenced a dark, personal mythology throughout my discography thus far. I've built Lorelei a universe with lore, and it's expanding still. The swimming pool is also a personal life reference, giving a geographical location to a place lost in time, with company that is now gone. The starlet in this record is a heartbroken girl. I guess the starlet is kind of always a heartbroken girl, actually. I'm always finding something to be sad and feel sexy about.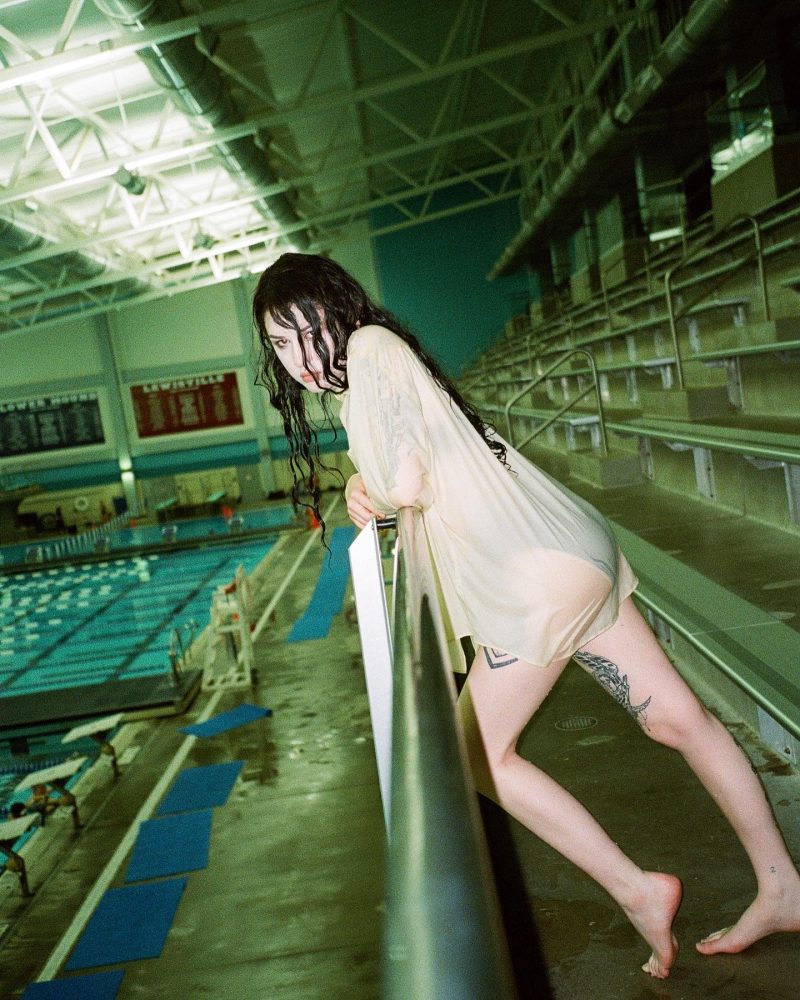 Dahlia K: Another thought on the swimming pool thing—it's a metaphor for the complex water we swim in when we are opening ourselves to love. Maybe Lorelei is a siren and her rock is a lifeguard stand at a public pool. Maybe she's there peering out at all of the memories that summer brings to her. Sticky sunscreen days of childhood, or dancing in the water with her first love. It's a contained space for archived nostalgia.
From the first track in, it seems there's a lot of attention paid to atmosphere. The first track's drumming has an almost martial ring to it, which I immediately loved. Otherwise, there is a very vibe-y, almost Cocteau Twins-y feel to some of this — was that intended? What were the sound goals with this LP?
Dahlia K: The goal with this LP was to push the boundaries of what looks like a rock outfit. I've had this combination of words stuck in my head the whole time we've been making this record — it's a glamorous burnout. Songs like "Saint Groupie" and "Swimming Pool Eternity" were intended to be cutting, colliding, and expansively dark, while other tracks like "Breakthrough" and "Blue Part Four" were considerably more paired down, romantic, sentimental. Atmosphere is always very important to me, I love anything that gives a song a space. I feel like Michael really added a lot with his synth layers and backing vocals that really expanded things.
These songs are all dreamscapes, which seems to be the throughline from Lightbender to SPE.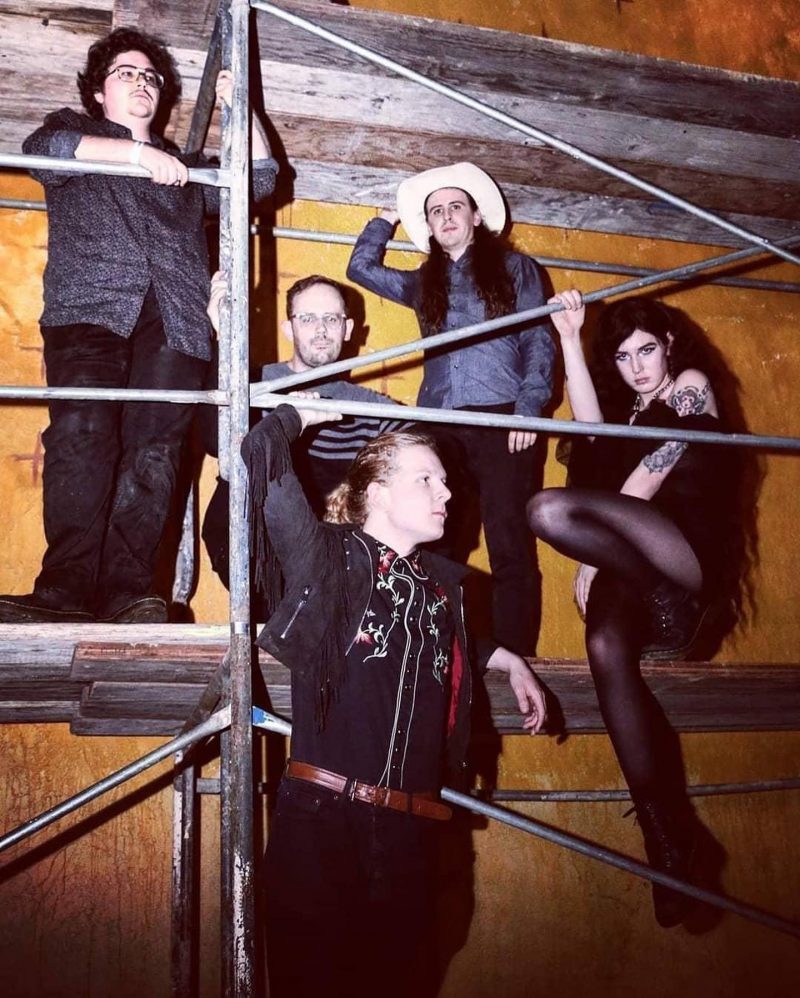 Dahlia K: I also will always have a deep, passionate love for dripping wet, layered lead vocals. I can barely listen to my own voice dry. I just like that when I sing, I can close my eyes and feel like my feet are no longer on the ground, and in the air my voice is traveling through endless variations of reverb, delay, echo and the like. Maybe eventually I'll buck up and do the opposite, just to see what happens, but for now I'm sticking to what makes me feel good.
Who all composes the music and is produced as a band, or is it collaborative? Do you primarily write the lyrics? How would you describe or explain the actual songwriting process…?
Dahlia K: Michael Briggs at Civil Audio has always been my producer, ever since our Holy Holding LP in 2016. All Lorelei K's lyrics are written by me. The music is definitely collaborative, especially on Swimming Pool Eternity. I come in with a basic structure and concept of a track, then Rex, Mills, and Dean all take their turns contributing massively influential ideas. They really are so brilliant.
If you HAD to assign LORELEI K to a genre—and most bands hate this question, because no one likes pigeonholed, and I get it—what would it be? darkwave? Ethereal? Dreampop? Post Punk? Atmospheric goth? Just curious. Every song on the LP does have a different vibe, to me, so I can see y'all crossing over some (imaginary) genre lines.
Dahlia K: I like floating above genre, which everyone in any band ever will say. When I'm in the studio, I'm never really concerning myself with where we fit in. Typically in conversation, I refer to my music as darkwave, alternative pop, or post punk. Sometimes I wish I could call it shoegaze. Generally, I like to keep it vague.
There are some songs with titles like "Breakthrough at Mt Zion," and "The New Psalms," that reference almost Biblical stuff. Is there something to this theme you thing conveys some message or idea, or feeling, you're trying to impart via the songs? What is the story behind the song "New Psalms"? (Unfortunately I don't have the lyrics – just curious!)
Dahlia K: While I'm one of many southern LGBT people to have undergone religious trauma as an adolescent, the biblical references placed on Swimming Pool really have nothing to do with that. Like I previously mentioned, there is a lore that I've built in my writing for Lorelei… in the song "Lightbender," I wrote a lot about purity of form and falling from grace. In "The New Psalms" the woman is a mortal and has no reservations about being flawed and being open. It's written for the audience, with lines like "I know that someday each and every one of us fades into obscurity / I just hope that somewhere I said something to somebody who carries it sacred within their heart." In the end she is (I am) concerned with what a song can contribute to someone's life, and if loneliness is the cost of creating that world for somebody else, even just for three to five minutes, then it's a willful sacrifice. I like big, dramatic titles that create an epic feeling, and can develop multiple meanings depending on how you look at it.
The musicianship generally on this LP is remarkable. Everyone sounds like they know their stuff, and the production is very "immersive." Maybe the name of the group and the LP title make me think this, but there's even a kind of "oceanic" feel of ebb and flow and liquid immersion. What are the backgrounds of everyone musically, and was there an attempt to make an immersive LP with this?
Dahlia K:I know that Dean and Mills both have experience at the University of North Texas with extended musical training. Rex has played in multiple punk bands. Michael of course has tons of experience as a sound engineer, but this is one of his only active projects as a contributing musician.
The theme of water and the ocean is present in a lot of songs in my discography, but I agree that it's more present than ever here in this set of songs. I'm really proud of the boys and what each of them has brought to the pool.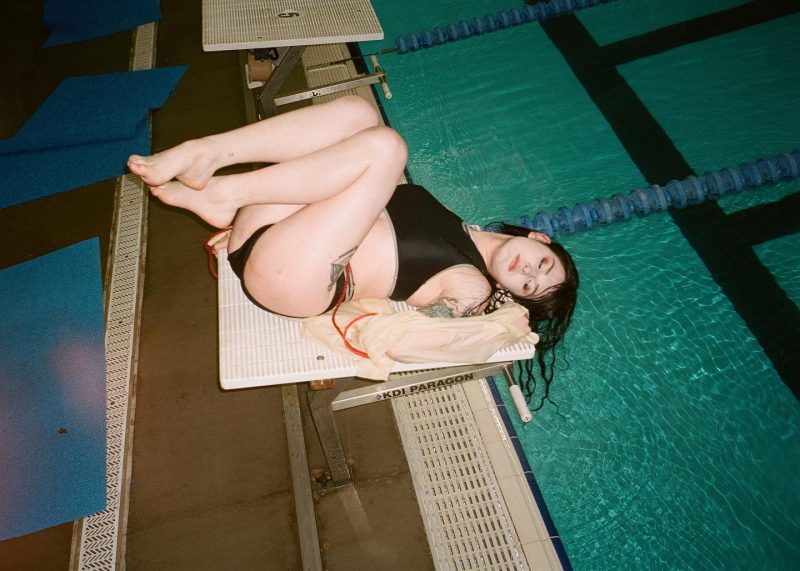 Dahlia, have you had professional vocal teaching? Who are your vocal influences, and who do you admire as far as vox and songwriting generally?
Dahlia K: I have seen Sarah Ruth Alexander in the past for vocal training. I admire Joanna Newsom, Beth Gibbons, Patti Smith, and Elliott Smith. I always think about athletics when I sing, and boys, and my past. I've tossed many letters I've started writing to Patti Smith. Her approach to reading and writing, her raw voice, and her singular energy has always enthralled me.
Do you (Dahlia) write poetry (or prose, or anything) generally outside the band? If so, what? And what is your background, otherwise, musically if any?
Dahlia K: I write consistently, but I still feel like I'm learning how to create a solid piece of text that does not involve music. I do not have an academic approach to writing. I would love to publish a book of poetry, and maybe a memoir, someday when I'm older.
I started piano lessons when I was seven, and went on to participate in choir, band and theater as I grew up. My brother and I grew up learning different instruments together; that was a bond that has lasted into adulthood.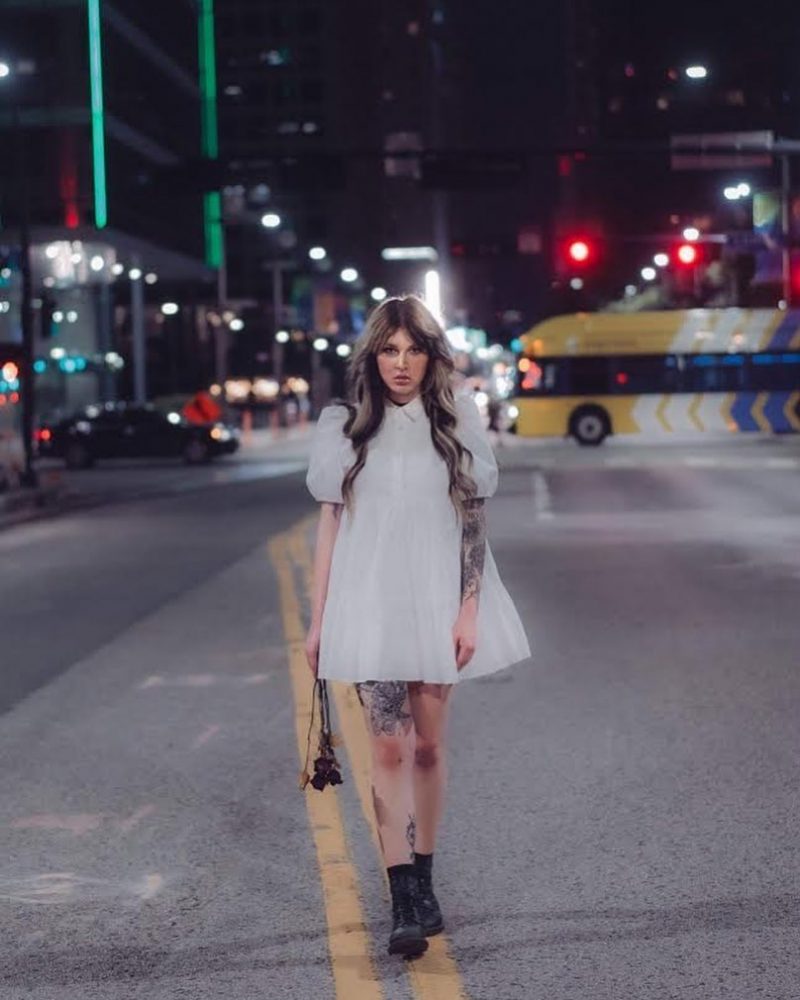 You recently signed to Idol Records. When will the LP come out? Vinyl, digital, CD, all of the above, some of the above?
Dahlia K: We are so honored to be signed with Idol. We are beginning the release cycle with a series of digitally released singles. We are looking at early Spring 2022 for a digital release of the record, then it will be pressed on vinyl.
Where can folks go to get more info on LORELEI K? Websites, Bandcamp, etc.?
Dahlia K: lorelei-k.bandcamp.com – merch coming soon!
Lorelei K is active on Instagram and Twitter @l0releik.
Lorelei K have a Facebook page HERE.
Lorelei K also have a Bandcamp page HERE