Hailing from Detroit, Michigan, indie-rock/post-punkers Future Misters deliver scratchy guitar riffs reminiscent of 2000's garage rock and post-punk revival acts shaken in a tumbler with magnetic bass grooves and clever lyricism.
Their hyperactive new track, "Electrocution Twist", off their new album, Let the Feedback Ring, seethes with nervous energy and hypnotic guitar work as the internal chaos of manifested anxiety shoots bolts of sonic lightning. Sonically and lyrically, the band expresses their take on life, love, house parties, dive bars, and their view of the world from the window of their van. A soundtrack reminiscent of the book Meet Me in the Bathroom (named after The Strokes song), their music features echoes of Suicide and Pere Ubu, while the trio of guitarist/vocalist Trevor Sharnas, bassist Nick Buwalda, and drummer Ryan Fluke melt through the song with a burst of mesmerizing fury.
Watch the performance video for Electrocution Twist, directed by Evan Brown, Daniel Rodriguez, and Christian Sanders, below:
Future Misters formed in Grand Rapids in the summer of 2017.  They released their first two EP's, Around for the Wrong Time, not the Long Time, and Potato Blimp to Mars in 2018. After a few personnel shifts, they have since established a neurotic formula of heavy guitar riffs, groovy bass lines, and up-beat vocal melodies.
Follow Future Misters: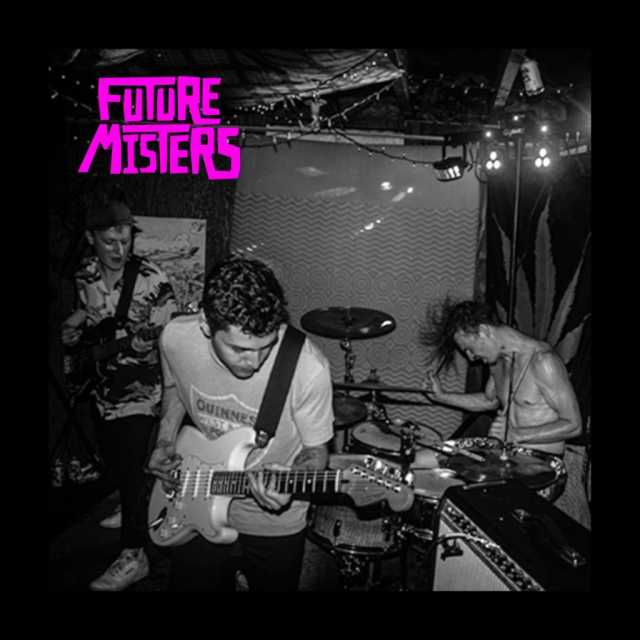 Photo: Nick Lampers