With much sadness, we announce the loss of Julz Sale, founder and singer of Leeds-based postpunk act Delta 5. Delta 5 came from the same scene that produced such seminal post-punk acts as Gang of Four and the Mekons, and Sale herself worked for the Rough Trade label. She had more recently turned to teaching English in Thailand.
An early report from friend Pete Keeley indicates Sale passed from digestive cancer, in Thailand. I asked Pete if he thought there was anything people should know especially about Sale, not including her work with Delta 5. Pete responded, "After Delta 5, Julz spent a good few years being one of the people who made the Rough Trade Distribution warehouse tick, and was a force to be reckoned with. She moved to Thailand a number of years ago and got married to a local, and was teaching English out there. This is very sad news."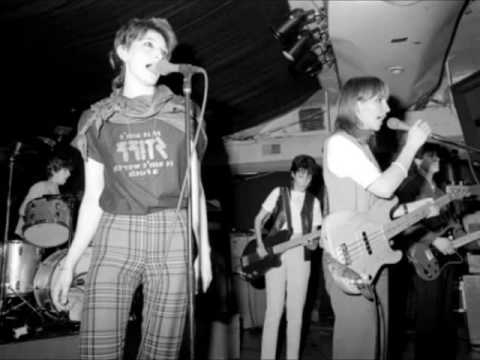 Delta 5, of course, are best known for their breakaway 1979 single "Mind Your Own Business," since covered or remixed by many acts, including Chicks on Speed, Le Shok, Pigface (Chris Vrenna), Peter Hook, and many others. (The song even recently ended up in an Apple iPhone commercial!) Delta 5's dueling bass guitars, conversational/call-and-response type female vocals (see, especially "You"), incorporation of funk and dance beats into their repertoire, and Gang of Four-esque angular guitar style are all trademarks of the group's influential sound. The group's lyrics and Sale's vocals reflected a feminist and socialist sensibility, and the band were active in the Rock Against Racism community.
Sales' death occurs in a period of a few weeks that has seen devastating losses in the postpunk and goth communities, including the loss of Richard H. Kirk of Cabaret Voltaire (and also "contemporary techno's busiest man"), who recently passed at age 65, and Olli Wisdom, founder of the seminal Batcave Club and singer of Specimen, who recently passed at age 63.
Thanks to Pete Kelley for contributing to this report.