Danny Elfman's latest offering is a truly remarkable feat of time-bending, good old-fashioned theatre, and the very breath of consciousness. "In Time", the latest single from his acclaimed album Big Mess, is a mind-melting phantasmagoria from a small collective of disparate artists. "In Time" serves as a fittingly outlandish eighth chapter within the visual journey of Big Mess.
Elfman's creative director Berit Gwendolyn Gilma returns to the helm, as the video's directors shape a diverse but cohesive whole. Directed by Zev Deans (Geneva Jacuzzi, St. Vincent, Chelsea Wolfe, HEALTH), the video features artificial-intelligence-generated visuals created by Italian media artist Lorem.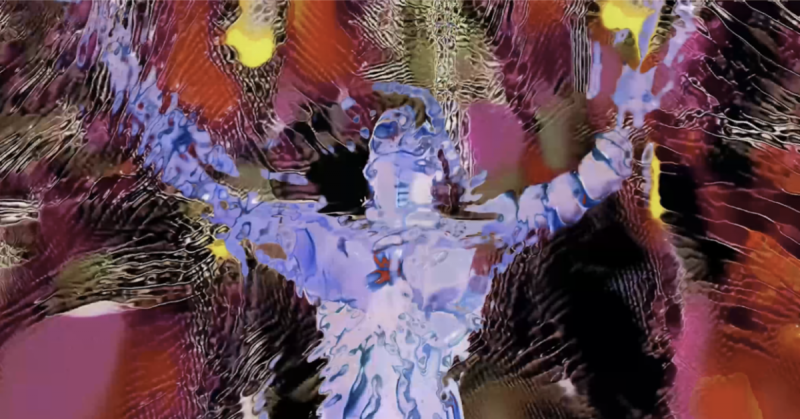 The video opens with a cabaret setting, as curious onlookers gaze upon a puppet theatre of sorts, which stars Elfman dissolving straight into the realm of undistilled consciousness in a psychedelic trip. Source footage of Danny Elfman was run through a GAN (generative adversarial network), resulting in a hypnotic machine dream that engulfs the worlds of art and technology. It wraps back in the classical stage theatre realm as he finds himself in what looks like a dazzling miniature stage reproduction of Karl Friedrich Schinkel's famous cosmic 1815 set design for the Queen of the Night in Mozart's Die Zauberflöte. The setup here, however, is clearly an homage to Ingmar Bergman's 1968 film Hour of the Wolf.
The resulting audio/visual experience is a glorious combination of human ingenuity, artificial intelligence, digital divination, and Elfman's exquisite lyrical poetry. Although the song retains the intensity of earlier offerings from the album, this track is more introspective and cinematic in its execution.
Berit Gilma told Post-Punk.com about the process: "Zev is deeply embedded in that kind of old classic darker aesthetics, so it's more like the classical film making and I thought it would be interesting to juxtapose this with something completely different – with artificial intelligence aesthetics."
Watch the video for "In Time" below:
The release of "In Time" follows the recent announcement that Elfman will be a featured performer at this year's Coachella Valley Music and Arts Festival on April 16th and April 23rd, 2022, where he will present Danny Elfman: From Boingo to Batman to Big Mess and Beyond! The 2020 festival notably served as the impetus for Big Mess over two years ago, when the cancellation and quarantine that followed triggered the creation of what would become the "Big Mess" double album.
Elfman officially unleashed 'Big Mess' in June 2021. The songs on 'Big Mess' unite both harmonically complex arrangements and simple high energy driving music with biting, acerbic wit as they reckon with the chaos and confusion of the modern world. Elfman is joined on the album by drummer Josh Freese (Devo, Weezer, The Vandals), bassist Stu Brooks (Dub Trio, Lady Gaga, Lauryn Hill), and guitarists Robin Finck (Nine Inch Nails, Guns N' Roses) and Nili Brosh (Tony MacAlpine, Paul Gilbert).
A brand new collector's edition box set of Big Mess is available now. Limited to 1500 copies worldwide, the stunning release offers fans the ultimate window into the creation and visuals of the groundbreaking project and includes four LPs on exclusive color variants, featuring all 18 songs from Big Mess along with bonus discs containing unreleased reinterpretations of tracks from the album. The bonus discs will be comprised of new remixes from HEALTH, clipping. and more, as well as never-before-released songs with featured vocalists including Rebekah Del Rio, FEVER333, two vocal collaborations with Trent Reznor, and a new version of "In Time" featuring Einstürzende Neubauten's Blixa Bargeld,
Each record is held in its own unique jacket featuring a 3D lenticular print on the cover and is accompanied by a 60 page, hardcover artbook containing never-before-seen renderings of the digital sculptures of Elfman done by Sarah Sitkin, who crafted the album's original artwork. The special box set also includes a 20 page stitched softcover lyric book with behind-the-scenes photos, a 12" x 9" art print signed by Danny himself, a detailed life-sized light-up model of Elfman's peculiar hand designed to be a stand-alone showpiece or one-of-a-kind night-light, and a code which provides downloadable digital audio files and a behind-the-scenes mini-documentary on the making of Big Mess. All components are housed in a high-quality two-piece box with liquid embossing on the cover and spot gloss embossing on the cover and sides.
The Big Mess collector's edition box will begin shipping in late January 2022.
Follow Danny Elfman