Kick me I'm a royalty, kick me I'm a royalty
Poverty disgusts me, poverty disgusts me
But I'm such a likable guy, but I'm such a likable guy
Love me, love me
Danny Elfman, the Man of the Eleventh hour, continues his streak of new material released on the eleventh of each month with the snarling, sarcastic Kick Me, a biting takedown of celebrity. Kick Me (Epitaph Records).
"I was feeling particularly mellow one-day last summer. I decided to write this very chill song for everyone who wants to put something on that will really help them zone out and relax. Enjoy!" Elfman cheekily explained.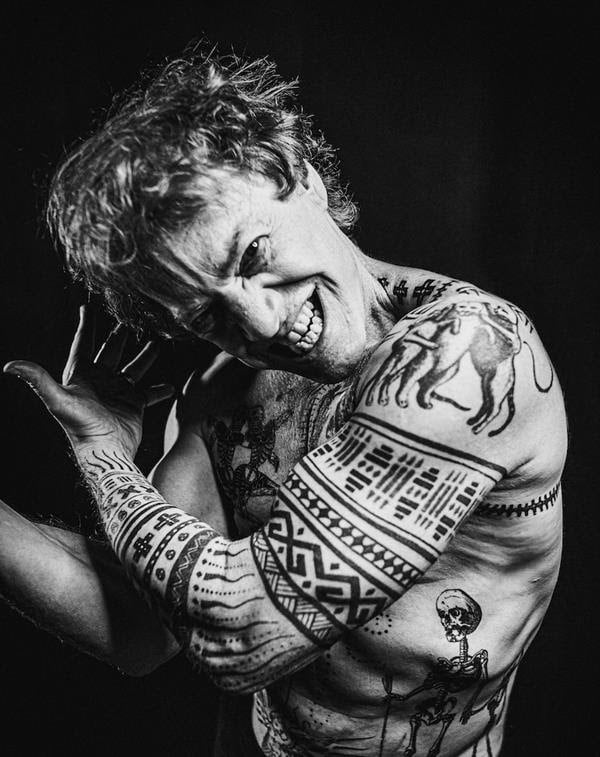 Kick Me features vocals, guitars, and synths by Elfman, Josh Freese (The Vandals, NIN, Devo) on drums, Warren Fitzgerald (The Vandals, The Offspring, Dweezil Zappa) on guitar, Stu Brooks (Dub Trio, Lady Gaga, 50 Cent) on bass, Sidney Hopson (LA Philharmonic) on percussion, Joe Martone (Hollywood Chamber Orchestra) and strings by the Lyris Quartet (Kraftwerk, Ben Harper).
The frenzied video, directed by Petros Papahadjopoulos and featuring animation by Joe Pascale, features a ripped Elfman showcasing full-body tats, lurching about and contorting with Iggy Pop-like fervour. Here Elfman cuts a terrifying figure in the video as he simultaneously demands validation and dismisses approval to a brain-melting light show. (Beware: there is a seizure warning.)
Papahadjopoulos notes, "This video is a statement on image and, to me personally, a fulfillment of seeing a wild, raw performance from Danny Elfman after a lengthy hiatus from the stage."
Watch the blistering video below:
Elfman previously released Sorry in January, an animated terror originally produced for Coachella 2020 and repurposed as a music video, and  Love In The Time Of Covid in February, featuring Scottish transgender performer Shrek 666.