Reclusive cult band Rudimentary Peni, notable for having fans across (and exerting a strong influence over) the deathrock and anarcho-punk genres, will release their first new 7″ in many, many years on May 29. The single will contain only one track, "Wilfred Owen the Chances," which was previously available on only a small-run CD-single that accompanied singer Nick Blinko's book The Haunted Head, published in limited edition in 2009 by David Tibet's Coptic Cat imprint. "Wilfred Owen The Chances" is Rudimentary Peni's most recent recorded material available to the public; a once-promised new EP, "The Great War," has yet to materialize. The new vinyl 7″ single will feature new artwork from Rudimentary Peni singer and acclaimed outsider artist Nick Blinko.
London punk label La Vida Es Un Mus is releasing the new record in cooperation with Sealed Records. The song "Wilfred Owen The Chances" itself is essentially a sprechstimme-style recitation by Blinko of the World War I poem "The Chances" by British WWI soldier and poet Wilfred Owen. The growling, talk-singing recitation of the poem is set to a slow, minimalist, dirgey punk-guitar-and-drums backing song. In the 2010s British label Southern Records briefly announced a new Rudimentary Peni EP, "The Great War," but to date that EP hasn't been released. The "Wilfred Owen The Chances" track here (which can be streamed here below) might have served as a track from that new EP, as this song is indeed about the "Great War" (i.e. WWI). "Wilfred Owen the Chances" can be bought as a standalone mp3 from Sealed Records, too.
The new Rudimentary Peni 7″ features new cover art by singer and outsider artist Nick Blinko
For those wishing to dig deeper into the backstory of this release, you can read the original 1916 Wilfred Owen poem "The Chances" here. (Owen was himself tragically killed near the end of World War I, in 1918.) The poem is essentially the lyrics of Rudimentary Peni's song. Putting others' poems to punk music marks a recent change of tack for Rudimentary Peni; the band's last multi-song release, 2008's excellent No More Pain EP, starts off with the track "Handful of Dust" whose lyrics are also cribbed from TS Eliot's "The Waste Land." Usually, Rudimentary Peni's trademark sardonic, bleak, and pun-heavy lyrics are penned directly by Nick Blinko and bassist Grant Matthews.
Rudimentary Peni have popped up now and again in goth and postpunk music consciousness over the past decade. The British trio received some attention from the modern goth scene in the 2010s when Chelsea Wolfe released her A Tribute to Rudimentary Peni EP in 2012, which featured Wolfe's covers or re-workings of several Rudimentary Peni songs. "I recorded five covers, or interpretations, of Rudimentary Peni songs based on only reading the lyrics or only hearing the song once, so the covers are very loose," Wolfe stated in an interview. "I love Rudimentary Peni's lyrics—very frantic and poetic." In fact, the band have always exerted a fascination, if not viral influence, over the goth, and especially the deathrock, scenes since their doomy Death Church LP debuted in 1983.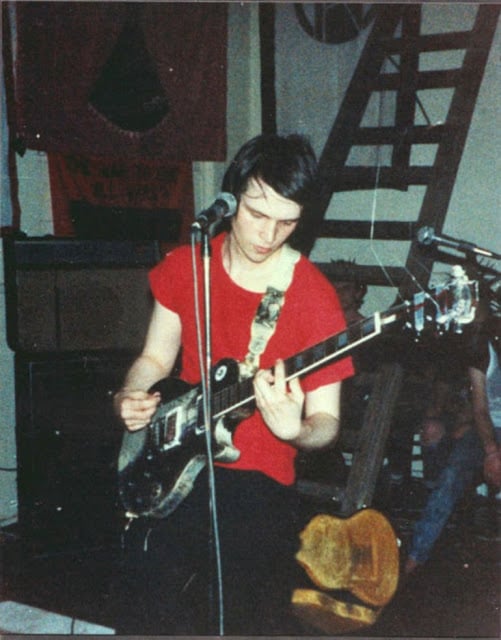 The reclusive band—who still have no official web presence, anywhere (the closest is Southern Records' label page)—started in 1980 just north of London after singer and guitarist Nick Blinko spent time in the early experimental industrial act Magits. He was also in the proto-gothic rock act the S-Haters (who I interviewed in 2012 here ). Around 1980, Blinko formed his own label, Outer Himalayan Records, with Magits bandmate Martin Cooper; under this label's aegis Blinko intended to release local bands in the punk and early postpunk scenes. In fact, an excellent compilation of early 80s postpunk, dark punk, and gothic rock bands from this milieu can be found on The Thing From the Crypt comp, released in 1981 with major contributions from Blinko's Outer Himalayan Records. This important document of underground UK postpunk was reissued by Dark Entries Records in 2013. As well, Dark Entries and Sacred Bones collaborated to reissue other dark bands on Outer Himalayan's roster with the excellent 2018 Outer Himalayan Presents comp. Southern Records themselves began reissuing Rudimentary Peni vinyl and CDs throughout the 2010s, along with the first-ever officially licensed t-shirts of the band, featuring Nick Blinko's surreal-macabre artwork.
Rudimentary Peni's first two, early 80s EPs—a self-titled EP and its follow-up, "Farce"—are dark political thrashers, characterized by a blistering, frenetic energy and by Blinko's wailing, maniacal vocals. (The Crass-produced "Farce" EP actually hit #7 on the UK Indie charts.) Drummer Jon Greville, who was also in the early gothic rock band Snake Corps (a band that formed from the ashes of Sad Lovers and Giants), plays tempos on Peni's first two EPs that perhaps have more in common with US hardcore acts of the time than with contemporaries in the UK underground. In fact, across the pond in the DC hardcore scene of the early 80s a young Guy Picciotto, later of Rites of Spring and Fugazi, was so taken aback by the emotional intensity of the early Rudimentary Peni EPs that he wrote to the band in England and considered them an influence on Rites of Spring's early material as well as the development of his own career in punk.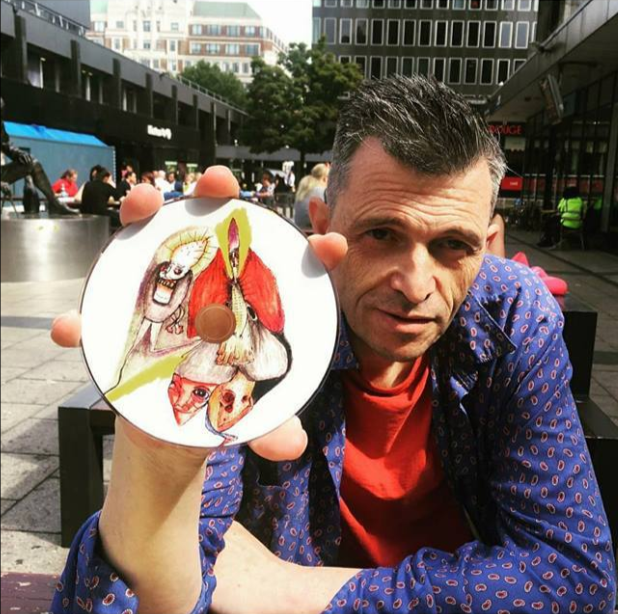 Nick Blinko with the original "Wilfred Owen the Chances" CD-single from 2009. Photo courtesy Jennifer Lauren Gallery.
Rudimentary Peni made an immediate impression on Crass's Penny Rimbaud, too; he quickly enlisted the threesome into the Crass Records roster. The band thusly became affiliated with the early 80s UK anarcho-punk scene that centered around Crass, Poison Girls, and the Wapping Autonomy Centre anarchist venue. (For a while, Rudimentary Peni even had a kind of sister band, the perhaps-even-more-morbid, uber-cult, Lovecraftian deathrock act Part 1). In 1983, Rudimentary Peni debuted their seminal Death Church LP on Corpus Christi Records, a side-imprint of Crass Records that also included acts like UK Decay and The Very Things. The morbid atmosphere, creepy artwork, and overall nightmarish vibe of Death Church attracted listeners in the American deathrock scene as well as the early goth scene (or so-called positive punk scene) in England. "There's so much suffering encapsulated into it," Nick Blinko confessed about Death Church in a rare interview with Carlos A. Nunez for Flipside fanzine in the 1990s. "I tried to be as original [with Death Church] as I could."
Amazingly, Death Church briefly reached No. 3 (!) in the UK Indie Charts, according to Barry Lazell's Indie Hits 1980-1999. Of the LP's power, Trouser Press wrote:  "[Death Church features] venomous lyrics ripping through loud and clear (as they should, given song titles like 'Vampire State Building' and 'Alice Crucifies the Paedophiles'). While the songs are not exactly hook-laden, this is quite melodic for the genre. Tempos run from moderate metal through Pistolian thrash to hyperdrive blur. An intelligent, exciting, and highly recommended album." Death Church continues to be many fans' favorite Rudimentary Peni release, and it remains a landmark in the deathrock and anarcho-punk genres. "[Rudimentary Peni's] innate ability to disturb and provoke the listener on some deep and primal level was almost unrivaled in the punk scene," Ian Glasper later wrote. "They were demented visionaries towering above a sea of all-too-often shallow and generic peers." (Full disclosure: I moonlight as a DJ myself, and "Death Church" is my DJ name for a reason.) The LP would even later gain a following among black metal fans. After the success of Death Church, Rudimentary Peni's future seemed bright.
An audio rip of the original 2009 "Wilfred Owen the Chances" CD-Single
But Rudimentary Peni's follow-up LP did not come until half a decade later—a massive, 30-track tribute to HP Lovecraft: 1988's sprawling Cacophony. By this time, Crass Records and Corpus Christi had gone dormant, so the band released the LP back on their own, smaller Outer Himalayan imprint. By the time Cacophony hit store shelves in 1988, Rudimentary Peni's personnel had run into an incredibly bad string of luck. Bassist, co-founder, and co-lyricist Grant Matthews—the most accessible of the band's three members for interviews—was diagnosed with cancer. (Thankfully, Matthews fought the cancer and survived.) Singer Nick Blinko's chronic mental illness also spiraled out of control. Blinko suffers from schizoaffective disorder, the same mental illness endured by fellow singer and creative type Adrian Borland of The Sound, and which, it is generally surmised, contributed to Borland's tragic suicide in 1999. (Some sources report Blinko suffers from schizophrenia.) Experiencing hallucinations, in 1992 Blinko was committed to a mental hospital under Section 3 of England's 1983 Mental Health Act, which allows patients to be committed against their will. It was in the psych unit under these circumstances that Nick Blinko wrote Rudimentary Peni's third full-length LP, the certifiably bizarre Pope Adrian 37th Psychristiatric, not released until 1995.
The 1990s were a strange time for Rudimentary Peni overall. Many thought the band had broken up. After Blinko was released from his mental hospital confinement, the band were convinced to play a sort of "comeback" concert at London's The Venue on December 20, 1992. This surprisingly large affair was filmed, and it's the best-quality recorded live moment of the stubbornly camera-shy trio. The band are shaky on the video, and Blinko seems especially ill-at-ease in his frontman role, especially with drunken stage divers hanging around him. The 1992 Venue gig is the only filmed performance of Rudimentary Peni, and indeed to this date, it has been one of their last live efforts at all. ("Playing live is a pain in the ass," Nick Blinko said in a rare interview with Graeme Wood's IQ32 zine. "Who needs it?") US tours were rumored but never occurred throughout the 1990s; optimistic flyers for US shows in the 1990s can be found on the web today, leading many to falsely believe Rudimentary Peni have played in the US. In fact, the bulk of Rudimentary Peni's live performances were in the early 1980s, and those appearances only number about 25 or so, mostly at very small DIY and anarchist venues or squats. There are some rough audio bootlegs of varying quality of some of these shows.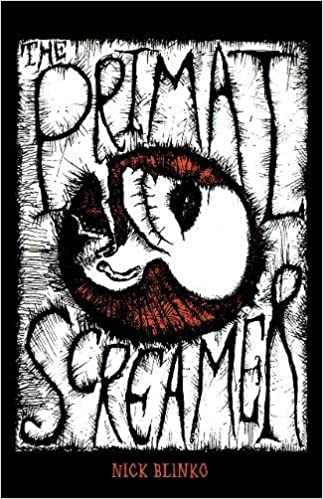 The punk power trio's two releases in the 1990s—1995's Pope Adrian 37th Psychristiatric LP and the artsy 1998 "Echoes of Anguish" EP—although solid—are the weakest releases in the band's nearly 40-year catalog. During the 90s, singer Nick Blinko's career began developing along varied paths: He wrote and published a quasi-autobiographical horror novel, Primal Screamer, in 1995. This novel's reputation has grown over the years, and it was reprinted by PM Press in 2011 after original editions began to fetch over $1,000 on eBay and elsewhere. As well, Blinko's career as an outsider visual artist began to come into its own. The Henry Boxer Gallery in London, England took on Blinko as a client and began exhibiting his meticulously detailed and macabre artwork. "[Blinko's] images are constructed of microscopically detailed elements, sometimes consisting of literally hundreds of interconnecting figures and faces, which he draws without the aid of magnifying lenses and which contain an iconography that places him in the company of the likes of Bosch, Bruegel, and the late Goya," academic Colin Rhodes wrote in his authoritative 2000 work Outsider Art: Spontaneous Alternatives in its section profiling Blinko's work. "His pictures produced in periods when he was not taking medication bring no respite from the psychic torment and delusions from which he suffers. In order to make art, Blinko risks total psychological exposure."
As the new millennium dawned, Rudimentary Peni went back into the studio and released the 12-song "Underclass" EP, in many ways a return to form for the band after 1998's experimental (and, to me, frankly lackluster) "Echoes of Anguish" effort. The band's new lyrics showed the group going in a new lyrical direction, exploring more broadly, existentially nihilistic—if not downright fatalist—themes as opposed to the socio-political focus of the early 80s. "No other truth but power alone," Blinko sings in the chorus of a track on "Underclass." The short, mid-tempo, almost metal-y tracks on 2000's "Underclass" serve as the general template for the two other EPs that came out of the aughts. Those EPs, "Archaic" and "No More Pain," are the band's strongest material since the days of Death Church. In some ways, the material on these EPs warrants comparison to Pink Flag-era Wire—short, driving punk as minimalist art form. Bassist and co-lyricist Grant Matthews even made himself available for interviews at the time of the 2000s EPs; Grant and drummer Jon gave perhaps their most in-depth interview ever for Ian Glasper's exhaustive 2007 book on anarcho-punk, The Day the Country Died. Grant stated that Rudimentary Peni were back in business and would be releasing an EP of new material every four years: "Underclass" came out in 2000; "Archaic" came out around 2004; "No More Pain" came out in 2008. In 2012, fans eagerly awaited a new EP. It never materialized.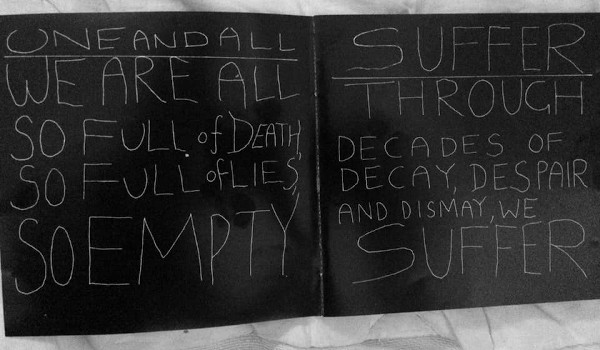 Handwritten lyrics from Rudimentary Peni's 2004 "Archaic" EP
David Tibet of experimental/apocalyptic folk act Current 93, long an admirer of Nick Blinko's artwork and lyrics, also began to work with Nick Blinko in the aughts, culminating with the publication of 2009's The Haunted Head, Blinko's second book. Around 375 copies were printed, and each came with a one-track CD-single featuring the song "Wilfred Owen the Chances," the song whose upcoming vinyl version instigated this article. A couple of years later, Tibet also published Blinko's third book, Visions of Pope Adrian the 37th. Information on that book can be found here.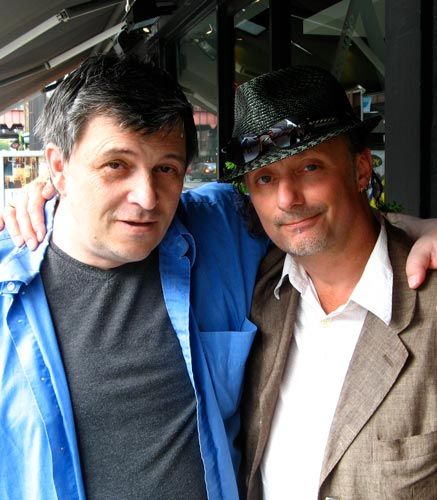 Nick Blinko of Rudimentary Peni and David Tibet of Current 93, partners in arms.
Rudimentary Peni's new 7″ single comes out May 29th.
You can pre-order Rudimentary Peni's "Wilfred Owen the Chances" 7″ from La Vida Es un Mus HERE.
You can listen to or buy the "Wilfred Owen The Chances" 7″ digitally on Bandcamp HERE.