EXPLORE THE UNKNOWN, RULE WITH AN IRON FIST
THE DUST KICKS UP IN THE WIND
CHASING THE UNKNOWN EDGE
Here comes a band out of the blue with a sonic signature fully developed right from the start, raising an endless chain of physical reactions: skin, hair, heart, brain. Germany's PAAR, comprised of Ly Nguyen (vox), Rico Sperl (bass, synths), and Matthias Zimmermann (guitar), explode with sharply-contoured riffs, rhythmic synths, and drum machines, and Nguyen's trademark deadpan reminiscent of Siouxsie, Xmal Deutschland, and Cocteau Twins.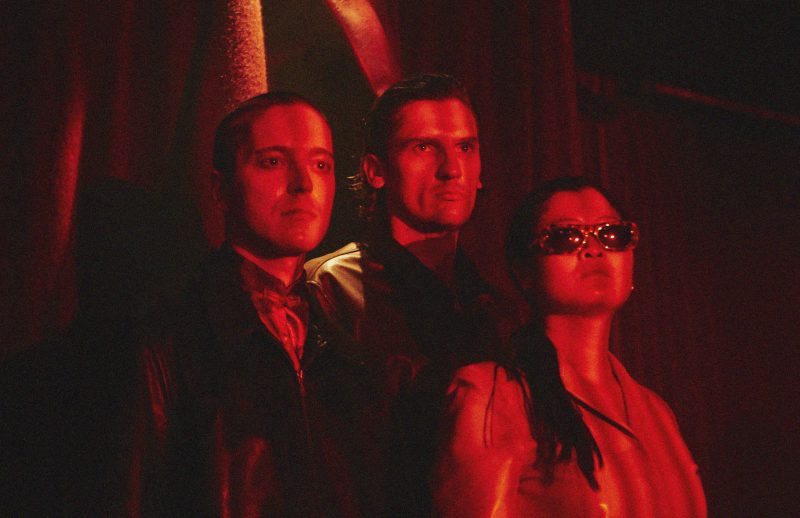 Soaked in layers of New Wave and post-punk, swathed by modern electronic sounds and experimental punk, PAAR have crafted a musical body refined with steady textures of guitar and bass, sanded with distinctive lyrics and vocals.
Retro in sepia tones, modern in matte black, packed with relentless intensity, PAAR's debut album Die Notwendigkeit der Notwendigkeit (The Necessity of Necessity) is a lesson in dark elegance – reminiscent of the early eighties, yet exhibiting complete stylistic freedom. Their thoughtful new track EIS, from Die Notwendigkeit der Notwendigkeit, bursts with gothic overtones and cryptic visions.
Here's the abstract new music video, produced by DAS DIKTAT, and directed by Sebastian Dominic Auer (with sculptures by Ronja Berg), for EIS:
Die Notwendigkeit der Notwendigkeit is out now through Grzegorzki Records.