Christian Death fans, rejoice: a new book is out detailing photographer Edward Colver's journey with the band.
For the uninitiated, American deathrock outfit Christian Death was formed in Pomona, California, in 1979 by Rozz Williams. Williams was eventually joined by guitarist Rikk Agnew of the band Adolescents, James McGearty on bass guitar, and George Belanger on drums. This line-up was responsible for producing the band's best-known work: their 1982 debut album Only Theatre of Pain, which was highly influential in the development of deathrock, as well as on the American gothic scene.
During a six-month period between late 1981 and early 1982, legendary LA punk rock photographer Edward Colver befriended Christian Death, and photographed a dozen of the band's concerts in the Los Angeles area. He also conducted a portrait shoot with the band at Rozz's family home, which was later used for the album the US back cover of Only Theatre of Pain. These photos are highlighted, as well as a session of now-iconic images at a cemetery in their hometown.
Cult Epics founder Nico B produced an oversized hardcover book of Colver's photos capturing those rare and never before seen moments, as well as the story of early Christian Death through exclusive interviews with Edward Colver and surviving band members for the 40th-anniversary release of Only Theatre of Pain. Colver's book is also called Only Theatre of Pain, documenting the dark magic of Rozz Williams in the band's original incarnation.
Not since the release of the Rozz Williams Artbook, also by Cult Epics, has there been such an essential piece of deathrock history available for fans to enjoy.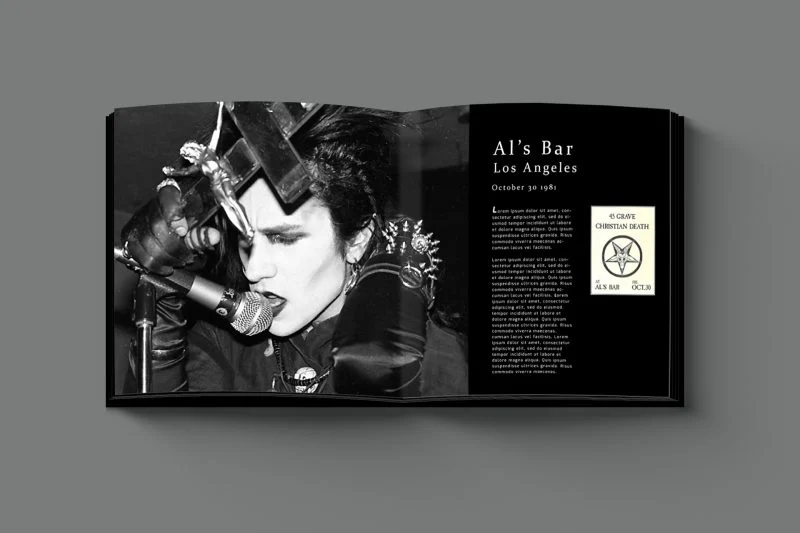 Measuring 12×12 inches, the hardcover book boasts over 300 images and text in over 200 pages. It is a pleasure to pour over each of its glossy pages, immersing yourself in a hi-resolution time machine capturing the magic of Rozz Williams and Christian Death, and one of the most creative periods of the California underground music scene.
Gazing upon Rozz's commanding peacock visage in decaying furs and wedding dresses, holding a microphone like a tamed serpent is captured across many stunning photographs snapped by Colver, and it is nearly overwhelming to visually feast upon each image, whether it be an iconic moment on stage, at home, or lounging in a cemetery. The delightful sacrilege of Rozz and Christian Death is displayed elegantly in its depravity.
Accompanying the captivating photos are the exclusive interviews in the book, which serve as a rare and essential insight and communion that ensnares the reader into the beautiful chaos of the period. This is more than just a coffee table book or a prized collector's item; this is an immersing world-building work of art that will deepen fans' devotion to one of the most provocative frontmen and bands ever to walk the face of Earth.
Special editions of the book also include and stunning pressing of the album Only Theatre of Pain and are worth the extra investment or perhaps selling your soul to eternal damnation to obtain.
The Christian Death Only Theatre of Pain 40th Anniversary Book Featuring Photography by Edward Colver is out now!
and Here for Europe