Just last Friday, Chicago-based post-punk quartet Ganser issued their long-awaited sophomore LP, Just Look at That Sky. The album, issued via Felte, is nine tracks of high octane, art-damaged bliss, chock full of angular guitars, throbbing bass lines, and catchy hooks at every turn, calling bands like Au Pairs, Kleenex, and Wire to mind.
Just Look at That Sky serves as a snapshot of the inner-self and the world at large, whether it be painting a portrait of thinly veiled personal truths or a future that never could be. There's a healthy dose of infectious energy and hopeful optimism buried beneath the record's caustic, noise-ridden exterior. Aside from the surrealistic video for lead single "Bad Form," the band issued three additional videos leading up to the release, all of which were conceived, directed, and fully edited by the band, showcasing their talents across the spectrum.
The latest video, unveiled just before the album's release, is for the fast and furious "Projector," a track grounded by an infectious rhythm section, but seething with power, driven by Charlie Landsman's incisive guitar work and synth/vocalist Nadia Garofalo's poetic vocal delivery. The video features Garofalo presenting the lyrics and themes in a vintage slideshow, a cautionary tale of sound and vision that is as prescient as it is nostalgic.
"It's what happens when someone becomes so far removed from general society that their thoughts become a Dunning-Kruger Effect echo chamber of pseudo-wisdom and self-affirmations. Connection and perspective gets lost, but that echo becomes louder and often public. 
We shot this the day after SXSW was cancelled. We didn't know what was coming, but we knew it wasn't going to be good."
"Emergency Equipment and Exits" is one of the album's clear standouts, an otherwise manic track that gives way to a dreamier, groove-filled middle section and features vocals by bassist Alicia Gaines, half of the self-proclaimed two-headed monster that drives the band's creative urges. The lyrics and video both tap into exploring freedom outside of the reality that exists, simply walking away from the current situation and embracing intuition, even at its most chaotic.
Alicia explains, "Sometimes everything gets too close, even when things are good, and you get this screaming desire to run away. The song and video are both about feeling estranged from reality and choosing nothing over too much– the floor drops out, and you only have yourself to deal with. It was very strange to be focused on not only the video direction, but also safety precautions during this time."
Opening track "Lucky" sets the tone for Just Look at That Sky, with pounding Albini-esque drumming from Brian Cundiff and the band's highly-wound ministrations. Garofalo's vocals burn with anxious intent, channeling Lydia Lunch and Kim Gordon with unsettling fury. As with the previous videos, the band wrote and directed the black and white clip, featuring Tom DeFrancisco and Sean Gundersen engaging a series of hedonistic actions.
Garofalo adds, ""Lucky" is a commentary on personal feelings of inadequacy and how these feelings can often result in unhealthy or extreme behaviors. Especially now, as we are in a time of uncertainty, it feels like we have even less control over what is happening to and around us. Isn't it shitty when things don't work out the way we'd hoped?!"
Just Look at That Sky is currently available on CD and LP via Felte. Check below for the full album art, track listing, and purchase links: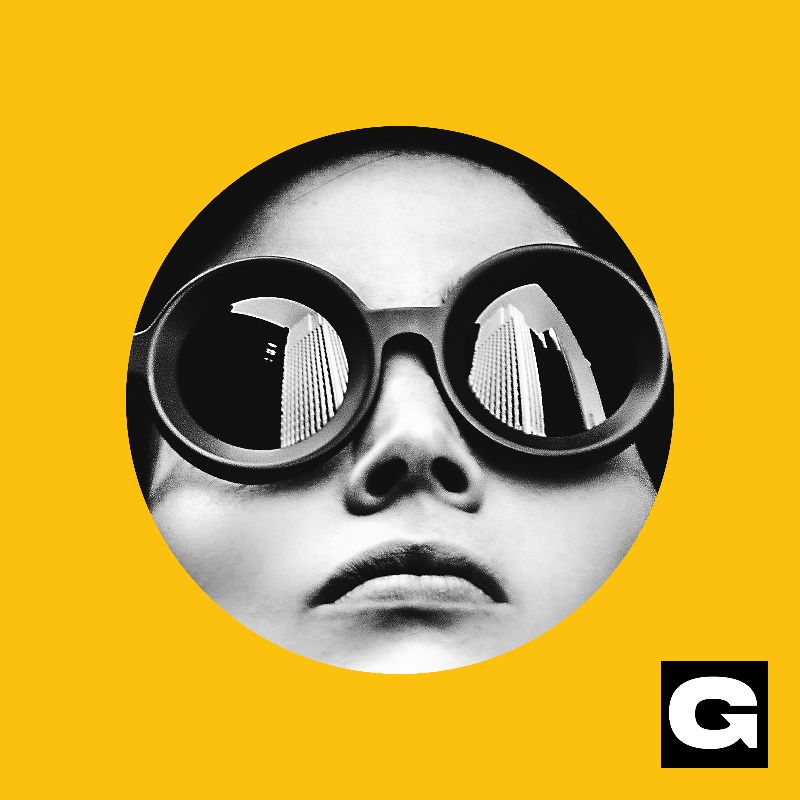 Ganser- Just Look at That Sky
1. Lucky
2. Self Service
3. Projector
4. Emergency Equipment and Exits
5. Told You So
6. Shadowcasting
7. Bad Form
8. [NO YES] 9. Bags For Life
Purchase CD/LP via Bandcamp
Photo by Kirsten Miccoli
All videos by Ganser