Belarusian post-punk trio Molchat Doma have released a new single and video, Discotheque, which is sure to rouse your revolutionary spirit…or at least your blood pressure. Discotheque is a change-up for the band's usual doom and gloom sound: the up-tempo song is featured in their forthcoming album, Monument, which will be released next month via Sacred Bones.
This track is a straight-up dance floor smash hit.  The band describes Discotheque as "a light dance composition, which was created in order to make the listener move to the beat of the music. A kind of answer to Just Can't Get Enough by Depeche Mode…Ideal for both mood elevation and unbridled fun."
Nevertheless, the song deftly captures those moments of respite and escapism found through music and dance. The single is accompanied by a beautifully-shot video, directed by Alexey Terehoff, which finds the band performing inside the Memorial Museum-Studio of Z. Azgur in Minsk to an audience of the museum's imposing statues and shelves of busts, ironically illuminated by a disco ball. Terehoff dubs the scene  "totalitarian disco," as the band passionately entertains Lenin, Stalin, Gorbachev, and other notable Soviet figureheads. It even takes a swipe at the sweeping Brooklyn landscapes and the macho swagger of John Travolta in the 1970s classic Saturday Night Fever, as Molchat Doma instead scowl on a foggy bridge as a drone slowly pans over the bleak vistas of crumbling Brutalist architecture.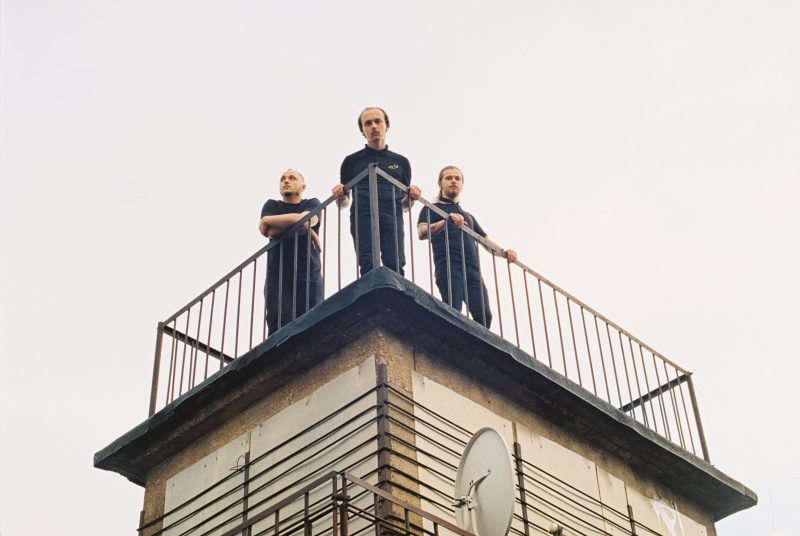 Terehoff aimed to capture the group's essence with the video:
"Real post-punk fades into the corny, harmless modern capitalist world. The group 'MOLCHAT DOMA' is from Minsk. This is the city that embalmed and revived all the idols from the era of the Soviet dictatorship. There are no politics in the video, only the STYLE, a mixture of pure, concentrated neo-totalitarian aesthetics and acidic post-punk."
Behold, the glory of Discotheque:
Monument is out via Sacred Bones on the 13th of November.
Tracklist for Monument:
01 Utonut
02 Obrechen
03 Discoteque
04 Ne Smeshno
05 Otveta Net
06 Zvezdy
07 Udalil Tvoy Nomer
08 Leningradskiy Blues
09 Lubit 'i Vypolnyat'