It's been an incredibly strong year for Primal Architecture Records. Alongside fantastic releases by Sylvian-esque synth collaboration The Red Window, a stunning ambient release by Nick Podgurski, and a split track by Vain Warr/The Harrow, the label has just released a new multi-artist compilation, titled The Waning Daylight.  Preview the full compilation below, courtesy of Bandcamp:
The compilation is carefully curated by Primal Architecture lead Joshua Strawn (also active in Vain Warr, Azar Swan, and Blacklist), who appears on several of the tracks as a collaborator as well. The compilation is in a word, stunning; a more pastoral, haunting, and rapturous affair that draws upon folk horror, the ambient textures of Harold Budd, and ritualistic choral/neo-classical influences.
While many of the names may be unfamiliar for readers of our site, one should pop out immediately. Track two features Clan of Xymox's Pieter Nooten, who channels a similar aesthetic as his masterful Sleeps with the Fishes album into a collaboration with Bert Barten. "Cedar XI" was constructed using MIDI samples collected from trees. Other highlights on the compilation include Lights With Teeth, a collaborative project between Strawn and daughter Grey that draws upon her early love of music and Strawn's ability to manipulate both organic and electronic instruments, Solar Hex, a project showcasing improvisational cellist Kaily Schenker, and Timber Rattle, a drone project with a series of cassettes out via Burial Dance. Label alumni Nick Podgurski also contributes a gorgeous, sophisticated dark ambient piece titled "Words Tend to Betray These Moments."
While The Waning Daylight features seven tracks, the entire compilation clocks in at approx. 50 minutes, and not a moment of it feels extraneous. Each track is a treatise in nachtmusik that serves as a fitting companion to the changing of seasons and the winter solstice. In a season otherwise filled with denominational, overplayed holiday music, there's a certain comfort to come from keeping this compilation close at hand throughout the winter months.
The compilation is available in digital form via Bandcamp, but for those who appreciate a physical release, a limited-edition run of 50 green cassettes is also available, which comes in a 5×5 reel box and includes a unique pendant designed and assembled by Oath Jewelry. Check below for the full details and purchasing link.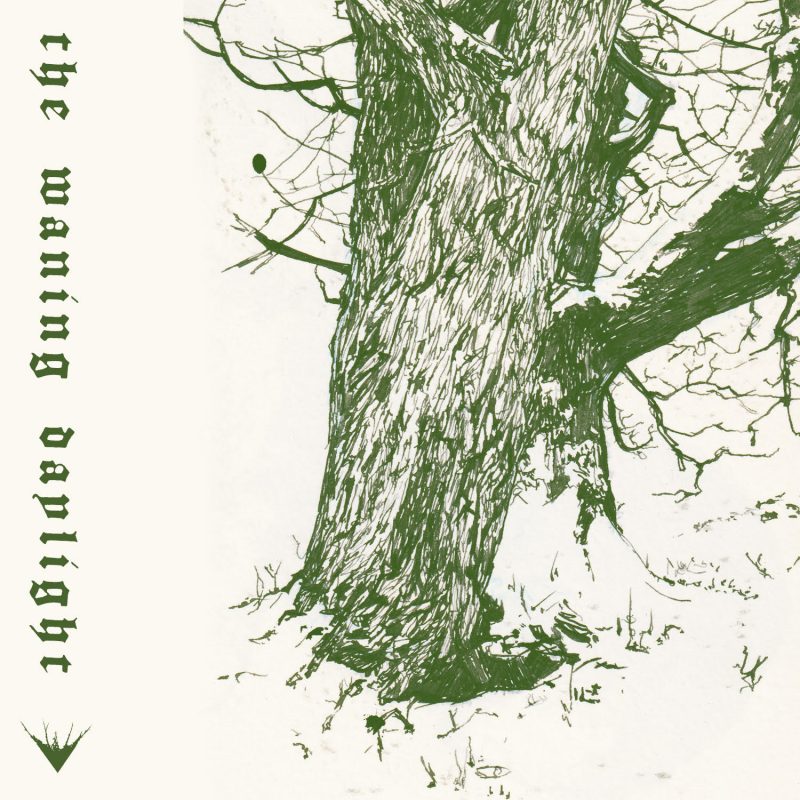 Various Artists- The Waning Daylight
1. Waves From Beyond- Alora Crucible + Crisantemos
2. Cedar XI- Pieter Nooten + Bert Barten
3. The Pine- Lights With Teeth
4. Words Tend To Betray These Moments- Nick Podgurski
5. Rabbit's Moon- Solar Hex
6. Through Creatures- Timber Rattle
7. Burying A Stone In Your Bed- Graven Image
Purchase digital and physical edition via Primal Architecture Bandcamp
Cover art by Caroline Harrison