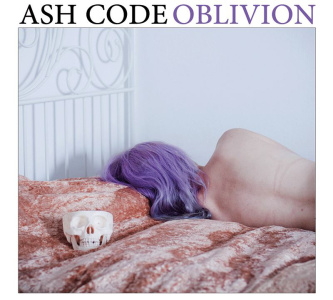 "Without you it's like playing to an empty room" – Alesandro
Ash Code is definitely a band that is blowing the dust off Darkwave and Postpunk these days. Alesandro and Claudia started this project with the release of the outstanding single "Dry Your Eyes" in January 2014. This dancefloor killer is still as gripping as when I came across this song for the first time.
You can experience the full range of perfectly arranged drum machines, plinking guitars, powerful synths as well as the distorted vocals and dark melodies. If you like SHE PAST AWAY, the song Drama will be yours especially due to the touching and fragile female vocals.   Additionally, the track WANT is highly recommended if you are into IN DEATH IT ENDS. Unnecessary Songs and Empty Room are pleasing to both your ears and your feet due to their compelling rhythm, while North Bahnhof will release you with this trance, and leave you with a somewhat melancholic mood. Thus In stating all of this, the arc of suspense of this album deserves a solid 10/10.
It's impossible to do anything other than to play this CD over and over again on repeat—you wont be able to just listen to it once. Promise!
BTW: Check out the work from the polish artist Sandra Roczen, she has created the wonderful cover for this release.
Show some love and like them on Facebook, check their stuff on Soundcloud and get the album on Bandcamp.