In Leipzig, at Wave Gotik Treffen 2014, during an unusual pre-summer heat wave, I interviewed one of my favorite bands of all time: Slowdive.
I had never been backstage at Agra Hall, which fits well over 10,000 people.  It felt very Spinal Tap having security escort me to the poorly ventilated dressing room where I fumbled while unpacking my recording equipment.
While I did so, Neil Halstead popped his head in for a moment, and then went behind the venue to catch the breeze (while not heeding the advice given to Alison—I'm afraid). The other" indie" fellow in the band, Christian Savill, I had met in the toilet, so of course there was that awkward moment where I could not immediately shake his hand.
Finally however I met with the goths(!?), and Nick Chaplin and Rachel Goswell sat down with me to answer my questions, with Simon Scott walking through occasionally, looking like he belonged with The Cure circa Prayer Tour. I needed to give Nick and Rachel the initial fanboy disclaimer, as I was feeling a bit Wayne and Garth when they were backstage with Alice Cooper…"We're not worthy!" However, I did not need to break the ice (which the heat had already melted at this point).
After reuniting, I was quite surprised that Slowdive had been booked to play the world's largest Goth festival, being that they are the most famous shoegaze band (right up there with My Bloody Valentine), but it began to make sense when Nick and Rachel revealed that they were "goths" as teenagers, listening to Siouxsie and the Banshees, The Cure, Fields of the Nephilim, and Christian Death (featuring Gitane Demone).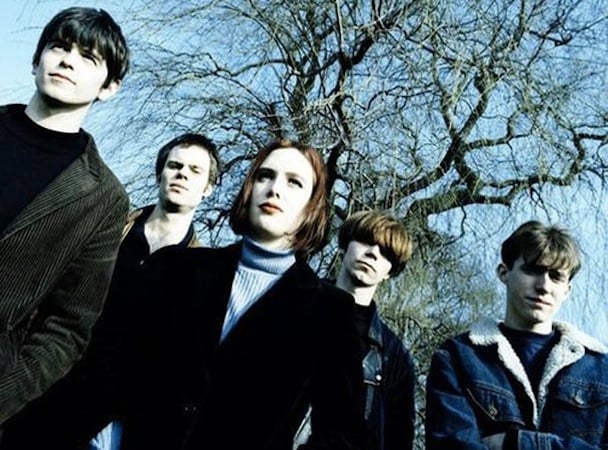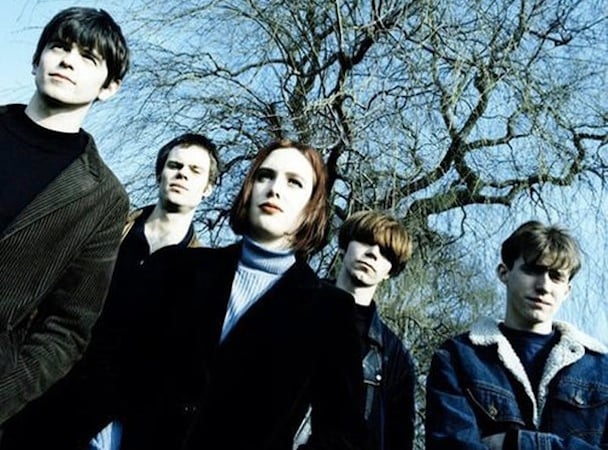 ---
Post-Punk: So you were goths when you were younger?
Nick: Not all of us, not all of us. But Rachel was a bit of a Siouxsie Sioux look-alike when I first met you, weren't you?
Rachel: Yeah, she was kind of my inspiration to start singing.
Nick: And I was brought into the band by the drummer at the time because the band was looking for a new bass player – they didn't get on with their bass player at the time, particularly – and erm…
Rachel: Who was the bass player at the time?
Nick: Michael Cottle. And I remember I walked into the first rehearsal and Rachel was a bit intimidating. She didn't mean to be but she was just a bit intimidating. And Neil said, "Oh no, not another bloody goth." That was the first thing he ever said to me. So yeah. So the two of us, you know, we were the "dark couple" really, I suppose.
Rachel: But not a couple.
Nick: But not a couple.
Rachel: No. Hahaha!
Post-Punk: But Neil was the one-he was the jock among the goths?
Rachel: Kind of. He was an indie kid, Neil, wasn't he?
Nick: Well I wouldn't call him a jock.
Rachel: Just an indie kid. He was into, like, Talulah Gosh and The Primitives – what I would call really twee indie shit. That was my terminology for that kind of music because I didn't really like it.
Nick: He had the whole indie bowl haircut going on, so yeah, Rachel and I were a bit different.
Rachel: He did like The Cure, though, didn't he?
Nick: Y-yeah.
Post-Punk: Well The Cure weren't always goth. They were a kind of poppy rock band at first, and then again later.
Rachel: Yeah they did get quite poppy, didn't they.
Post-Punk: I think it was Siouxsie Sioux that turned Robert into a proper goth.
Rachel: She still looks amazing now.
Post-Punk: Oh yeah. She's still awesome. She and Severin are talking again; I'm hoping that they do something this year. It'd be great. I know that there was some friction between him and Budgie during the, like…was it fifteen years ago when they toured?
Rachel: Don't know.
Post-Punk: No, not fifteen, it was twelve. 2002. Yeah so maybe…I don't know but…
Nick: So is she still with Budgie?
Post-Punk: No they got divorced.
Nick: Did they?
Post-Punk: He lives in Berlin.
Rachel: Everyone lives in Berlin! We'd be right at home there.
Rachel: I was kind of hoping there'd be some bands here at this festival that I'd recognize. And then I looked at the line-up and thought, I don't actually recognize any of the band names here. I was really hoping, given the goth heritage, that somebody like the Nephilim would be here, you know?
Post-Punk: Oh yeah, I saw them here a few years ago.
Rachel: Which would be amazing. I mean we saw them back in the day, didn't we?
Nick: Yeah.
Rachel: Quite a lot.
Nick: We probably shouldn't overstate our goth heritage, should we, really? But I mean…
Rachel: It's nothing to be ashamed of.
Nick: No, no, but you know, in terms of the band, it was you and I with that sort of influence but…
Rachel: Yeah.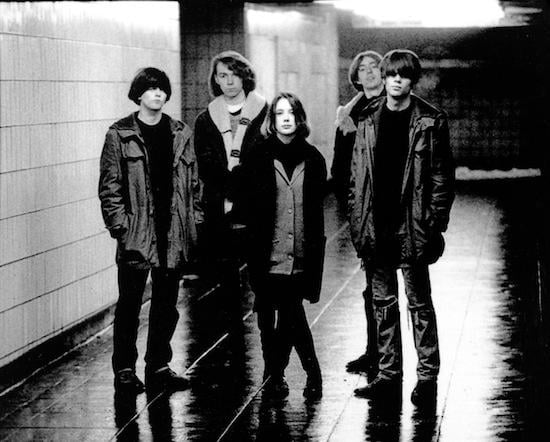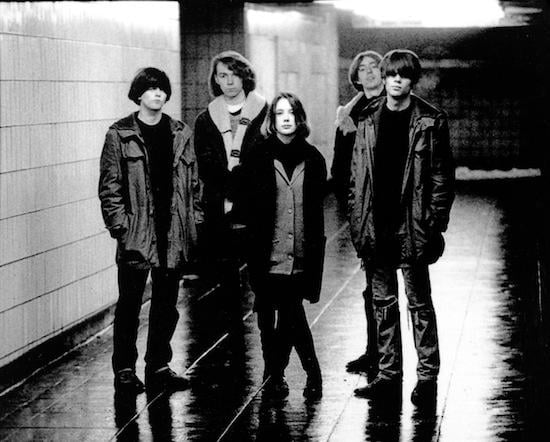 Post-Punk: I'm curious, speaking of being labeled as something, a lot of people were writing really aggressive bullshit about the kind of dreamy music you guys were doing back in the late '80s, early '90s. And nobody thought it was cool and then afterward, there was the whole grunge thing the press embraced – that kind of killed Creation Records and the whole "shoegaze" thing.
Rachel: Well it was all the journalists. Everything was led by journalists in England. We didn't have all the stuff you have today to access music, so…
Post-Punk: So one snarky person…
Rachel: Yeah, yeah – just had the power to effectively…
Nick: And I mean, when you actually look back, they made the band – because Melody Maker in particular were all over us for the first three EPs, you know, each EP was single of the week, which in those days was an accolade, especially for a band like us.
Rachel: Even being on Creation was an accolade – sort of the coolest label.
Nick: So, you know, there was the positive side of it, but then again you're right, there was one sort of bad review. We had a bad review for the first album.
Post-Punk: That doesn't make any sense, considering the other stuff that was coming out at the time.
Nick: Well I think they were just looking for something else.
Rachel: It's all egos.
Nick: They were looking for something else and, yeah, there was a lot of…the journalists in those days were almost more important than the bands themselves. Or at least they saw themselves as more important.
Rachel: They totally did.
Nick: They saw themselves as kingmakers and king-breakers, I suppose. Erm, so really we…They were on our side to start with but then yeah, it did flip and it did turn and we found it-
Rachel: Didn't take long.
Nick: We found it very difficult getting positive comments in the press after that point. But, you know, the shows were still good, people were still coming to see us. It became difficult towards the end but…
Post-Punk: Was that kind of the breaking point? I know that's such a cliché but I mean yeah, if you're getting so much shit and the label's giving you shit-
Rachel: Being in a band is just one big cliché. All of it is Spinal Tap. No matter what genre of music it is, there will always be Spinal Tap in your band. You can't avoid it.
Nick: Yeah, you can't get away from it.
Post-Punk: And this venue is a classic "Hello Cleveland" place. Yeah so…But these days it seems cool to say-
Rachel: Well it's shoegaze!
Post-Punk: Which really makes no sense to me, that term. It was a reference point for the music… But I mean I guess it's what, you're supposed to stare at your shoes, not moving? Playing-
Rachel: Well it was from the guitar pedals really. In my case I'm looking at the fretboard when I play…
Nick: Yeah, there are elements as to where it came from. But I think, yeah, there is a lot of looking down because, you know, there's the guitar pedals thing. And also a lot of the bands were not fantastic musicians, you know, it was almost like a punk ethic at the time.
Rachel: Quite introspective though as well.
Nick: So there was an element of, Oh, what am I playing? You know, none of us were musical virtuosos that could kind of, you know, jump around. We had to look at what we were doing. And the music kind of lends itself to not being particularly active on stage. And so yeah, it was just coined – I think Neil remembered – the term was coined in a review of Moose. I don't know if you remember the band Moose?
Post-Punk: No, actually, I don't.
Rachel: They weren't very good.
Nick: They were erm-
Rachel: -rubbish.
Nick: I don't really remember but they were part of that genre. And it stuck.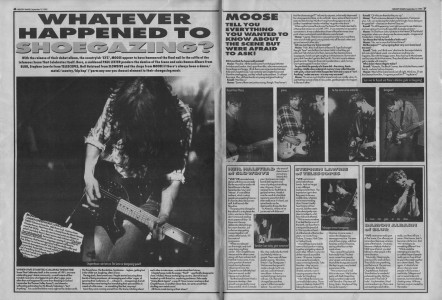 Post-Punk: I'm going to go off on a tangent but I just have to say this just to take the piss a bit but, erm, have you ever seen the comparison between Neil and Michael C. Hall?
Rachel: What? Who?
Post-Punk: Michael C. Hall. Dexter. They look like twin brothers.
Nick: Oh really?
Rachel: Do you think? I suppose he does without the beard.
Post-Punk: Well that's the funny thing about it, the end of Dexter when he went over to the mountains and grew a beard…
Rachel and Nick: Hahaha!
Nick: I mean his beard does stand out.
Rachel: He did trim it last week.
Nick: Yeah, it's tidier than it was.
Rachel: He had a haircut and a beard-trim…
Post-Punk: He's dressed like a trucker.
Rachel: He's been like that for the last, well, about the last fifteen years. That's just Neil. That's just the surfer dude. He surfs.
Post-Punk: He surfs?
Rachel: He's been surfing since the early '90s.
Nick: He lives in Newquay down in Cornwall, which has a big surf community. Well, it's the biggest surf community you can get in England.
Rachel: The first surfing thing was in LA when we were on tour. That must have been with Slowdive. It was with Slowdive. Somebody took him surfing and that was that. He's been doing the surfing thing for over 20 years now.
Post-Punk: Speaking of surfing, where does the kind of '60s stuff come from?
Nick: Neil primarily.
Post-Punk: Neil?
Nick: Primarily, yeah.
Rachel: Velvet Underground.
Post-Punk: Velvet Underground? Lee Hazlewood?
Rachel: Hmm yeah. I suppose we did Some Velvet Morning didn't we?
Nick: I mean all of us have certain influences from the '60s. I mean I love the late '60s, early '70s Rolling Stones. I was always much more of a Rolling Stones man than a Beatles man. In that narrow timeframe. Not like Start Me Up-era Stones or anything like that.
Rachel: [sings]
Nick: I mean Christian has, you know, those same sort of influences, the Velvets and things like that. But Neil- especially as Neil's a primary songwriter as well, so that's, you know, his influences sort of come through in the songs. I think he just admires the classic '60s pop tunes because whatever we do, even though we're associated with all these soundscapes and all that kind of nonsense, we always do try and have a good pop tune in the background somewhere. We want to have a hook, we want to have a melody; we don't want to just have like a dirge. So I think that's probably where it shows through.
Rachel: A dirge is nice sometimes.
Nick: Mmm, as long as there's a tune somewhere.
Rachel: Yeah. I like a dirge.
Post-Punk: I'm all about the dirge. So…Many people I know got into Slowdive from Doom Generation and Nowhere– have you seen any of those Gregg Araki movies?
Rachel: Yeah, I've met Gregg a few times.
Post-Punk: Yeah?
Rachel: Yeah. They've got Slowdive tunes in them. He's a massive Slowdive fan. Yeah, I've met him a few times out in LA. When we played they would always come to all of the Mojave 3 gigs. He was always there with Jimmy Duval; Jimmy supplied a spliff for us. Jimmy's very excited we're back together.
Nick: Is he?
Rachel: You'll meet him. Did you meet him back in the day?
Nick: Don't recognize the name.
Rachel: Well he's in The Doom Generation; he's like one of the main characters.
Post-Punk: Have you ever met Scott Heim?
Rachel: Yes.
Post-Punk: I've talked to him online. He's been very supportive of many cool things, Actually I was very thrilled when he messaged me. I thought Mysterious Skin was one of the best films I'd seen and then I went and read the book and I was just like, Wow!
Rachel: I haven't read the book. I've seen the film but it was a long time ago.
Post-Punk: and there's this character called Avalyn…

Rachel: Yeah he's a massive Slowdive fan. Scott actually – on Twitter a few months ago – I think I probably tweeted something; I was practicing singing Slowdive songs at home and he tweeted me saying, "I'd pay you a thousand dollars to come and sing in my lounge!" Neil was like, "Well you should go then!"
Nick: Make sure you get your flight paid for as well, though. And expenses.
Rachel: Scott's nice though.
Post-Punk: Yeah he's a sweet guy.
Rachel: He's an überfan. As is Gregg, really. I haven't seen Gregg for years but I would expect him to be there when we go to LA. Not that we're doing an American tour.
Nick: Well we're playing Fuck You Festival…Fuck Yeah Festival, not Fuck You Festival.
Post-Punk: There's a Fuck Yeah Festival?
Rachel: Yeah, yeah.
Post-Punk: Have I been under a rock?
Nick: FYF.
Rachel: FYF. How do you say it? Is it "Fiff", "Fyfe", or is it "F-Y-F"?
Post-Punk: I have no idea. I've never heard of it.
Rachel: Of course not. You've never heard of it?
Nick: It's relatively new, Rach. I think they've been going a few years. It was in LA Historic State Park – that was the original location – but they're renovating that park at the moment apparently so it's in the LA Sports Arena or something? I dunno. But we're doing it in August with Phoenix and Interpol and a bunch of others. We've got a good day actually, we're on the same…At the top of the bill there's us and then Interpol and then Phoenix on that day so-
Rachel: They're at the top of the bill, we're not.
Nick: Phoenix are top of the bill, yeah.
Rachel: I don't know what they sound like. Or Interpol, really.
Nick: Interpol are great. Well I like them.
Post-Punk: I liked Interpol alot back when Carlos was in the band.
Rachel: Have they been going for a really long time?
Nick: A wee while, yeah.
Post-Punk: Oh, twelve years at least?  You mentioned Mojave 3 a moment ago…I remember going to a Mojave 3 show over at the TLA over in Philadelphia, it was like '98 or '99 and everybody was requesting Slowdive songs-
Rachel: Yeah, that happened throughout Mojave gigs for ten years. "When the Sun hits, Catch the Breeze! Dagger!" All the time. Yeah, all the time.

Post-Punk: That's exactly what happened. And you said, "This is the late '90s, not the early '90s."
Rachel: "Get over it!" That happened a lot.
Post-Punk: One of the few bands that I ever bought bootlegs of, like, burned CD bootlegs, was you guys because I think, like, all the EPs were out of print I think, after a point. And the songs weren't available until the reissues.
Rachel: Yeah, Sony own everything now, so they've been recycling stuff out via reissues.
Post-Punk: Yeah,  before you couldn't get Avalyn at all unless it was a bootleg, or Pygmalion via import.
[a man walks in and out of the dressing room]
Rachel: That's Michael, our sound engineer.
Nick: Who worked with The Cure.
Post-Punk: Oh really?
Nick: So another connection, you see.
Post-Punk: I am a big Cure fan.
Rachel: So are we.
Nick: The best sound engineer they've ever had, apparently. Which is why he's back with us.
Rachel: Yeah! Hahaha!
Post-Punk: I wonder if Robert's a fan of you guys.
Nick: You know what, there have been times where there have been interviews that he's done, like on radio in the UK or print interviews, where he has dropped our name in as bands that he was interested in around that time.
Rachel: Has he?
Nick: Yeah, yeah. Ride opened for him at Wembly Arena back in, I don't know, '91 or '92 or something and they toured with Cranes, who at the time we were really close to.
Post-Punk: They played here once.
Nick: At this festival?
Post-Punk: Yeah.
Nick: Oh did they? Well that kind of makes sense. We did a European tour and a UK tour with Cranes and we got on so well and they're such a lovely bunch of guys – guys/girl – there was a real kind of kindred spirits thing going on with us. So they played with The Cure. But our paths have never sort of crossed, you know? It was something that I've always thought, you know, even if it's only for a couple of one-off shows or something, I think our audiences would maybe overlap quite well.
Post-Punk: I think definitely.
Nick: But it's just- no, it's never happened. So you know, maybe that'll be something for the future.
Rachel: That's Nick's ultimate dream.
Nick: Well, I'll just have to throw myself at Simon's feet, won't I? "I'm not worthy!"
Rachel: Simon's his hero.
Post-Punk: Oh yeah?
Nick: Well, you know, he was one of my sort of early reasons where I thought, Yeah, I wanna play bass guitar.
Post-Punk: He's still got it.
Nick: He's on it!
---
 http://www.slowdiveofficial.com/