[dropcap]U[/dropcap]ncle Al seems to be warming up to his Gothic past. Yep—Ministry is featured in a special Record Store Day release titled Trax! Box, a seven disc boxset containing 101 songs and 29 previously unreleased tracks, like the fantastic demo for the new-wave styled track "The Game Is Over" (above, which sounds a we bit like the Human League). Oh yeah, ahem…and the compilation also features the video version of "Same Old Madness".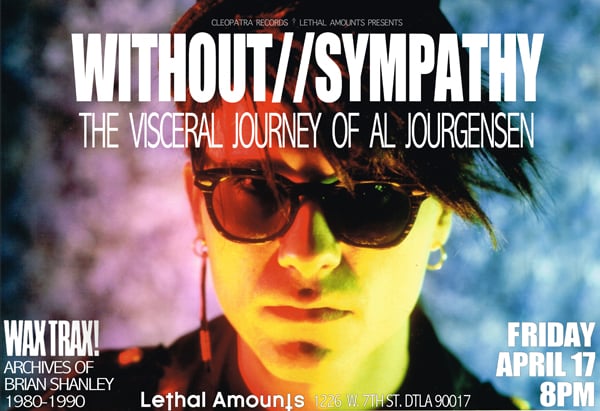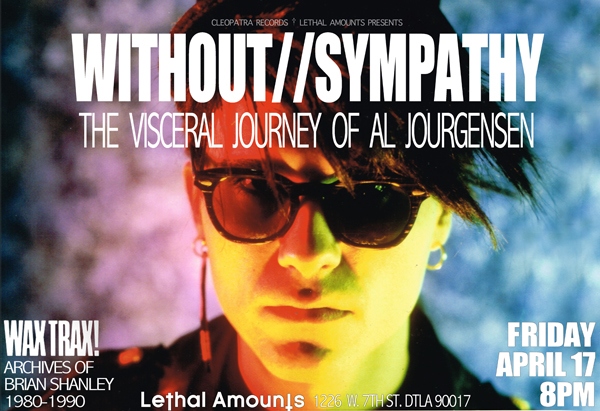 Not only that, on the eve of the Record Store Day release, Deathrock Art Gallery Lethal Amounts in Los Angeles will celebrate Ministry and Its mad impresario Al Jourgensen via a epic photo exhibit called "Without Sympathy: The Visceral Journey of Al Jourgensen."
Co-presenting this event is infamous Gothic/Industrial label Cleopatra Records—which is releasing the 7CD/1LP Trax! Boxset. The exhibit's opening night, 8 p.m. April 17, with special appearances by Mr. Jourgensen himself, plus Brian Shanley—photographer and art director for Wax Trax! Records—whose archives are being used for the show.
The exhibit will feature "an unearthed selection of photographs and archival printed matter including album art/layout, concept art, promo material and more dating from 1980-1990,"
The gallery is located at 1226 W. Seventh St. in Los Angeles. RSVP via Facebook.
Below, see some of the images that will be featured in the exhibit.