The new single from Philadelphia gothic hair metal outfit Sonja, "Nylon Nights," is a revenge tale for the ages.
It all started in 2017, when Texas black metal musician Melissa Moore came out as transgender to her Absu bandmates -and was promptly fired via text message. The betrayal, hurt, and subsequent shunning rocked her to the core. Drummer Grzesiek Czapla and bassist Ben Brand joined forces with her to form her new band Sonja.
Sounding like a heady mix of goth rock and 80s hair metal bands, Sonja blasts powerful hooks that would be right at home opening for the likes of NWOBHM stalwarts, Mötley Crüe, The Cult, and Sisters of Mercy alike, culminating in their first full-length (and Cruz Del Sur Music debut), Loud Arriver. Loud Arriver is Moore's first full-length album in a decade, marking her debut as lead vocalist.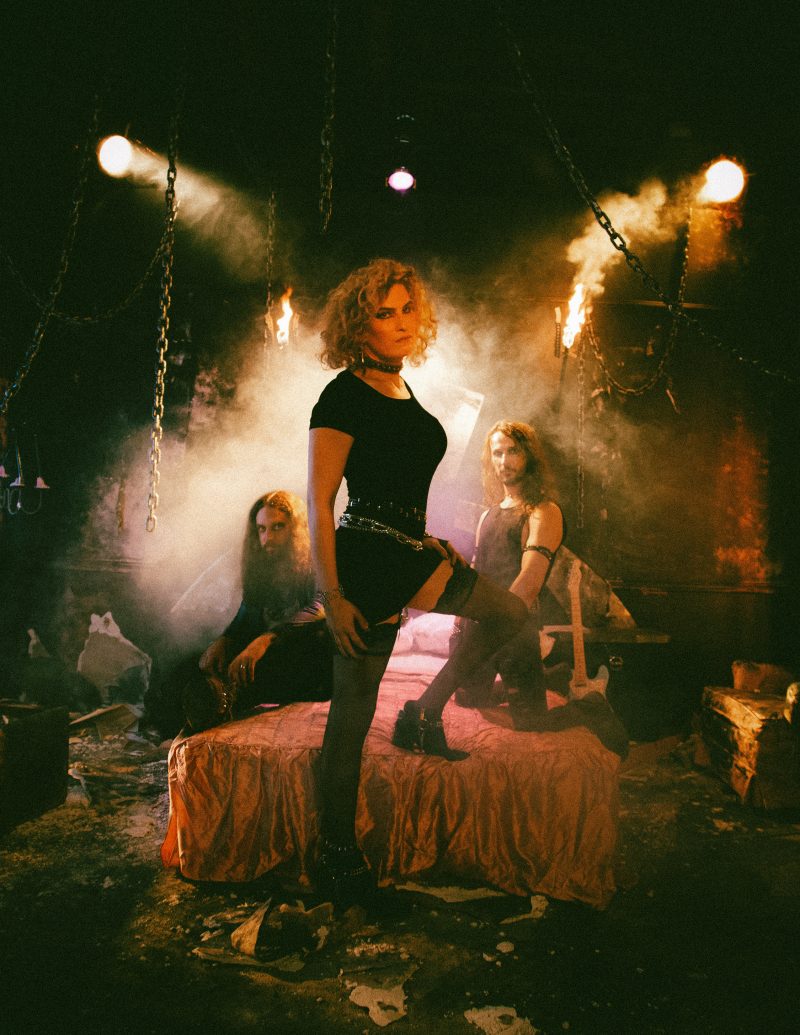 It is a catharsis: much of the music Melissa Moore wrote during the Absu debacle is now lost due to the adversity surrounding her gender; the pandemic further delayed production. But Sonja forged ahead, creating big, anthemic songs.
As Moore notes on the origin of the band:
"We actually started in 2014 and were active under the radar while Absu still existed. When Absu collapsed in 2017, Sonja went into full focus, and I was a shattered person. Its output couldn't be rushed because the stakes were so high now."
On songwriting for Sonja's debut album, she adds:
"Interestingly, the lyrics were written in a time of fear and darkness for me. Right up until the moment I sang them in the studio. I was existing in a numb void. I really had to acknowledge that I was cut off from the light. I can only delve deeper or wait in place for nothing. The performance of these songs demands a power that only came to me recently, and I descend into my surroundings more intentionally now.
The video for the lead single 'Nylon Nighs", directed and edited by Geneva Jacuzzi collaborator Zev Deans, depicts a sex worker who seeks revenge on a betrayal from a John. It's a metaphor for oh, so much – yet the emotionally charged video ultimately shows her getting the upper hand, so to speak.
On working on the video, Zev Deans comments:
 "It is not often that I see this deeply eye-to-eye with a collaborator. I've done a great deal of surreal and fantastical work with bands that want to keep things on the lighter side of the spectrum. I rarely get to tell a story that is this personal, especially a story that is so grounded in reality in terms of set and setting. Sonja presented a challenge that I was all too excited to meet."
Watch the video for "Nylon Nights" below:

Loud Arriver was recorded in 2019 at Creep Recording Studio in Philadelphia with Dan Kishbaugh. Its vocals were tracked with acclaimed producer Arthur Rizk (Cavalera Conspiracy, Enforced, Kreator).  Listen to the track below:
Loud Arriver is out on September 23, 2022.
Follow Sonja: