The international post-punk festival Grauzone, held in The Netherlands, is about to celebrate its tenth year. The 2023 Grauzone Festival, taking place in The Hague 10-12 February, proudly features a strong female lineup; among these stellar performers are Patriarchy, Kaelan Mikla, Belgrado, Emma Ruth Rundle, and Death Valley Girls. Lesley Woods, frontwoman, guitarist, and songwriter of the legendary feminist post-punk Au Pairs, will also make a rare appearance.
This year Grauzone is excited to present a Fleisch Records showcase. The pioneering Berlin label, co-founded in 2016 by Zanias (Alison Lewis), shaped the new wave of Body Music and releases first-rate dark electronic sounds. All artists in this Zania-curated showcase have a connection with Fleisch. Zanias herself will play a live show, and a DJ set and attend the symposium this year.
"Expect some surprises and collaborations," the Grauzone website says.
Post-Punk.com had a conversation with the mastermind behind the festival, Trish Trash, and frequent festival performer Zanias, about Grauzone's decade-long history and the music that fuels it.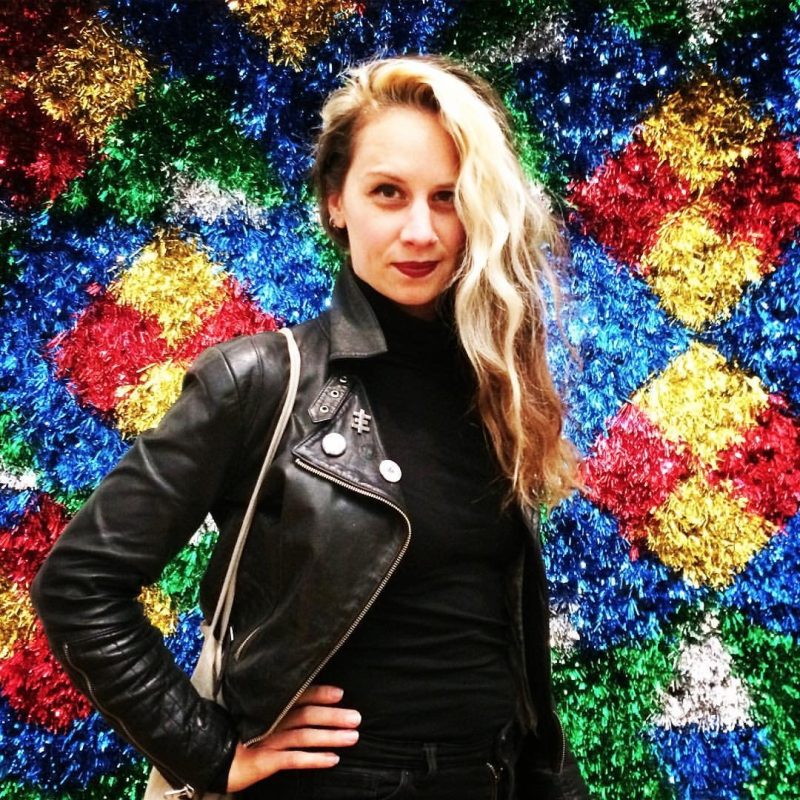 Post-Punk.com:
A lot of things in the music scene have changed since Grauzone began in 2013. What are your thoughts on this?
Zanias:
Well, yeah, it's just been it's there's been a big change in the styles that are sort of favored and a big change in the way the artists need to operate in order to get an audience. Now, we're a lot more dependent on social media to get the word out there. But of course, it's like moved across to like Instagram and, to a lesser extent for our scene, Tik Tok. But video content is obviously the thing we need to focus on. But short-form video content like music videos are actually becoming somehow less frequent, or like the production values on music videos, I think are decreasing because people are focusing more on their social media.
Obviously, COVID had a huge impact on how people consume music and how people attend shows. So everything post-COVID has changed even more. So there were eight years of change, and then this much change, in two years.
And now the landscape has become really tough for artists just starting out because the algorithms favor content that already has a lot of views. So, for example, I don't think Linea Aspera's "Malarone" could go viral in today's landscape, the way that it did in 2012.
So there's a lot of more established acts that have been going for a while, whereas I feel like in 2012 and 2013, there were a lot of really fresh new artists that suddenly quite a few people knew about and, and it worries me that it's becoming harder for new artists to break out.
Also, the quality of what people are making has been decreasing because I think everyone's getting burned out by the number of other things they need to do in order to survive. Even the fact that people need to work harder to earn enough money to pay rent is getting ridiculous. And that's capitalism we can blame there. So, there are a lot of factors involved, but admittedly there's less in the scene now that really impresses me than there was back then. And I don't know if that's because I've changed, but it's because the quality of the music is changing. It's also become more accessible so that more people can make music.
Trish Trash:
What really changed for me or what I can see, in the scene before and after COVID, I have a feeling post-punk and wave and darkwave and electronic music, etc., became so much more popular. I mean, Lebanon Hanover's playing Primavera.
Zanias:
Yeah, that's insane. When I think about it, I couldn't have imagined that.
Trish Trash:
No! Exactly! I booked their first show in Holland. They were like in my house, and I have known these guys for like so long.
Zanias:
I booked them for 30 people in a basement in London, and we were charging £3 for entry. £3!
Trish Trash:
Yeah. I had shows with donations. But this kind of thing stopped.
I think it is good because artists need to get paid well. But there's like a whole big new generation. It's crazy. And I really don't know where that comes from.
I remember, my first show after COVID, I only saw new faces, and it was like a sold-out show. This band is from Amsterdam. For the first time, I felt like, okay, I'm now an older generation. It was, for me, very confrontational, actually.
Grauzone, when we started in 2013, the first edition, I had not really a clue what I was doing. I just booked small shows in Amsterdam or put them all together. I had just graduated from art school, and it was my full passion was, "I need to do this because Amsterdam is such a dull city, Nothing is happening there."
I lived before in Berlin for like a year, and it spoiled me so much that I felt like Holland was such a Calvinistic country, which it still is. But it gave me a reason to organize things. And now Grauzone's got such an established name within and outside Holland. And after COVID, it's, I don't know, I think we're going to sell out soon.
Actually, tickets are going, faster than ever. It's crazy.
P0st-Punk.com
It seems like the festival came back stronger than ever. And this is one of the best-curated lineups I've seen for Grauzone and perhaps any festival. It's really impressive.
Trish Trash:
Thank you. It also feels like there are a lot of old friends included in the lineup this year. And this edition is also the 10th edition. So it's an anniversary edition. So in a way, we all have fun while also looking back, and combining the experience with a lot of new things. So organizing this year there was this little sense of nostalgia in a way.
But yes, the festival is growing, but it can't grow too much otherwise, I don't sleep anymore.
Post-Punk.com:
Do you bring your background as an artist and as a sculptor into how you curate a festival? Because there seems to be such a purposeful art curation in art direction in how the festival is organized.
I also think you made good on the promise that the festival would be the best in new wave music and art as promised ten years ago.
Trish Trash:
Did I promise? Probably. I can't even remember what I did yesterday, but no, that's a joke. Well, you know studied sculpture, I studied arts. So for me, it was very logical to have art and music blend together. For me, it's one thing. It's not a different thing. So I think it's really important from the whole underground scene, what I love so much, and what we love so much, is to show all these aspects.
So not only focusing purely on music, because I think that's just not fair to have it like that. I want to have the complete story that shows that things are really connected with each other. Music, film, performance, sculpture. And I still make all the artwork myself for the festival, with a lot of collages and, analogue stuff still.
So it's still there, and it stays, and it's only growing. So I think it's just a big part of it. I can't even imagine it without actually.
Post-Punk.com:
It reminds me a little bit of what Pieter Schoolwerth was doing at Wierd back in NYC during the 2000s because, he's a painter, and he brought this artistic sensibility to that. It was on a smaller scale, but I think Grauzone as a festival does a similar thing.
Trish Trash:
it's really nice because I'm not a curator in that sense. I just invite other people to help me and, and to look at things there. But for example, like working with Genesis P-Orridge and I went to New York, and we made this exhibition together.
it was such a special thing to do, and I'm going through this all these artworks with which they made, you know, like from the last 40 years. But then again, working together with very young artists and mixing them with more experienced artists, it's just like a nice playground. And so we do have some music, of course.
Post-Punk.com:
Here's another question for both of you. What were some of your favorite moments of the festival over the past decade, and were any of these "pinch me, I am I dreaming? I can't believe this is happening" moments?
Zanias:
Well, Linea Aspera performing on the main stage. This last one was really, really special because it was one of the last shows of our tour, and it had just been a really long tour. And I think, some of the gigs before that had been a bit difficult technically.
So when we arrived on this stage and the staff were so professional, and everything just ran so well, and it just felt so good to just slide into this thing that was really well run and, and seeing familiar faces again after being on the road for so long, it just felt like coming home in this weird way.
And then it was just such it was one of those perfect gigs where nothing went wrong, and we played all our favorite songs. We cut the set really short, so it was just like banger after banger, and it felt great. So that was a really special one.
Post-Punk.com:
Correct me if I'm wrong, but wasn't the concert at the first Grauzone Festival in 2013 the final Linea Aspera show before the reunion years later?
Zanias:
It was, yes. That was also what it was crazy to have this really amazing comeback. Seven How many years later? Nine years later? Yeah. Because 2013 was supposed to be our last show. The band wasn't meant to come back. Like we didn't think it would. So yeah. And that gig, although it was a very long time ago, and I admit I'm growing old and I can't remember it so well.
It was a really wild gig as well. And I think we were pretty drunk.
Trish Trash:
You got quite emotional. I remember.
Zanias:
Yeah.
Trish Trash:
Yeah, I remember.
Zanias:
The days when I had punk energy.
Trish Trash:
Yeah. I don't know. I had these moments, This is a moment I will never forget. Maybe it was not really a positive moment, but they kicked me out of the venue. They thought I was like this "on drugs" kind of person. I think it was the first or second edition.
They just kicked me out, and it was like because I was trying to get backstage. I wanted to get my coat, for fuck's sake. And then they kicked me out. So I complained, but that was at Melkweg in Amsterdam.
That was very different. We made a big change when we moved to The Hague, and things got much nicer. I mean, The Hague is such a different city. The people are very chill. And I mean, the festival is very international, but we didn't have like the pressure from Amsterdam where everyone came to look cool.
Instead, it was people getting ready for music. So there was this really nice, friendly, nerdy vibe. And that's typical of Grauzone, actually. The people really come for the music. it's not like Awakenings Festival, where People come to take Ecstasy and do things like this all the time. It's not really like that at all.
Or maybe people do, but I don't really see it, I guess.
But as for really nice moments. I was on stage with Mick Harvey. I think I met him that night. I was really scared to meet him, and Marc, my partner that I organize the festival with. He said, "Come backstage! And I said, No, I don't want to go backstage.
I'm always scared to meet artists because I really appreciate them and I really like them. So I want to give them their space. And I become very shy. So I met like Mick Harvey, and I was like, "ooo", and he was like, "Oh, you're great!" And then I was watching with him The Damned, and we're like, watching them on stage. And there was this huge mosh pit. This was the last edition in Amsterdam in 2015. So I was standing with Mick Harvey, and on the other side, I had Anton Corbijn, the photographer. And then I felt, "okay, people really appreciate this," and they really enjoy it.
And also, for example, in The Hague, Shellac were playing, and the people were like getting so wild and crazy, you know, and now you're watching it from this bird's perspective, kind of. And then it's, you know, like for you this way of looking at it in a way, and then you're then enjoying it the most, like quietly silently just checking out the audience. How people really enjoy it is like, okay, these months of suffering and pain and stress, it's kind of worth it, you know, it's a moment where you forget about the pain and stress. It's like these short moments. It's now.
Zanias:
Yeah, there wouldn't be those moments in the music business because there's an awful lot of pain.
Trish Trash:
And a lot of stress and anxiety. But I have to admit, compared to the art scene, the music scene, it's like very sweet to me. Sweeter now with my sculptures and artists, they really bite their heads off each other. A lot of competition and not in a nice way.
Post-Punk.com:
Natassja, you seem to have a sixth sense for booking acts early on that will be really successful later. As well as curating some really legendary artists. Are you? But is this
Intentional? I think you booked Idles early on. And they blew up?
Trish Trash:
Yeah. for that show, we had them for, like, I don't even want to say the fee, but we paid for a band that was just like starting out for a year or something, you know? So now, Idles really exploded.
I think it can give Marc a compliment – is he got a really good nose for like artists who are like becoming big like a year after because I mean we're like a small festival without a huge budget. So we always need to be very inventive and really dig into things and like being all the time on top of YouTube and Instagram and checking everything and going a lot to shows. So, you know, be smart and fast. That's the way. Otherwise, then the market does its thing, you know, especially with Idles.
We can't afford them anymore right now. They are way too big! But it's really nice to see that because we can be a sort of birthplace for some young acts. And I think that's really nice.
I just want to say, like, Marc and I counted how many times we invited Alison, and this will be the seventh time.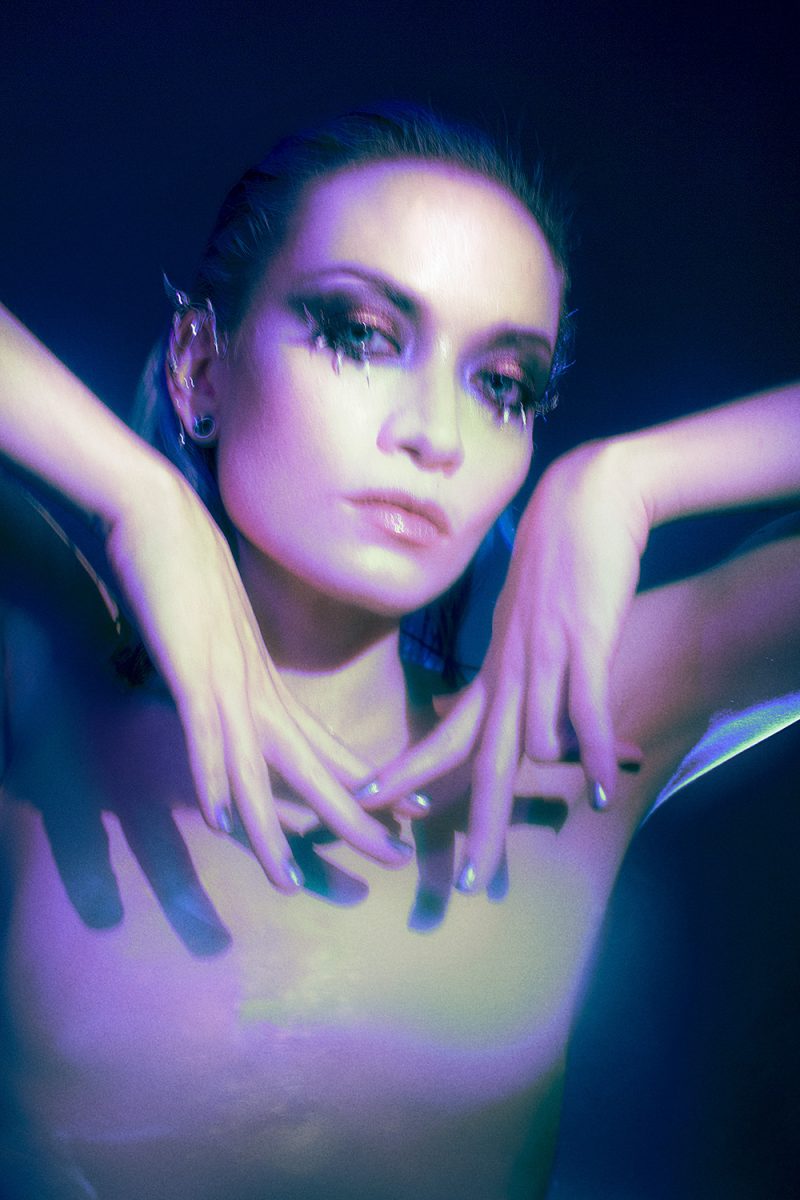 Zanias:
Really? Is that including the Linea Aspera gigs?
Yeah. And then that was Linea Aspera Grauzone, and then there was Keular Grauzone and Zanias. Grauzone. Yeah.[laughs] that's funny. I'm like, this with Kalabalik festival as well. Like I just, I guess I've become friends with promoters, and then I want to keep going back…and I've had so many projects!
Trish Trash:
Exactly, exactly, but it's nice. I mean, you're the most asked artist.
Zanias:
I'm, I'm proud to have that honor.
Trish Trash:
Maybe we ask artists two times back maximum. Maybe Lebanon Hanover played three times. But you broke a record.
It's also nice that you're going to do this curation thing, you know what.
Trish Trash:
It just matches the festival so well, you know? So it's, it's kind of natural in a way.
Post-Punk.com:
We'll go back to the Fleisch showcase in a moment, but Alison, I wanted to ask you this question. I've noticed that many women now successful in music cite you as an inspiration in them getting started on their artistic journey in the first place. What are your thoughts on this?
Zanias:
That makes me so fucking happy? That actually just made me feel really emotional because it's exactly what I've set out to do by setting this example. And when I first got started, the women that were already doing it were so important to me to make me feel like I could do it. It was when in 2011, I saw two artists play: Grimes and Zola Jesus. And they were both completely on their own on stage and watching them and thinking, Well, I don't need a band. I could just do this. And then I met Ryan and started Linea Aspera. I was able to learn through having a bandmate, but just having that first little bit of inspiration, as I could actually do this on my own, was so important just to get me started, to get me writing songs. Because when I first met Ryan, I already had like all of these, all of these lyrics written for songs that I intended to produce myself, but then I didn't know how.
So having that starting point was so important, and for me to then go solo a few years later, if it weren't for Grimes and Zola Jesus, I don't think I would have had the courage to do that. And also Light Asylum. That's like seeing Shannon play in 2012 was like, that was…just it. I don't cry more than when I watch Light Asylum play.
I saw her play at Substance, and this was for the first time, I think, since 2012. I was just screaming and crying the whole set. I had to leave because Linea Aspera was about to play, and I didn't want to destroy my voice. Anyway! So the point being is that to inspire other women to get started is: "okay! Job done!" This is something that makes me feel so good and validated.
Post-Punk.com:
I think you're going to keep doing that, too, for a little while longer.
Zanias:
Yeah, planning on it.
Post-Punk.com:
Zanias as a solo project has been quite prolific in recent years. Along with the fantastic second Linea Aspera LP, I think you've realized some of your best work across all projects with these recent EPs and albums, Harmaline, Extinction, and Unearthed.
What's next for Zanias?
Zanias:
So. I've finished what I believe to be the best album I've ever made. I am so thrilled about Chrysalis. it's coming out early next year. It's all been delayed because of all the various disasters that have occurred in the last six months of my life, which I won't go into. But I've had terrible luck. But my luck is about to turn. So yeah, Chrysalis is eight tracks that I wrote during the last year, and I'm really taking my production to a new level.
I've been very influenced by Hyperpop, but overall I think this has turned into a sort of art pop that's difficult to define; though it still has all the dark influence of everything I've done before, I think I've just gone a little bit more Fever Ray, a little bit more like 2012. Grimes, and just sort of managed to try to crystallize my sound into a really unmistakable signature.
And then I've actually also produced another album that's quite different and more abstract that takes this to an even more extreme level. And that will come soon after Chrysalis, and I'm very excited.
Post-Punk.com:
Talk about prolific.
Zanias:
The reason it's been I've been prolific is because there's just been a lot of…I lost some family members and experienced some traumas in the last year, some of which were quite public and some of which were not public. And music has literally been what saved my life. Producing has become my primary mental health resource; it's my therapy.
So these songs really save me, and I really can't wait to share them. I'm also terrified of sharing them because they're so precious to me and have helped me through so much. And I almost feel like when I let them out into the world, people are going to like judge them. But I also really need to share them because I want other people to be able to experience the healing that they gave me because I don't even feel like I made them. I feel like they came to help me.
It's turned into something completely separate from myself. But I love it. I really love it.
Trish Trash:
But that's the amazing thing about creating. If you make a song or something else, you feel like this work is like something…
Zanias:
Feeling a part of something bigger is such a core component of feeling good and like not being depressed. So yeah, it's, it's really important to have this as an artist. It's just like, it's the thing. This is it.
Trish Trash:
I experience this with sculptures as well. Sound, and sculptures.
Zanias:
That's awesome.
Post-Punk.com:
Is there anything new to expect from the Zanias live set at Grauzone 2023?
Zanias:
So I have a new bandmate that plays with me live, Laura Bailey, a.k.a Neu Romancer, and her presence on stage is already such a huge upgrade to me being alone because we really play off each other. She is such a pro and such a gorgeous human being in general. I love her to bits, and sharing that experience has just made us ten times more powerful. We may have a new sort of layout for the live set by then if we manage to get it together. Usually, she plays synths, but if we get it all done in time, she'll be on the bass guitar as well, and that will be a whole new kind of vibe.
Trish Trash:
What's really important for Grauzone is that we have like a really strong female lineup. So it's never a male-dominated lineup. There are 50 percent or even more female artists, which really represents what we think is really important.
It feels to me like in the music scene or whatever kind of job or career you have, like as a woman, you have to work twice as hard. So I think it's true for us, for me, and also for Marc, We're both really feminists at heart, you know, and that you really can give like a female artist, like a stage, that stage is a good stage, with a good spot and a good time slot.
I think that's important. And then other festivals will follow, and you can inspire them, etc. But things still have a fucking long way to go, I have to say.
Post-Punk.com:
Alison, can you tell us anything about the Fleisch showcase and the artists curated on it?
Zanias:
So the Fleisch Showcase features both artists that are on Fleisch, or associated with Fleisch, or who will be on Fleisch. So, for example, Patriarchy is an artist that I just really love. Ever since she approached Kontravoid and me to do remixes for her, and when I listened to that new album that she was putting out, which I thought was awesome.
And when I saw them play at Substance Festival, it was just such an entertaining show, and I feel like they're doing something very different and very fun. And then Ultrasunn is a project that's going to be releasing the vinyl for their new EP on Fleisch early next year, and obviously, Neu Romancer is my bandmate. She's got a release coming out on Fleisch in January, which is an awesome Italo-body music EP produced entirely by a woman.
Yeah. And then Pablo Bozzi and Kendal are part of infravision. And that release obviously like was one of the jewels in the Fleisch crown of 2021. I was so thrilled to release them because of infravision, I mean, every track on that album is a banger. And then Kontravoid – another jewel in the crown.
I'm actually so happy that it's Kontravoid and Infravision playing because those two albums are the two Fleisch albums that I regularly listen to on repeat and play in my deejay sets; I feel like Too Deep and Illegal Future—I'm so proud to have released them.
So I'm just super thrilled with the lineup, and the credit for booking it all goes to Trish. Thank you.
The Grauzone Festival is February 10th through 12th.
Don't miss the incredible chance to see all of these talented artists in one place.
You can purchase your tickets here. Make haste!
Follow the Grauzone Festival: