There's no room to rest
I saw the cracks you've been slipping through
Fell into the mouths
And swallowed up
The stories shared between fools
Portland, a current American epicentre of unrest and hotspot for the opioid crisis, serves as inspiration for Soft Kill's heartbreaking new doompop single, Roses All Around.
The track is accompanied by a powerful black and white video shot in downtown Portland, visually capturing the internal thoughts of someone struggling with drug addiction, and escapism at its rawest. A man runs through the streets in slow motion clutching bottles of pills. Directed and edited by Sam Gehrke, the video serves as a striking visual for the fractured, fragile lives of those struggling and lost to opioids throughout the nation. The frantic guitar cascade carries Roses All Around relentlessly toward rain-filled gutters overflowing with dashed dreams.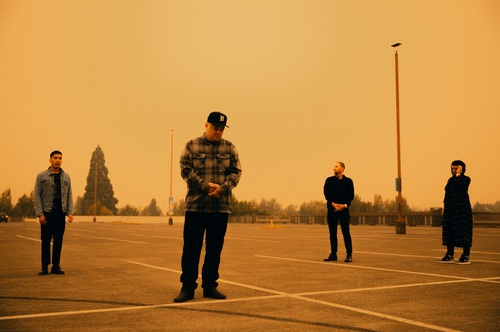 In 2018 Soft Kill, (Tobias Grave, Conrad Vollmer, Owen Glendower, Daniel Valadez, and Nicole Colbath), released Savior, which dealt with the traumatic birth of frontman Grave's son Dominick. The band's songwriting, as a result, found deeper maturation and emotional intensity.  The band has taken this process even deeper with the quartet's forthcoming new album, Dead Kids, R.I.P. City, which will be released November 20th via Cercle Social Records.
A story odyssey of sorts told in ten songs – each track essentially a character – Dead Kids, produced by David Trumfio (Built To Spill, Wilco) and mastered by the legendary Howie Weinberg (The Cure, Smashing Pumpkins, Nirvana), explores the long and complicated relationship with the darkness of Portland through a beguiling mix of personal memory, allegory, and narrative structures. The album is comprised of songs that tell of the legacies of those lost during the city's last couple of decades, as it moves from soggy backwater to tech-fueled transformation. Is this shift ultimately for the better?
Roses All Around is an emotionally-charged track and a sucker punch in the gut.