We watch them dance the night streets
With their anemic teeth
They're walking dead girls
Living out dead dreams
During the early twentieth century, radium was all the craze. Marketed as a miracle beauty product and a dazzling novelty, the radioactive substance found great popularity…and even greater profit, at the cost of millions of lives and severe health risks for radium's devotees. Among the items created with radium-infused, glow-in-the-dark paint were watch dials.
After being told the paint was harmless, the women factory workers who painted these tiny watch dials repeatedly licked the extremely fine brushes to keep the bristles at a point for the delicate work. As a result, these artists ingested deadly amounts of radium. The poisoning resulted in rotting teeth, bone deterioration (particularly in the jaw) to the extent where bones had to be removed from their faces, stillborn babies, and gruesome deaths from various forms of cancer.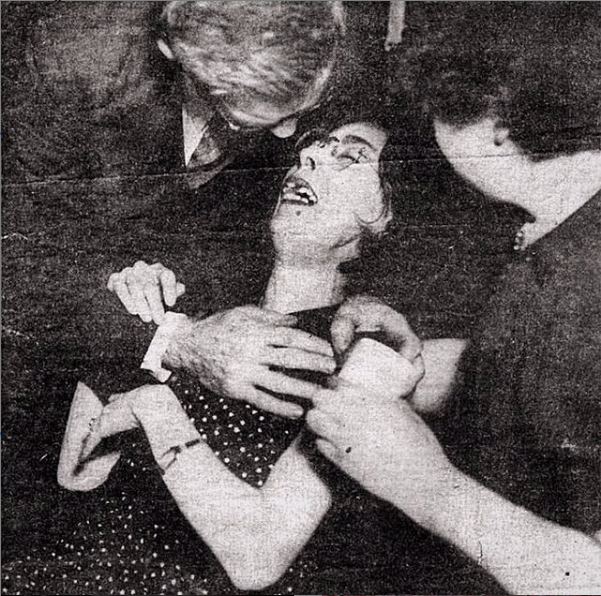 These tragic stories inspired mysterious Houston, Texas duo, Victorian Death Photos, to write Radium Girls. The intense dirge with dreamy female vocals narrates their demise, a Greek chorus of sorts lamenting the victims' ultimate sacrifice to unfettered capitalist greed.
Radium Girls follows up their debut EP The Basement Tapes. The single was mixed and mastered by Kevin Butler with Test Tube Audio in Austin, Texas. The band, compared to Chvrches, fellow Texans S U R V I V E, and Minuit Machine, calls their sound "Indielectronic Post-Punk." The duo have collaborated on many different creative projects in the past, with designs on creating a metal album. Fate had other plans, however, and once they pair started working together, they ended up zeroing in on a "haunted, synthy, post-punk electronic" sound.
Listen to the haunting Radium Girls below:
Follow Victorian Death Photos: