On March 11, 1985, The Sisters of Mercy released their Gothic Rock masterpiece First and Last and Always.
The Dave Allen produced album was the Leeds band's debut full-length LP, featuring the classic lineup of Andrew Eldritch on vocals, Gary Marx and Wayne Hussey on guitars,  Craig Adams on bass, and Doktor Avalanche the band's drum machine.
A former member of Dead or Alive, Ded Byrds, and Pauline Muray & The Invisible Girls, Hussey had joined the band in October of 1983 when guitarist Ben Gunn left. According to Gary Marx, this shifted the direction of the band into something more Gothic Rock:
"It was my version of The Sisters and Wayne's version of The Sisters. This is my version, which means more basic rock, American rock, whilst Wayne's version was more Banshees".
Note that Marx, later on, went on to form Ghost Dance, with Anne-Marie Hurst of Skeletal Family.
Singer Andrew Eldritch was of the same mind as Marx, with an even more acid interpretation of the "Goth" label:
"We come from 1969; we are the children of Altamont. We don't know who the fuck Alien Sex Fiend are and we don't want to know. Throughout our career we've had to fight against the preconception that most of the public has of us as being something that sprang out of post-punk. We regard ourselves as having sprung from pre-1970s rock music, as the inheritors of that tradition and the only people with any chance of propagating it further. I think the title track is gloomy, but not the others. They may not be tremendously optimistic … Gloomy and doomy suggest an air of apathetic resignation, which I don't think we're prone to."
Eldritch would then later recruit Meatloaf's Bat Out of Hell producer Jim Steinman to work on the next Sisters of Mercy album Floodland. Steinman's hand is heavily felt on that album's track "This Corrosion", which is undeniably one of the greatest "gothic" anthems of all time.
The recording of First and Last and Always was worked on at two studios. The first being Strawberry Studios, where the bulk of the album was recorded.
The Sisters of Mercy at the Ritz in NYC, opening for Black Flag.
August 9, 1984.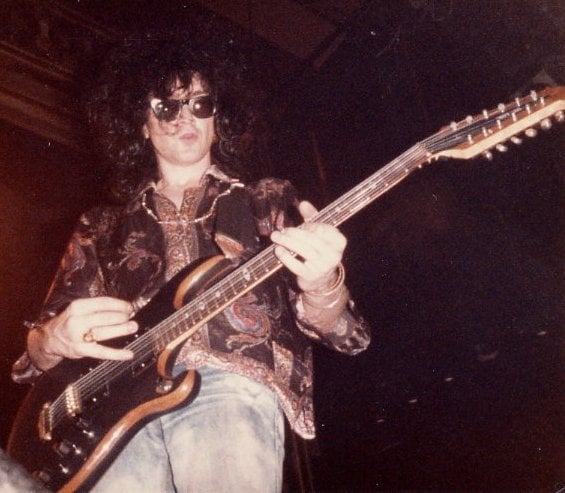 After a couple of concerts in New York, the sessions at the Genetic Studios began. These sessions were meant to put the final touches on the record, but were fraught with issues caused by insomnia, amphetamine use, and hallucinations; plus they were interrupted by several festival dates.
This turmoil had been brewing for a while, and leaked into Eldritch's lyrical content, which made jabs at Gary Marx's desire to leave the band, as Marx later revealed:
"When we were making [the album] Andrew was effectively splitting with his long-term girlfriend and I was close to leaving the band. [These] two things led to a number of references in the lyrics, which seemed to cover his farewells to us both."
Eldritch later confirmed that the lyrics of "Walk Away" were directed to Gary Marx, to which Marx would reply:
'Walk Away' may or may not be about me; I don't care because I don't particularly like the song. The one lyric which always bugs me is the line from 'Some Kind of Stranger' which says 'careful lingers undecided at the door', which I definitely took as a shot at me."
And Marx would indeed "Walk Away" after appearing live with the band for the last time on the television program The Old Grey Whistle Test on April 2nd, 1985.
Though invited, Marx would not show up for one last performance with TSOM at a concert scheduled at Royal Albert Hall on his birthday (June 18th).
The Royal Albert Hall concert was the last nail in the coffin for this incarnation of The Sisters of Mercy, with Wayne Hussey, and Craig Adams leaving shortly after.
Hussey would then end up taking several songs in development around the time of First and Last and Always sessions, and its planned follow-up, including "Serpents Kiss", and "Wake", Wasteland, Sacrilege, and Severina, to form The Mission, who would release their debut album God's Own Medicine six months later.
There were several videos for, "Walk Away", "No Time to Cry", and "Black Planet", with the latter song featuring footage of the band taking one last scenic drive up the 101 in The Monkee Mobile.
Side One
"Black Planet"
"Walk Away"
"No Time To Cry"
"A Rock And A Hard Place"
"Marian"
Side Two
 "First And Last And Always"
"Possession"
"Nine While Nine"
"Logic"
"Some Kind Of Stranger"