Love and Rockets seems to be a ray of light for David J Haskins, the band's bassist, songwriter and oft-vocalist. With his other band, Bauhaus—who, as we all know, wrote the seminal goth song, "Bela Lugosi's Dead"—there is little radiance, all enveloped in the vast blackness of the night. Perhaps that is why David J finds the effortless harmony of Love and Rockets to be so regenerative: without Bauhaus frontman Peter Murphy at the helm, the remaining members have space to reflect that light. Over a Zoom call in home of Los Angeles, David J is in great spirits—excited for the future, and ready to see where the upcoming Love and Rockets tour will take him alongside bandmates Daniel Ash and Kevin Haskins.
When Bauhaus originally broke up in 1983, Love and Rockets formed while Peter Murphy broke off to pursue his solo career. Daniel and Kevin had also ended their electronic dance project, Tones On Tail, and were primed to dive into something entirely new: pure, ecclesiastical rock music. It was accessible, reminiscent of 60s psychedelia—but most of all, it was fun. For over a decade, the duo wrote seven studio albums and toured the world, playing their last live show together in 2009. Until now.
The last few years brought along Bauhaus reunion shows, including at 2022's Cruel World Festival in Los Angeles. While the band managed to play a slew of gigs, the 2022 North American tour got cancelled and the band, once again, called it quits. But, for the second time, the combustion of Bauhaus brought along a blinding illumination in its wake. With a tour and a series of reissues, the unshakable brotherhood of Love and Rockets is ready to take on whatever comes their way.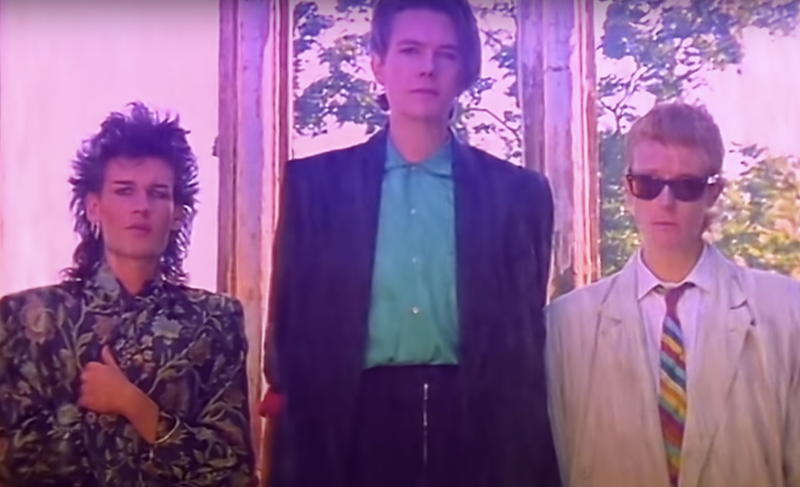 The big question: why did you decide to reform now?

Because we were made an offer that we couldn't refuse.

Totally fair.

We were planning to do this when we were doing Bauhaus, but we couldn't say anything for various reasons. So it wasn't like Bauhaus imploded and then we were scrambling. We'd already planned to do this—but we were just going to do Cruel World. It was a very nice offer, very lucrative. And then since we announced that, there was such interest from the public and promoters, agents, and venues that it's just sort of snowballed. And it's continuing to do so, which is fantastic. Tickets are outselling Bauhaus by quite a degree.

Why do you think that is?

A couple of reasons, I think. I think there's something about the tone of Love and Rockets that suits the zeitgeist—it feels right. I think, to be honest, people are put off by Mr. Murphy's terrible track record of blowing off gigs, and I completely understand why they would be hesitant. As opposed to Love and Rockets, who have never been a no show. In all the years we were together, we never canceled a gig.

What do you think about all these so-called classic bands touring now? Why do you think that there's such a resurgence and an interest in all these great bands from the 80s?

I've heard some people say it's because of a small pool of new talent, but I don't agree with that. I think there's some great new artists. We certainly noticed when we were doing the recent Bauhaus gigs, how many of the audience are young—like early 20s—and there has been this discovery of music from the 80s, and the 90s to a degree, by a new generation. And of course, the old guard is still there and music is such an essential part of the lives of Generation X. It remains and it's still really vital. If you've got a marquee name then you can make good money, and bands of our era, like anybody else, would like to make some good money. Thank you very much.

Of course, yeah.

And also Daniel, myself and Kevin get on great and we're excited about playing. We've just been rehearsing at home individually and we're checking with each other every day. And there's enthusiasm, much more so than with Bauhaus because, to be honest, there was always this sort of looming pall of doom that shrouded [the band], which is just to do with the singer—to be really honest with you—and just having to work with him. Very, very, very fucking daunting. And thank God we won't have to do that ever again because we're never going to work with him again.

So Bauhaus is completely over?

Forever and ever and ever. Amen.

Nail on the coffin. Done.

The coffin has been incinerated.

Well, speaking of that, Love and Rockets is a whole different entity than Bauhaus and even Tones On Tail. But was the original approach to Love and Rockets to get as far away from the Bauhaus sound as possible?

No, it was just to play and to draw from influences that weren't shared with Peter, which are mainly psychedelic music because he was never into that—but we were really into it—so that could all come to the fore. We just like playing together and we knew we had such great chemistry. We didn't really have a plan as to what it was going to sound like. We just got together and played and that's what came out. We've always been like that. It's never been pre-planned or calculated. It's been very natural, organic: just play, see what happens, and you follow the part of the music you're producing that appeals to you, that excites you. It's just a natural process.

How did you decide who would sing between you and Daniel?

Again, a total natural process. I mean, usually, it was dictated by who brought the seed of the song to the band. And sometimes it was more than the seed, sometimes it was practically a whole song—sometimes it's half a song, sometimes it was just a riff and a few words. But whoever initiated that and had the idea would naturally end up singing. Though a distinctive part of the sound of Love and Rockets is Daniel and I singing together all the way through like "Dog End of a Day Gone By," which is one of those songs that I brought to the band pretty much done. But then we hone it and it changes and mutates because Kevin and Daniel have very significant input. So it becomes a band entity.

But that's an example of us singing all the way through together—it makes a very strong, rich sort of vocal performance. And other ones such as "Yin and Yang (The Flowerpot Man)," another one is "Kundalini Express," but sometimes it's just obvious that it just has to be one person singing. It just depends on what's right for the song, you know?



Right.

When it's more of a when it's a more intimate song and a more personal song that it's obviously right for the writer of the song to sing it.

When I think of Love and Rockets, I see more brightness, for example on album covers or music videos, versus all the brooding darkness of Bauhaus. I think that's pretty significant because you stepped out of the darkness and into the so-called light.

That really was the feeling. But there is darkness too with Love and Rockets—there's a lot of melancholy and there's beauty in that. There's sadness there. But there's also, to balance that, there is this very Intense light. It's the light of transcendence and illumination and we were very aware of bringing that into the picture. There's joy in there as well, it was very joyous during that band.

I can hear that, too. What about The Bubblemen? Will you bring them back?

No, they're on a mission far beyond Alpha Centauri and they're intent on completing that mission. We don't know to what end. We don't really know what the ultimate goal of that mission is, but we know that they're out there and good luck to them. They're on their own tour.
The first Love and Rockets album, Seventh Dream of Teenage Heaven, is nearly forty years old. Looking back on those initial albums, did you change your mind about any of them? Are there some you enjoy a lot more or certain songs that hit you in a special way now as opposed to back then?

I do like all of the albums. When I've been rehearsing, certain tracks have hit me. There's a couple I don't want to say out loud because they're deeper cuts. When we play outside of the festival, we're going to draw on some of the broader catalog and play some deeper cuts and more interesting songs—some which have never, never been played live before. But as far as the ones that have been played, "Haunted When the Minutes Drag," is always a great one. Yeah, I've been feeling that one. And [when writing this song], Daniel and I turned up enthusiastically to rehearsals with a half a song each. We just wrote all the lyrics out and put them on a table and we just thought this could go together, so that's exactly what happened. We sort of just dovetailed the two together and it works really great.

Yeah, it's my favorite, too.

There's quite a few songs like that that we did where there's just two songs cobbled together. It's a bit like The Beatles in that way, they did a lot of songs like that. Well, "Holiday on the Moon"'s always been a favorite. It's very simple and I've been getting into that. "No New Tale to Tell," which I've been playing solo for years and years, but it's great now to get back to playing it with the band so that it's really full. I know that song inside out. It's exciting again the idea of playing these songs, some of which I just have been playing acoustic solo and with the band to have the feeling of the fullness and the richness of quality with [everyone] there. The whole [live] set feels really good.


I was going to ask if you could give us a few hints of what the setlist entails.

It's drawing mainly from the 80s, those four albums, especially at the festival. But then outside the festival, we're going to dip into other eras.

Hot Trip to Heaven?

I don't think there's anything from that. I mean it's its own area—it's so apart from everything else and it's got a lot of electronic elements to it because, basically, what we are doing is we're being a rock band. So having said that, there's a big pool of songs. So we haven't decided what we're going to do until we all get together in the room.

Will the set list be different every night?

Maybe just one or two songs, but basically the same each night.

I am curious… you are a rock band, of course, but you did do this electronic album. Why did you decide to keep the name Love and Rockets instead of coming up with a whole different name for that album?

It was still Love and Rockets and we were really proud of ourselves for going out there on a limb, especially when we did that album after So Alive, a hit album. The record label, RCA, really wanted us to do a rock album with loads of guitars and more hits, then take us into stadiums and wanted to put a lot of money behind us. But we've always followed our muse as it were, and where the music's taken us, what turns us on—we can't be commercial. That's not appealing at all.

What is appealing is just to follow the music that excites you. We've always been into electronic music going back to the 70s, but it was really coming up through the pirate radio stations, which we were listening to when we made the fourth album. We were tuning into these stations and [the DJs] were just kids, taking over a high rise and sticking an aerial on the roof and broadcasting acid house and stuff like that. And we really got into that. We went to a couple of the early raves in London—warehouse parties—and it was very exciting and we wanted to take it on board. So for the next album, we did, much to the chagrin of RCA, who dropped us.

Oh, they dropped you after.

Oh yeah, they said "we just do not understand this." And then, they said, you have liberty to go to another label—which is a nice way of saying you're fired. So we played it to dear friend Mark Geiger, who had started a label with Rick Rubin, American Recordings, and he played it to Rick. Rick loved it and he signed us. Rick wanted to put it out. It's funny you said the name thing because he wanted to put it out under no name—the artist having no name.

White label or something?

Yeah. And to take a couple of  tracks, get a couple of remixes done by current mixers and then just give it to DJs and just to see in the hope that it would take off in the clubs and in that scene. But we didn't want to do that because we were proud of it. We did this, you know?

Yeah, that makes sense.

We were brave and we did this, but I do in retrospect, see the sense in what Rick was suggesting. It was a very smart idea.

Yeah, I guess like 30 or so years down the road that sounds like a cool idea.

If it wasn't picked up on and it just got lost, then nobody would know that we'd been brave.

Right. That makes sense too. Can you talk a little bit about the reissues? Did you have any input in those?

We had a lot of input. [The reissues were] very serendipitous because when they were planned to be released, there was no talk of playing live. They were just gonna come out when they came out and they haven't even changed the release dates. It just so happens that it's coinciding very nicely with the live gigs.

The quality of those records is superb. I mean they were redone at Abbey Road and you don't get any better than that. They sound fantastic. That box set and now the individual albums, they sound really great.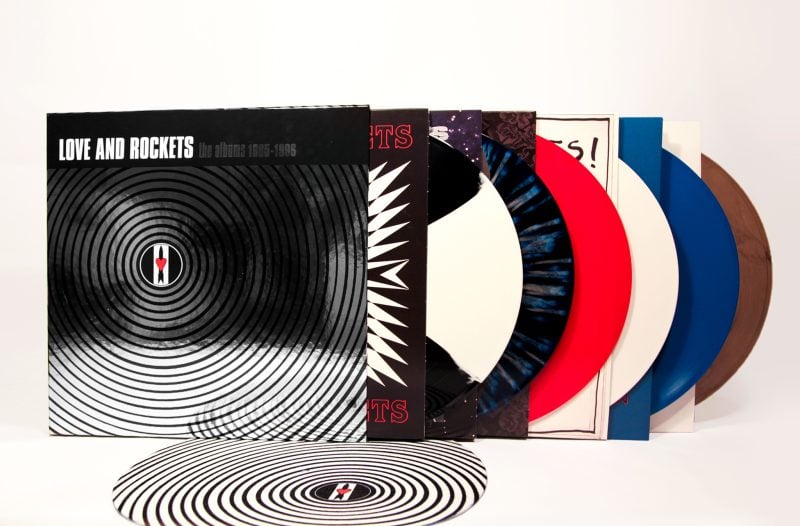 What's next after the tour? Do you have plans to make more music?

No, personally, I'd like to play further afield. The general consensus is to see how this goes, see how we feel. We're not planning anything for sure, but if offers come in then we'll address them.

Daniel and I in particular, have got a hell of a lot of other projects that we want to get on and do. So there is that as well. It's a matter of compartmentalizing, just organizing, which is not impossible. I've got five other bands, three unreleased collaborative albums waiting to be put out. I've practically got a solo album all done. There's lots. And I've got theater projects looming, and this takes me through to 2025. But if the gigs are right, then we could work it out so we can go out and play. There's nothing like Love and Rockets. It's very celebratory—it can be a very blissful experience.

Do you have a favorite gig or a lineup thus far that you've played with Love and Rockets?

I did like the Enit tour that we did with Perry Farrell with Porno for Pyros. That was an amazing lineup with Jack Dangers of Meat Beat Manifesto, Sun Ra Arkestra and Love and Rockets with local groups as well. They had dancers and visual artists—that was a really ambitious endeavor that Perry put together. I think when we were playing in 96 we were on fire. I see films of us playing and the band was so hot then.

Kevin is your blood brother, of course, but do you consider Daniel to be your brother as well? It's been over four decades and you've been a part of each other's DNA for so long.

Yeah, sometimes he's my brother, sometimes he's my sister.

I can't imagine having a relationship with someone for that long. It's pretty incredible.

I've been enjoying how much we've been in touch—and more so than ever actually. Just socially in touch. You know, while this is going on and before [the tour preparation], just sharing music and staying up for hours with Daniel and we send each other tracks.

That's amazing.

And it's this enthusiasm for music. For the tour, we've been talking about walking-in music and what we want to play and we have got a great idea for that. And then just riffing off of that, suggesting things—it's really great, this kind of unbridled youthful enthusiasm.

Music keeps you young at heart. We look very much forward to getting out there and playing.

Love and Rockets 2023 US Tour Dates:
May 20: Cruel World Festival, Pasadena, CA
May 21: Fox Theater, Oakland, CA (Tickets)
May 24: Sandy Amphitheater, Salt Lake City, UT (Tickets)
May 26: Roseland Theater, Portland, OR SOLD OUT
May 27: Roseland Theater, Portland, OR (Tickets)
May 28: Moore Theater, Seattle, WA (Tickets)
June 5: Palace Theatre, St. Paul, MN (Tickets)
June 6: Riviera Theatre, Chicago, IL (Tickets)
June 7: Royal Oak Music Hall, Royal Oak, MI (Tickets)
June 9: Kings Theater, Brooklyn, NY (Tickets)
June 10: Fillmore, Philadelphia, PA (Tickets)
June 11: Fillmore, Silver Spring, MD (Tickets)
June 13: Coca Cola Roxy, Atlanta, GA (Tickets)
June 15: Factory in Deep Ellum, Dallas, TX (Tickets)
June 16: ACL Live at The Moody Theater, Austin, TX (Tickets)
June 17: Boeing Center at Tech Port, San Antonio, TX (Tickets)