[dropcap]F[/dropcap]ollowing his appearance at the recent 3rd Annual Grauzone Festival, The Fall'sRe Mark E. Smith has announced that this May his band will release its 31st studio album, an 11-song collection called Sub-Lingual Tablet that will, according to Cherry Red Records, feature different mixes on the CD and vinyl releases.

The new album is set for release May 25, and will be The Fall's first release since 2013′s Re-Mit album, and The Remainderer EP, which was released later that same year. In addition to long Smith, the current lineup features Peter Greenway, Keiron Melling, Elena Poulou, Daren Garratt and David Spurr.

Cherry Red is now taking pre-orders for the CD and vinyl versions of the record.

See full tracklist and artwork below.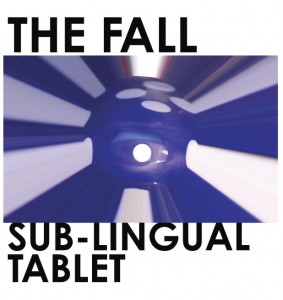 Tracklist: The Fall, Sub-Lingual Tablet
1. "Venice With The Girls"
2. "Black Root"
3. "Dedication Not Medication"
4. "First One Today"
5. "Junger Cloth"
6. "Stout Man"
7. "Auto Chip 2014-2016″
8. "Pledge"
9. "Snazzy"
10. "Fibre Book Troll"
11. "Quit iPhone"