On May 4th, 1982, The Cure released their fourth studio album, Pornography. The record, brimming with bleak nihilism and dark psychedelia, is often lauded as the band's best work by many fans and critics and is retroactively considered by Robert Smith to be the first record of a trilogy of albums including 1989's Disintegration, and 1999's Bloodflowers.
It was also during this period that singer/guitarist Robert Smith emptied his first can of hairspray (Despite having his trademark big hair by this time, it was not until rejoining Siouxsie and the Banshees later that year that Robert Smith became known for his questionable but charming use of lipstick).
Pornography, the archetypal paradigm of a "Goth" album—was the follow up to the band's previous morose efforts; the funereal dirge that 1981's Faith, and the haunting the non-album single "Charlotte Sometimes".
Regarding the album's conception, Robert Smith had stated in an interview:
"I had two choices at the time, which were either completely giving in [committing suicide] or making a record of it and getting it out of me". He also claims he "really thought that was it for the group. I had every intention of signing off. I wanted to make the ultimate 'fuck off' record, and then sign off [the band]". 
Smith was mentally exhausted during that period of time:
"I was in a really depressed frame of mind between 1981 and 1982".  The band "had been touring for about 200 days a year and it all got a bit too much because there was never any time to do anything else".
Smith also wanted to make the album with a different producer than Mike Hedges, who had produced Seventeen Seconds and Faith. and settled with Phil Thornalley who would later join the band temporarily for the Japanese Whispers era singles, and The Top. 
Pornography is also the last Cure album to feature founding band member Lol Tolhurst as the band's drummer before his migration to synths. (Andy Anderson would later by enlisted to take over on percussion).
On the album's recording sessions, Smith noted: "there was a lot of drugs involved". The band took LSD and drank a lot of alcohol, and to save money they slept in the office of their record label. The musicians usually turned up at eight, and left at midday looking "fairly deranged".
Smith explained further, regarding the drinking during the session:
"We had an arrangement with the off-licence up the road, every night they would bring in supplies. We decided we weren't going to throw anything out. We built this mountain of empties in the corner, a gigantic pile of debris in the corner. It just grew and grew".
According to Tolhurst:
"We wanted to make the ultimate, intense album. I can't remember exactly why, but we did". 
The recording sessions commenced and concluded within a period of three weeks.  Smith recalls that:
"At the time, I lost every friend I had, everyone, without exception, because I was incredibly obnoxious, appalling, self-centered". He also noted that with the album, he "channeled all the self-destructive elements of my personality into doing something".
Following the album's release, Simon Gallup left the group after several incidents, including an infamous bar fight in Strasbourg:
Gallup: "I was about to leave when some guy came up and told me I hadn't paid for my drinks. He thought I was Robert. I was knackered but the bloke took me up to the bar and Robert appeared to see what was going on. I hit him, he responded and we had a fight".
Robert: "I was on the first floor of this club when they came up and told me there was a problem downstairs. Simon was so wound up that no-one could talk to him – he was screaming at the barman, this young kid who was nearly in tears. By himself, Simon would have never behaved like that but he was surrounded by the road crew so he was behaving the way he thought a rock and roller ought to behave. He didn't want to pay for his drinks because he thought I wasn't paying for mine. I told him to shut up and he punched me. It was the first time he really laid into me, we had an enormous ruck and I said 'That's it', walked out, got a cab back to the hotel, got my suitcase, my passport from the tour manager's room and got on the first flight to London. That was at 6.30 am and I was home by half past 10. I left a note saying I wasn't coming back. Simon returned the same afternoon. I'd left so I suppose he thought he could do the same. Good idea … we had three days off!"
Gallup would then complete the band's "Four Explicit Moments" Tour in support of Pornography, concluding with the June 11th, 1982 performance at Ancienne Belgique, Brussels, Belgium with an improvised song, "The Cure Is Dead" featuring Gary Biddles on vocals, Robert Smith on drums, Simon Gallup on drums and Tolhurst on bass. Gallup would then leave to form Fools Dance with Biddles, not returning to The Cure for 3 years.
Interesting Fact 1: Both "100 years" and "The Hanging Garden" were released along with two other tracks in a limited edition called "A Single", which is the official title of "The Hanging Garden" single.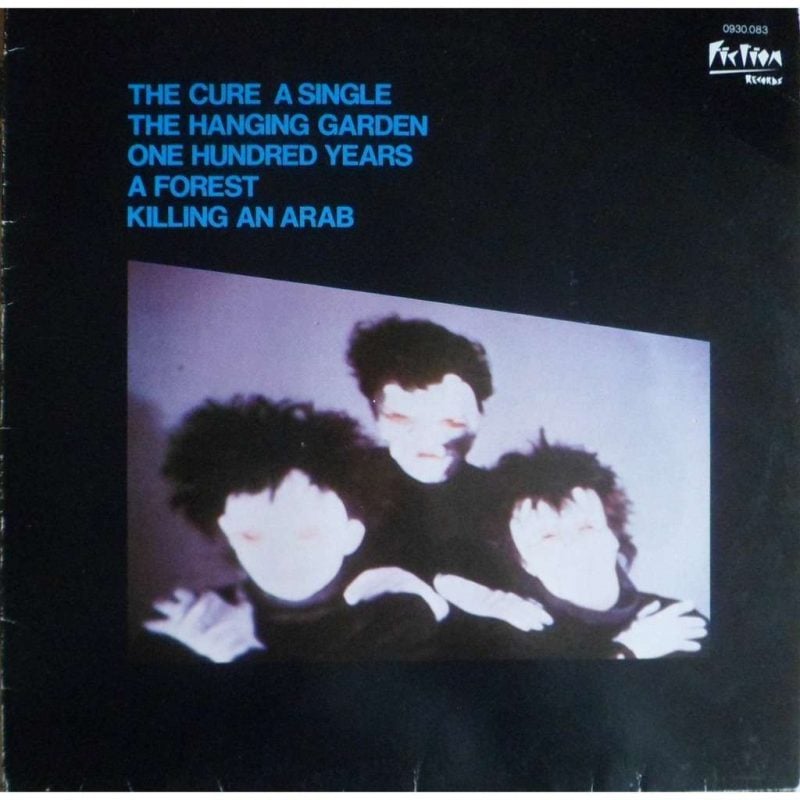 Interesting Fact 2: The Hanging Garden's lyrics are featured in the original James O'Barr comic book The Crow. During the production of the 1994 Brandon Lee film version, Robert Smith was asked if the single from Pornography could be used on the film's official soundtrack.  Smith liked the comic so much he instead opted to write the original song "Burn" for the movie instead.
Watch Below The Cure's performance of material from Pornography in Paris from April 11th, 1982.
Setlist: "Cold," "Hanging Garden," "One Hundred Years," "A Forest," "Figure Head," "Play for Today"
*Quotes in this article are featured in Ten Imaginary Years, and Never Enough: The Story of The Cure.