A self-taught musician is a curious thing, and Japan was a whole group of them. Over the course of four albums they shapeshifted from tarted-up New York Dolls lookalikes, to ethereal sleaze merchants, finally graduating to cultivating an air of untouchable beauty and refined, worldly glamour. Sylvian's commitment to authenticity, and the group's to wear its scars, damage, and transience on its sleeve, has a wabi-sabi sensibility; the name "Japan" encapsulating a mission statement.
Fronted by the marble statue-like enigma David Sylvian, Japan's complex sound was less immediately crowd-pleasing, but gradually gained traction as artists gravitated toward their style and artistic integrity (if not methods of dance).
During Japan's run, critical acceptance was achieved only after a succession of full-length albums. To paint a picture of how fickle the music scene was at the turn of the decade, British journalists panned Japan's "outdated" glam sound in favour of the emerging New Romantics like Duran Duran and Adam Ant. (At that point, glam was less than a decade old.)
Ironically, Sylvian's androgynous blonde bombshell look got copied almost as much as New Wave's Ur-superman David Bowie: in a 1981 interview Sylvian dryly commented,  "For New Romantics, fancy dress is a costume. But ours is a way of life. We look and dress this way every day."  Fashion-wise, Duran Duran were Peter Pan's Lost Boys; Japan were vampires without the dirt, dressing as if the Weimar Republic had reigned for a hundred years. After eclectic, tentative first outings and myriad guises before being comfortable in their own skin, the band ultimately reached their creative peak with Tin Drum.
Then there was the general popularity factor: if you wanted to see a good Midlands post-punk gig at the dawn of the 1980s, Birmingham had two suitable venue choices with a clear bias:
Exhibit A: Barbarella's, a venue famous for its sticky floors, named after Jane Fonda's character in the film Barbarella.
Exhibit B: Rum Runner, famed for hosting Duran Duran's early shows, a band named after evil scientist Durand Durand in…erm, Barbarella.
Given the fact that Duran Duran were Rum Runner's resident band, the experimental Japan fell short of latching onto the organic pop star juggernaut amongst the party crowd. By the time Duran Duran came on the smaller club scene and ascended into the heavens as the darlings of MTV, Lady Diana, and of the Top-40, Japan had abandoned pop songs for musical pastures closer to jazz and Asian influences, before bowing out gracefully by 1983.
While other groups won the battle of the '80s, did Japan win the war?
Forty years on, New Romantics remain a dated relic of the Thatcher Years. Barbarella's, for that matter, shuttered in 1979; like NYC's Mudd Club, it hovers in the collective as another flash-in-the-pan fuzzy memory. Japan's unique visual and musical sophistication and brooding synths still sounds refreshingly out of time by comparison.
Japan's unique sensibilities are more widely understood now, with their minimal dissonance and high fashion guise. Japan's musicians were respected by their contemporaries – Tin Drum prompted Tears For Fears to pen The Hurting. But Japan found better bedfellows in the avant-garde sophisticates rather than lovelorn Teen Beat subscribers. Their influence remains as pregnant as a Vesuvian tectonic fissure, inspiring countless musicians, fashion icons and writers united in discord and synthesized ambience, prizing style and vulnerability. Ghosts Of My Life by Mark Fisher quotes Sylvian's lyrics in its title. HMLTD's Satan Luella and I video visually references the film (and song) Nightporter. ARCA's pronounced minimalism and Eartheater's metaphorical meditations of geological phenomena owe a tip of the hat to Sylvian.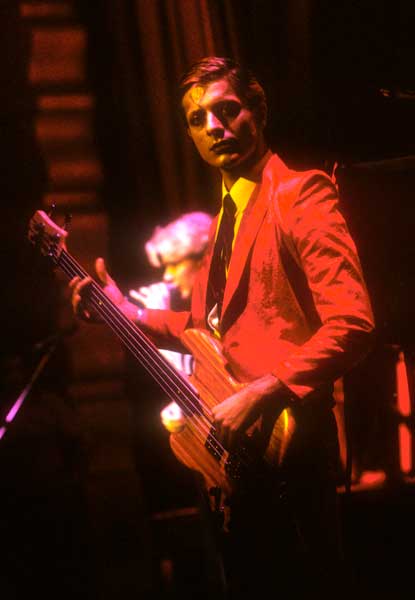 Over the course of five disparate studio albums, certain things remain constant: Mick Karn's fretless bass tone and its chorus effects. David Sylvian's baritone. Steve Jansen's inimitable drumming. Richard Barbieri's synth arrangements integral to the band's sonic palettes.
Historians love a cliché, but the narrative of a band cut down in its prime by creative differences or internal division doesn't ring wholly true with Japan, as all the members went on to varied and progressive solo careers. The 1990 album by Rain Tree Crow, a reunion of the shortlived five-piece, shows a glimpse of the players' further evolution. Sadly, with Mick Karn's passing, such a reunion will not be possible again.
Ghosts
Top Of The Pops introduced this track as "a brave record." How right they were: this song has become the most iconic representation of Japan's refinement in their early 80's output.
Life in Tokyo (Giorgio Moroder Version)
That famous Moroder signature, the percolating slapback echoing synth, permeates this mix. Dialling back the extraneous arrangement compared to the original is a mixed blessing, however as the chorus has lost some of its warmth, the extended outro and galloping synth dance floor-ready nature make it well worth the listen.
Cantonese Boy
A skippy verse light on its feet finds unexpected gravitas in its chorus,; a staccato synthesiser and sophisticated syncopation create an unlikely earworm.
Nightporter
From the album Gentlemen Take Polaroids which celebrated its 40th anniversary this year. This song is a clear homage to Eric Satie's Gymnopedie No.3 (Orchestrated by Debussy). This song showcases the beautiful and dark atmospheres of Japan's output.
Second That Emotion 
When I picked this single up years ago from a charity shop in my hometown, I couldn't believe my luck. I've come to regard this as pure fun to hear such an arty band giving their take on a Motown track.  The video is beautiful – for fans of this I'd recommend their version of All Tomorrow's Parties, which against all odds, reinvents the Velvet Underground classic.
Bonus track:
Blackwater 
The single from Rain Tree Crow (with various members of Japan) once again showing the richness of the arrangements that the musicians created together as a five piece.
Further listening:  a roundtable discussion from British radio in 1982 (with Robert Palmer).