Are you ready to commune with spirit and travel through time through the power of ecstatic dance?
Irish sensations Telefís, aka Cathal Coughlan and Jacknife Lee, blend cultural celebration, satire, the splintered identity of the Irish diaspora, and historical introspection to – what else? Electronic dance music! The two spent 2020 trading ideas and music across two continents, hatching plans for a satirical, mischievous examination of Irish history and the pop culture of their lifetimes: what the two have labelled "a corrosive nostalgia."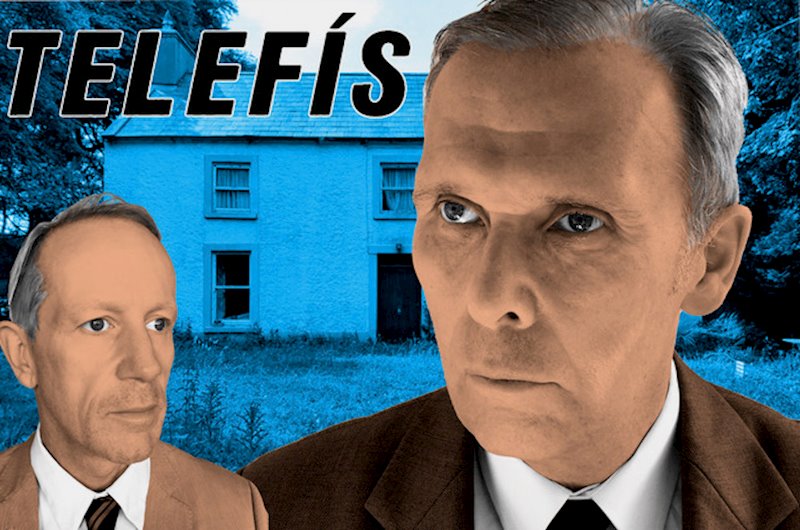 Producer/mixer/composer Garret "Jacknife" Lee, who began his musical career as a guitarist for the punk band Compulsion, before pursuing a solo career in the field of electronica, uses his vast aural repertoire and experience to craft a captivating assortment of cinematic instrumentals. These are lovingly playful in their allusions to the history of electro-pop, utilizing all the essential elements funk-laden elements including percolating synths and booming bass lines. Lee is also known for his work creating remixes for such artists like Radiohead, U2, Blur, The Raveonettes, and New Order. This endeavour, however, takes inspiration from the performance art elements of Kraftwerk's reclamation of a new postwar Germany, or DEVO's concept of human De-Evolution following the Kent State Massacre… focusing on the transmutation of the Emerald Isle.
Cathal Coughlan was frontman/founder of Microdisney and Fatima Mansions is also an incredible songwriter, who brings his immense talent and experience to this collaboration.
"Cathal is, without doubt, one of the finest lyricists of our time and writes like no one else," says Lee. "Some of the vocals he sent over made me burst out laughing with giddiness and delight at the novelty of them. Mischievous, dark, arcane, crispy fresh, and always unexpected. Every song with a backstory that could be a novel. This is easily the most enjoyable and rewarding music that I've been involved with."
Coughlan's genius and sheer inventiveness in the art of crafting lyrics shone brightly earlier this year when he reappeared after a 10-year hiatus with critically lauded solo album Song Of Co-Aklan. On his return, Coughlan observes, "Easily as spontaneous and full of surprises as any in-person collaboration, it's shaken loose many weird and hopefully wonderful things in my verbal workshop. And nobody has heard me use my voice in some of these ways before now, either."
Telefís, the Irish word for "television" (pronounced Tele-feesh), taps into ancient knowledge through the transfiguration of hertz tones and basic human nature. Telefís uses stark forms of imagery, bizarre to the modern eye and ear – but treated as routine in the pre-globalization world. Their logo, the Cross of Brigid, has its own ancient history and evolution of meaning, from its ancient Celtic origins celebrating Brigid, to the Christian reinterpretation of the symbol, to the usage of it for RTÉ Television, to its local folklore of protection against fire that may have survived since ancient times – it is a potent symbol for the band to claim as their own. The lyrics points out the danger of nostalgia; the toxicity of the venerable. These landmarks merely jumpstart an emotional vortex of guilt, shame, and regret. Why not tear down those "precious" reminders of colonisation, aggression and oppression – and strip it back to the basics? To reclaim the magic that transfixed the ancestors, the wonder of existence outside of culture, in our own time and our own way?
Telefís begins by skewering classic idents of RTÉ Television itself. The video for "Mister Imperator (Dub)", the second single from their forthcoming new album,  is a brilliant satirical take on state-run television propaganda, the rewriting of history, and feel-good nostalgia. The funky old-school bass-driven electro-pop romp loosely conveys the tale of a beloved pianist, who was a light entertainment staple of early TV fare dating back to the first broadcasts in The Irish Republic in 1961. The simple video reflects this:
"A crack team of Red Army dancers is dispatched to the banks of the River Shannon in 1961, to help celebrate the arrival of television by means of ecstatic gymnastic expression, in hopes of enlisting the help of the nascent national TV broadcaster in fostering the Dictatorship of the Proletariat, perhaps by means of a Holy War of the kind which worked so well in Central Asia in 1919. Meanwhile, the sax-player from the Assyrian Express Showband sits expectantly, with his wife, in their new apartment on the Roger Casement Estate in Carlow. The world is an optimistic place, all of a sudden."
Watch the video below:
a hAon (Number One), out on the 11th February via London-based Dimple Discs, is a 13-track album that celebrates and takes the piss out of the demise of a culturally sealed-off small country on the very fringes of Europe. As of November 5, 'Mister Imperator (Dub Mix)' will be available everywhere digitally, including Spotify, Apple Music, and Bandcamp. On the 11h of February, the a hAon LP will be released on CD and vinyl (both with a two-sided lyric sheet insert) and can be pre-ordered here. It will also be released on all digital platforms, available here.
Follow Telefís: