In the City of Angels, where sordid scandals dance with the flickering light of the silver screen, the tangled tales of seduction, jealousy, murder, and power play out their daily dramas. It is here that composer Elena Charbila, known as Kid Moxie, and German synthwave enchantress NINA (Nina Boldt) weave their beguiling sonic tapestry, tailor-made for a gritty film noir, with seductive saxophone riffs slithering through the shadows. They call their creation "Crime," a gem amidst the 5-track EP titled LUST, released through Italians Do It Better.
The bewitching duet, "Crime," co-written by the duo with production and mixing by Athens-based Hristos Lainas, aka Franklin, paints a "mysterious yet romantic journey into a femme fatale electro underworld," as envisioned by NINA. The melancholic saxophone is played by Skylar Funk, imbuing the track with a sense of longing.
On the song's cinematic flair, Kid Moxie notes that "CRIME, for me, is the kind of song that would be playing in a strip club in the original Blade Runner. Like two sirens inviting you to share your fantasies with them so that they can make your "dreams come true."
Musing on the sultriness of "Crime," Director Paige Von Bank adds, "The saxophone in this track creates a perfect soundscape for themes of allusion and idiosyncrasy. Beauty isn't always overt, and I took pleasure in pushing the boundaries of strangeness and inquisitiveness to evoke a sense of allure. While 'Lust' embodies the blatant glamour and indulgence of 1950s Hollywood, 'Crime' transforms into the shadowy, yet seductive, neo-noir undercurrent, drawing inspiration from late 80s and early 90s cinema."
The visualizer, a mesmerizing and strange concoction of Bond Girl-style dancing silhouettes, red strobes, and fiery touches, casts the composers as sirens, luring us into the uncharted abyss. The director, inspired by their "synth twin" moniker, fashioned them into Gemini twins, each a reflection of the other. "The visuals came very organically," Von Bank shares. "They were originally targeted to be one with the 'Lust' music video but after seeing all the footage it made more sense to split the visuals into two separate, but connected, pieces. Ironically, just as NINA and Kid Moxie are on this EP, they became the Gemini twins of each other."
Watch the video for "Crime" below:
In the realm of cinematic pop, Kid Moxie reigns supreme. A fateful encounter with a can of Moxie Cola revved up her impetus in creating her musical alter-ego, and with this, Kid Moxie was auspiciously born. "I like to call my music cinematic pop," she explains, and the cinematic elements found in the enchanting aurae she infuses in her music can't be overstated.
Hailing from the City of Angels, this Greek-born artist, whose real name is Elena Charbila, has made a name for herself through high-profile collaborations with luminaries such as Gaslamp Killer and the legendary Angelo Badalamenti, with whom she famously recorded an orchestrated version of "Mysteries of Love" from David Lynch's cult classic Blue Velvet. Her formidable musical prowess has also seen her composing for the recently rebranded Orion/MGM Pictures logo, and scoring the Cannes award-winning director Vassilis Kekatos' latest TV show Milky Way.
But it's not just her impressive resume that's turning heads. Kid Moxie's own personal albums are an aural delight, with tracks that have received significant international airplay and have been featured in indie films, hit TV shows, and international brand campaigns. She's even contributed several tracks to the wildly popular video game sensation Cyberpunk 2077.
Enter LUST, her latest project born out of the depths of the pandemic. This digital and international collaborative experience saw Kid Moxie working closely with NINA to produce an album that encapsulates the timeless themes of desire, old Hollywood glamour, and night drives. The pair remotely bounced vocal ideas and lyrics back and forth until they finally came together to record at Kung Fu Studios in Berlin during two intense 12-hour recording sessions.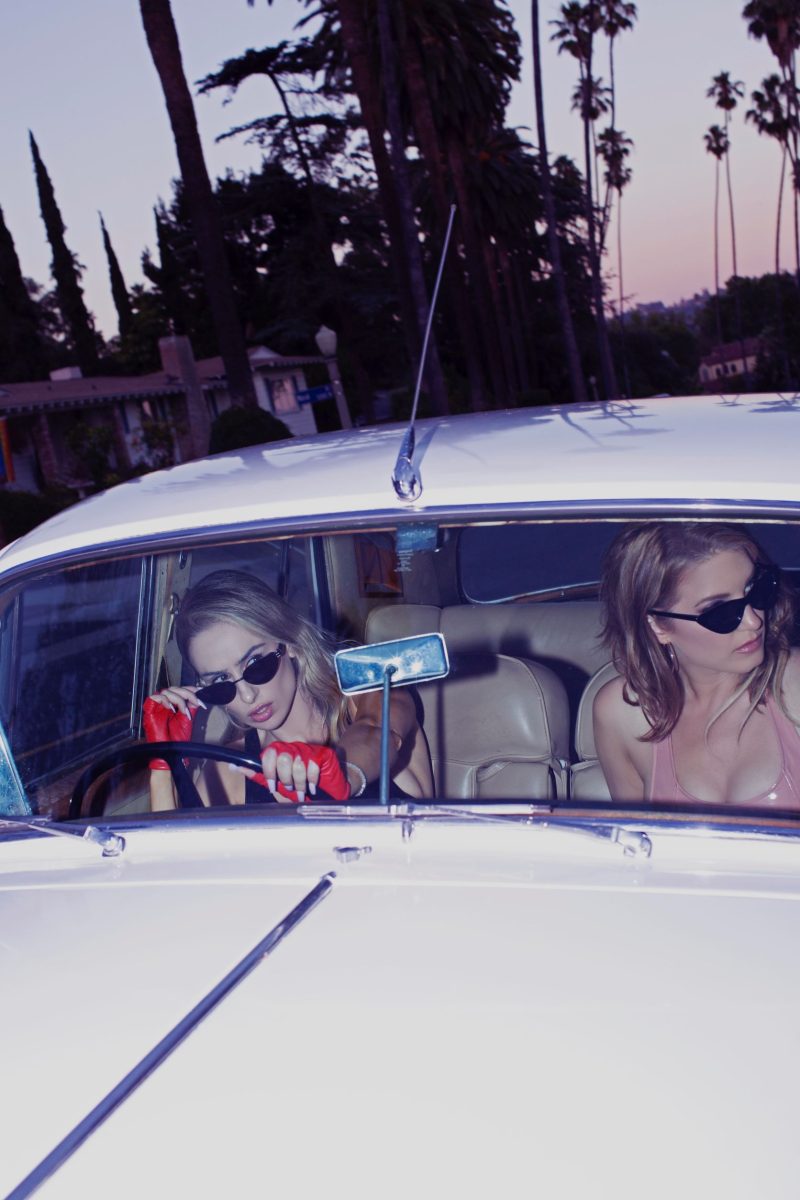 For Kid Moxie, having a partner in crime like NINA was a dream come true. "LUST is an album that encapsulates themes that I find eternally exciting," she says. "I've never had a partner in crime before, and NINA, from the beginning, felt like the perfect match to explore this neon noir universe with." NINA herself was equally thrilled to experiment with themes of erotica for the first time. "Collaborating with Kid Moxie was lots of fun, and I think this album's sound is dark yet playful," she says. "We don't take ourselves too seriously while still maintaining a mysterious edge."
With two LPs and several EPs under her belt, NINA has been making waves in the synthwave and retrowave scenes for years. Her debut album, Sleepwalking, was a critical darling, earning her the moniker "The Queen of Synthwave." Over the years, she's collaborated with a diverse array of artists, from Erasure to Richard X, and her hit single "My Mistake" was used in high-profile ad campaigns for Mercedes Benz, Hugo Boss, and Adidas.
In 2019, NINA was featured in the synthwave documentary The Rise of the Synths, and she recorded "I'll Wait," a haunting tune created especially for the horror film There's No Such Thing as Vampires. In 2021, NINA embarked on a bold new direction with her acclaimed first single as an independent artist, "Carnival Night." The single was produced by Radio Wolf, who is currently collaborating with NINA on new music. And that's not all – NINA is also working on an album with 80s songwriting veteran Ricky Wilde. With all these exciting projects on the horizon, it's clear that NINA is an artist to watch in the coming years.
LUST out now via Italians Do It Better on all digital platforms here.
Follow Kid Moxie:
Follow NINA: