Johnny Couteau, the self-described "by-product of the Anthropocene," is beaming fascinating arrangements from their perch on the astral plane. Couteau's unique "Styrofoam poetry" is seasoned with a savoury mix of No Wave, synthpunk, coldwave and aluminum in a microwave. The sounds of retro-future, the buzzing of our collective stress-induced migraine, Jukebox Preachers is a thoughtful pause in a frantic dystopia; a smoke break on the front stoop. The song and seminal album comprise a reflective collection of thoughts about political unrest and the toll on the human psyche.
The second track on the EP, When Cops Will Be Crying, is a plea to end cop-incited violence in the streets, sharply criticising the role of the police. The track distills the rage of NWA's Fuck The Police and Public Enemy's entire magnum opus, into a musical atmosphere drenched in post-apocalyptic sorrow and the sluggish brain space following a handle of Jack Daniels.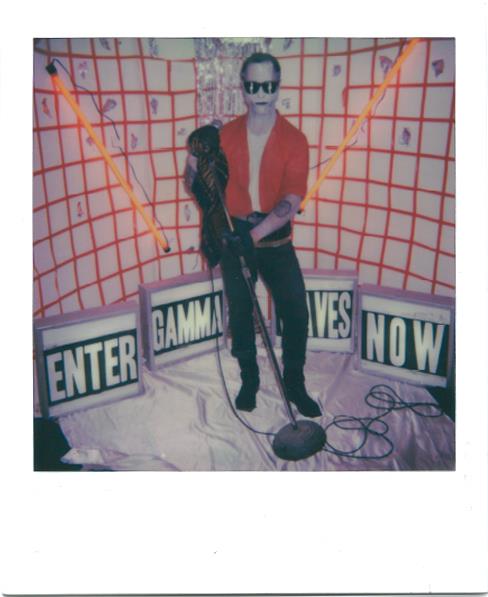 Couteau, (also a talented
film director
having worked with She Past Away, and Automelodi), spits out ecstatic poetic diatribes against a cacophonous backdrop of spiky saw waves, atmospheric static transmissions and frenetic saxophone, a sound hearkening back to Suicide, James Chance, and even a sprinkling of Patti Smith. Gone is the DIY aesthetic of those classic ZE Records sounds; Couteau takes these ideas and brings a deeper sophistication and with it, a brilliantly-expressed pathos.
They're accompanied by Jude Filion on sax, Emmanuel Dusautoir on drums, and "beautiful extra arrangements from my cosmic sibling Nothinge," adds Johnny Couteau.
They dedicated the song Jukebox Preachers to their sonic godfathers, Alan Vega and Martin Rev.
All profits of this song/EP will forever go to Idle No More and Black Lives Matter.