Sweden's Rio Noir, a collective artistic project originating in Stockholm, explores the creative combination of poetry and various types of electroacoustic music. The brainchild of Victor Moreno, a Spanish-Swedish writer, photographer, and artist, the project fuses the talents of poets, musicians, and visual artists around the world.
For a city largely comprised of low-level historic buildings, Stockholm's "Skrapan" is a dramatic aberration. Once emblematic of the power of the Swedish tax authority, the twenty-six storey skyscraper has since been converted into student housing. On the 17th floor, of this building, fittingly, Rio Noir recorded their first two live singles: Old Devil Midnight and Life Within, Pt. 1. The two tracks are featured on the upcoming album, What Time Is It?.
"The idea behind the installation was to embrace the odd dystopian vibe of the building, creating a kind of "meta" feeling," says Moreno. "To this end, we filmed a time-lapse sequence of the actual view from the room, which we projected inside the room. This new set-up is largely due to a brilliant idea from Daniel A Söllscher, a long-time friend who is well-regarded for his dance music project NEAT. Incredibly, right at the time we were doing this, he was aired by Pete Tong on BBC Radio 1! …For our show, he controlled the backing track and all the beats with his drum machines, Anton Sandqvist played the piano, and I used my guitar and voice effects."
During his last visit to New York, Moreno met up with his friend, legendary American photographer Julia Gorton (aka Julia Gorton No Wave), who documented 70s and 80s NYC. Gorton snapped portraits of Tom Verlaine, Blondie, Brian Eno, Billy Idol, and The Dead Boys; her more recent portraits of Moreno highlight her unique artistic essence.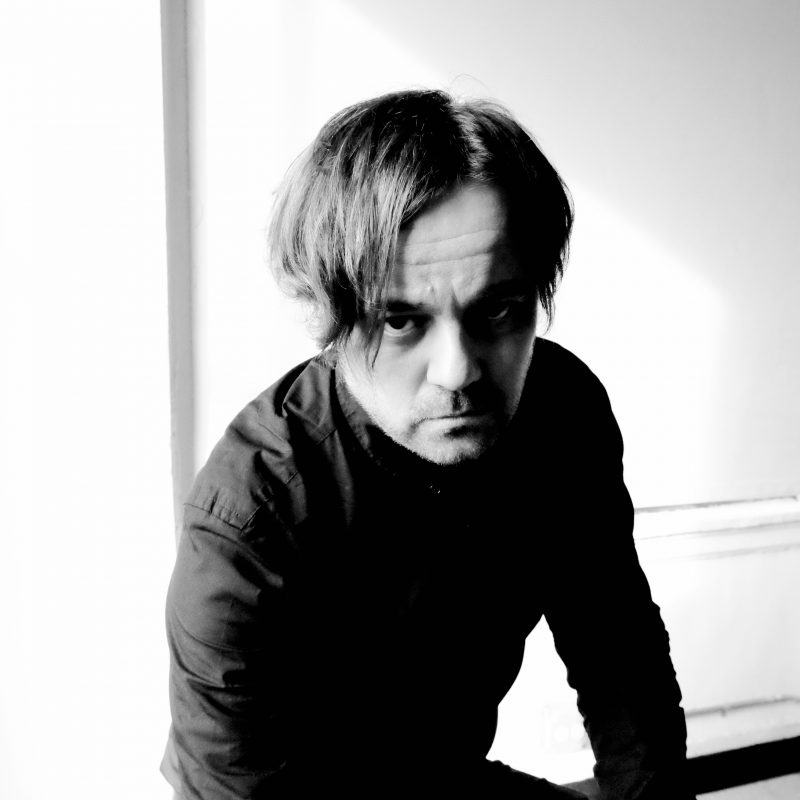 Moreno also teamed up with talented Finnish producer Jonas Verwijnen and audio engineer Rupert Clervaux. The album also features Daniel A Söllscher on drum machines, Anton Sandqvist on piano.
What Time Is It? is out 17 May 2021. The release package will include the film on YouTube, a live EP for digital streaming services, and a cassette with the four tracks (plus the two live cuts as the bonus tracks).
Listen below:
Follow Rio Noir: