Doom Pop Outfit SOM confess their love of Depeche Mode with their respectful tribute to the timeless appeal of the band's song catalog with the debut of their music video for "Personal Jesus." This somber rendition of the iconic Depeche Mode track exhibits a fresh take on the classic, changing the tone into something just as seductive yet laced with an undying melancholy new to this reinterpretation.
This version of "Personal Jesus" features on SOM's forthcoming EP, "Faith," which is a loving anthology of Depeche Mode covers. The inspiration for the video concept harks back to 1989 when Depeche Mode's label intriguingly placed cryptic personal ads in UK newspapers before the release of the original single.
"When Samia and I were working on the concept, I was inspired to learn how Depeche Mode's label took out mysterious personal ads in the UK newspapers before the single came out in 1989 that just said 'Your own personal Jesus,' with a number that people could call and hear the song playing on the other end of the line," explains SOM's Mike Repasch-Nieves. "So we wanted to do a version of that but take it further, by posting an anonymous call for people to share their prayers and confessions with us. These prayers and confessions along with intimate portraits (filmed over several weeks across multiple cities) formed the basis of the video."
On the cover's gorgeous music video, director Samia Zaidi adds, "The moment I heard the song, a series of very human portraits started playing in my head. There was something about the idea of seeing this smorgasbord of humanity that seemed really fitting for the heavy way the song unfolded. We were mindful of the vulnerability we were asking for and distributed the confessions in different ways. Some were direct accompaniments, others were vaguely placed in order to maintain the anonymity of our subjects and submissions."
Watch the video for "Personal Jesus" below:
SOM's vocalist and songwriter, Will Benoit, reflects on the band's experience of engaging with Depeche Mode's music and their fans: "Since releasing our version of 'Enjoy The Silence' last month, it's become really clear that Depeche Mode means a lot to so many people that you might not think would love them. Depeche Mode aren't just some popular band from another era; their catalog transcends era and genre, and their music really resonates. Fans have been sharing other Depeche Mode covers they like with us, talking with us about their favorite songs, and asking which other songs we covered. There's a curiosity and excitement around this collection of music, and the experience of this EP finding its place in the dark magical world of Depeche Mode has been really heartening."
SOM's "Faith" EP, which includes "Personal Jesus" and other Depeche Mode covers, is due to be released on May 26, 2023.
Pre-Save the EP here. It is also available as a limited-edition cassette that can be ordered here.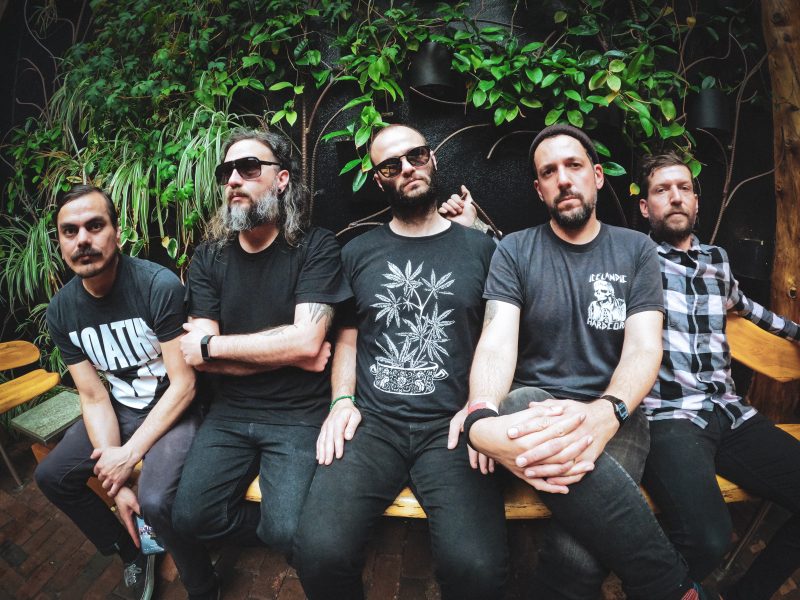 L to R: Justin Forrest (bass), Will Benoit (voice, guitar), Duncan Rich (drums), Mike Repasch-Nieves (guitar), Joel Munguia Reynolds (guitar)
SOM is set to hit the road this summer, performing as special guests on the ROSETTA'S TOUR MMXXIII. The tour will kick off on July 26 in Philadelphia, PA at Milkboy, followed by a show in Columbus, OH at Ace of Cups on July 27. The band will then head to Nashville, TN for a performance at Drkmttr on July 28, and will continue their tour with a show in Indianapolis, IN on July 29, the location of which is to be announced. On July 30, SOM will take the stage in Cleveland, OH at No Class before wrapping up the tour with a final performance in Brooklyn, NY at Saint Vitus on July 31. Tickets for all shows can be purchased here.
ROSETTA TOUR MMXXIII w/ Special Guests SOM
July 26 – Philadelphia, PA @ Milkboy
July 27 – Columbus, OH @ Ace of Cups
July 28 – Nashville, TN @ Drkmttr
July 29 – Indianapolis, IN @ TBA
July 30 – Cleveland, OH @ No Class
July 31 – Brooklyn, NY @ Saint Vitus
Follow SOM: