Closed off synthetic machinations
Cold, devoid of strain and tribulation
Fluid and fear, a sanguine divination
Wash and repeat, your own limitations
Moody soundscapes, sinister imagery, and deeply evocative vocals emit from Seattle neo-goth/electro-pop duo Belmez Faces. The band's ominous dream-pop explores the darker corners of life. Named for a paranormal phenomenon in which mysterious faces appear in concrete floors of a home in Spain, their bleak, poetic sound beckons the otherworldly by reinvigorating, reinventing, and recreating the goth aesthetic for the modern era.
In a world of instant gratification, Belmez Faces offer an appealing alternative: thought-provoking, enigmatically layered sound, reminiscent of Pinback, Drab Majesty, Boy Harsher, Cold Cave, and Mogwai. High school teachers by day, multi-instumentalist Royce Thompson and Steve Hilmes (A Thousand) transform into goth overlords during their free time.  Belmez Faces released "Absent Grief"  in 2020. Their first LP, This is the Dark Timeline, was released in June of 2021. With 80's inspired drum machines and synths supporting Royce's charismatic presence, the album served as a perfect introduction to the duo.
"A lot of the music is made in the box," Thompson explained in an interview with The Music Sanctum. "We're not a "band" per se, and we don't spend a lot of time jamming stuff out. I hop into Logic and construct a lot of the layers of the song after the bones of it are completed. Oftentimes something will start off as an analogue synth melody or guitar melody and make its way to a MIDI instrument where it can be expressed more to our liking."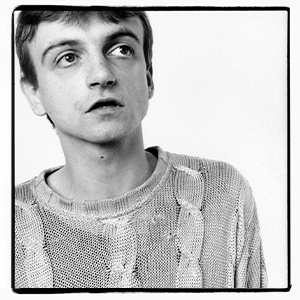 "Sinister Blood" brings Tears For Fears-style introspection to the moody video directed by Owen Pazokas.
Emilio Miguel Torres directed this narrative clip of "Santa Carla":
Follow Belmez Faces: