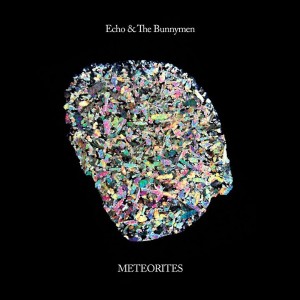 Echo and The Bunnymen's Pledge Music-funded 12th Studio Album "Meteorites" was released today, and it truly is a return to form.  In fact I'd reckon it's their best work since 1987's self titled record.  Much of it has to do with Youth's (Killing Joke) production that brings alive Ian McCulloch's vocals more on par with the experience you'd get live.
The opening title track Meteorites impacts immediately.  Holy Moses sounds like a track from Mac's solo work (a good thing, as "Candleland" and "Mysterio" are really under-rated and fantastic albums). Constantinople mesmerizes with Will Sergant's hypnotic psychodelia.  Is This A Breakdown and Grapes Upon The Vine are definitely songs to sing along to with a Boddington's in hand, and Lovers On The Run is surely the hit single on the record..  Burn it Down is sorrowful, and Explosions is fantastic with it's uplifting pessimism.  Market Town has some of the best riffs and basslines, bought from early 90's alt-rock like the Happy Mondays with hints of Cocteau Twins-which carry out into the closer New Horizons.
Maybe it's just me but I suspect there is an overall narrative to "Meteorites" because it's definitely a coherant album (remember those?) that needs to be experienced from start to finish.