Your face is telling me God is out there
Your eyes are showing me that you care
Each time you look at me with joy
Each time you tell me I'm your beautiful boy
RE/GENERATION, a new project featuring the formidable talents of new romantic musician Peter Godwin (known for his work in Metro and as a club staple synth pop solo artist) and Rosegarden Funeral Party's Leah Lane, have been teasing a new project for quite some time. Since their initial, unexpected collaboration together on Rosegarden Funeral Party's TAKE COVER project, the duo have been working together on a series of new tracks that tap into their shared musical aesthetics. With that in mind, we're honored to feature the video for "Beautiful Boy." Watch below:
"Beautiful Boy" is the first taste of the duo's new LP Now and Forever, due out later this year. The song is a haunting affair, featuring moody bursts of slide guitar and focusing heavily on the subtle interplay between Godwin and Lane's vocals, which blend together perfectly over the course of the five minute track. Mills Chaike and Dean Adams from Texas-based art pop band Lorelei K flesh out the track on guitars, synths, bass, and percussion, which help bring the duo's new romantic dreams to life.  Touches of Godwin's trailblazing work in Metro can be heard throughout, as the outfit's post-glam edge always centered around deep, subversive tension that's equally on display here. Lane's chilling spoken-word delivery near the end of the song also channels Rosegarden Funeral Party's passion and similarly taps into the unsettling ethereality of 10cc's "I'm Not In Love."
The video, created by Lane, Godwin, and Claudio Citarella, reflects the track's melancholy. Shot in Nice, France, the duo can be seen strolling through city streets, engaging with each other in a series of beautifully reflective moments. It's a perfect compliment to the song's wistful atmosphere.
The "Beautiful Boy" single, released today, also features a cover of David Bowie's stunning "Absolute Beginners," from the film and soundtrack of the same name, which brings Godwin's story full circle, as Bowie famously covered Metro's first single "Criminal World" for Let's Dance in 1983. RE/GENERATION's cover is a joyous take on the original track, featuring every glorious minute of the original 12" mix. Every saxophone squall is intact, with Lane and Godwin trading verses and showcasing their vocal dynamics, soaring to epic heights together as the track comes to its natural percussive conclusion.
This isn't the first Bowie cover that Lane has recorded, nor the first from his underrated 80s oeuvre. Fans of Rosegarden Funeral Party's TAKE COVER project may recall blistering renditions of Tonight opening track "Loving the Alien" and Never Let Me Down centerpiece "Glass Spider" (two of my personal favorites from this often unfairly derided era). Meanwhile, Godwin shared his memories and experiences with Bowie and explains how much the late singer's work has meant to him over the years.
I only met Bowie once. I was introduced to him by Bianca Jagger at The Embassy night club in London in 1977, just weeks before my band Metro's debut single "Criminal World" was released. David asked what I did in life and I replied more or less the same as him, only I was just starting out and I told him about Metro and our first single and album. Six year's later, I was walking down the street in Chelsea and my friend Rusty Egan from Visage (and co-host of Bowie nights at the Blitz night club) told me that he'd just seen that Bowie had covered "Criminal World" on his new album Let's Dance!!! Well, I thought he was joking. He'd read it in the paper. Of course, it was true and I always wondered if there was a connection with out meeting years before. He was interviewed on the BBC and asked about my "Criminal World" and he replied that he'd bought the album and loved several tracks on it, but had decided to cover his favourite Metro track.
I never approached him about it, even though I saw him backstage a couple of times in the distance. I was always a fan and so blown away that he liked something of mine. So Absolute Beginners is a way of saying a very belated thank you to David all these years later and also it's an homage from Leah and I to one of the greatest artists and influences of all time. 
The "Beautiful Boy" single is available today on major streaming services, and also includes a radio edit of "Absolute Beginners."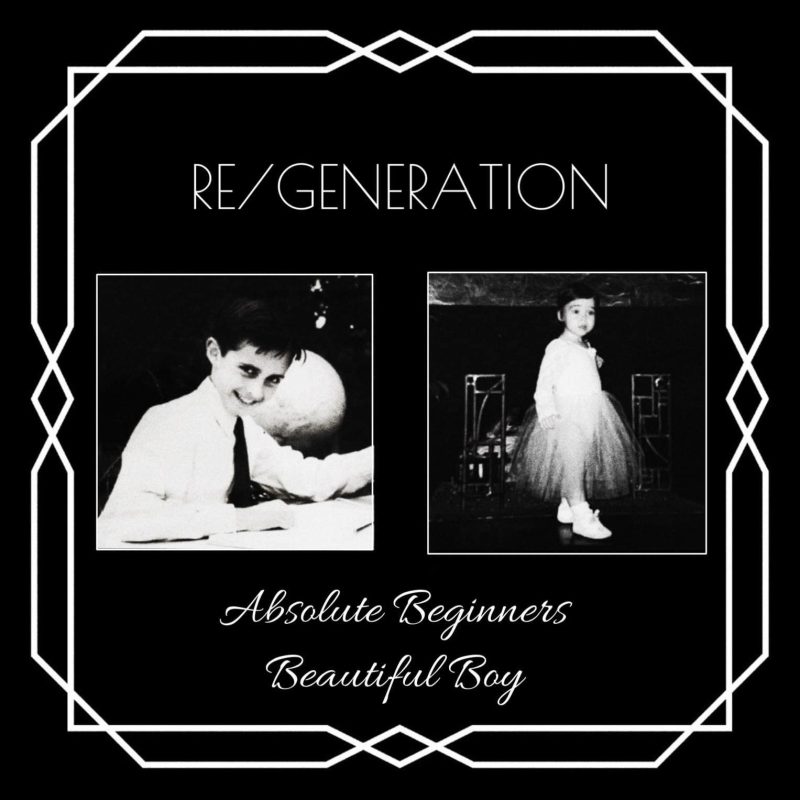 Photos by Leah Lane