Rosegarden Funeral Party has been a band near and dear to our hearts since we first came across their 2018 debut EP The Chopping Block. The band's infectious energy, lithe songwriting, and deep honesty struck a real chord in an era desperately seeking sincerity.
The band has released a bounty of riches over these last few years – beginning with their confessional live performance series Invested In Nostalgia and spitballing into TAKE COVER, a collaborative covers series that features a slew of inspired choices, from Bowie's underrated "Glass Spider" and "Loving the Alien" to Talk Talk's excellent "Another World," with plenty of other delights throughout. The band quickly followed this up quickly with a new full-length record, IN THE WAKE OF FIRE, which was released just after I was finished compiling my best of 2021 list for the site, yet quickly carved out a well-deserved place even after one listen.
For those unfamiliar with Rosegarden Funeral Party – you can expect hard-hitting post-punk fury at every turn, peppered with catchy hooks. The band, consisting of drummer Dylan Stamas, bassist Michael Doty, synth player Michael Ortega, and vocalist and guitarist Leah Lane invoke the spirit of the initial wave when post-punk gave way to what we now know as goth. If you insist on comparisons, imagine Skeletal Family or The March Violets with the swagger of The Pretenders and the songwriting prowess of Blondie and you might be on the right track, though the band is so much more than the sum of their influences. With that in mind, have a listen for yourself – we're honored to premiere the latest video from the band, "Polaroid."
The track goes straight for the jugular with a throbbing disco beat, thick sonorous bass lines, and perfect guitar/synth interplay, with Lane's captivating vocals driving the track forward through three minutes of infectious bliss. The lyrics touch on heartbreak and regret – that sinking feeling of being trapped in patterns throughout relationships. The video, filmed and directed by Erin Devany, is a powerful combination of performance clips and a shattered narrative of Lane bringing the song's lyrics to life.
We also had the chance to chat with Leah about the band's recent releases, songwriting process, and a newly announced tour alongside NYC's Bootblacks and Jay Aston's Gene Loves Jezebel.
—–
Rosegarden Funeral Party has been rather prolific over the last few years – you have a new record out with the band as well as an excellent LP of covers that you recorded with musicians all over the world. Can you tell us a bit about how both of these releases came together? 
When the 2020 pandemic began, Rosegarden Funeral Party had just come off of tour.  We had been going on the road a tremendous amount at that time and had become quite accustomed to that lifestyle as a band. Touring kept us close as a unit and provided us with constant inspiration for new material.  We would frequently write new songs while driving to the next show, playing our instruments through miniature amplifiers in the back of the van, and would test them out on stage that same night. It was a great way to figure out which songs worked and which songs didn't.  We were so grateful to be able to do that– to have that immediate feedback from our audience was priceless and incredibly beneficial. When the world shut down, the first thing that we did to keep our momentum was go straight into the studio to cement (what we believed) were the best of those songs written on the road "to tape." We went to Civil Audio Studio in Denton, Tx, owned and operated by Michael Briggs, and recorded our EP, At the Stake.  We released the five song EP just a few months later.  After we did that, we found ourselves a bit at a loss as to what to do next. After seeing a few bands do livestream shows (and doing a few ourselves), I came up with the idea for Invested in Nostalgia. Invested in Nostalgia is a series of filmed live performances of each of our releases, which at the time were two EPs (The Chopping Block and At the Stake) and one LP (MARTYR), with brief interviews with the band members between songs. My goal with Invested in Nostalgia was to bring our fans the Rosegarden Funeral Party live experience as much as we could at such a distance. I wanted them to feel close to us. Rosegarden Funeral Party is always looking to connect on a personal level to the people who listen to our music.
I realized, when watching the livestream performances that were appearing online at the time, that something was missing. There are two elements of seeing a band live that are important; one is seeing the band perform, the other is getting to witness a bit of that band's personality on a more intimate level. That's why we incorporated the brief interviews as a part of the series.  We wanted to try to bring that part of the live show experience into people's homes. Another goal of Invested in Nostalgia was to make sure that we didn't get out of practice while being off of the road. I wanted us to stay just as tight as we had been before the pandemic in preparation for when the world was able to safely open back up–which, at that time, we were thinking would be the beginning of 2021. I also hoped that by the end of the series having played all of our records would prepare us to begin work on a new record. However, fate had other plans! The world didn't recover as quickly as we thought that it would and I wasn't prepared to write a new record by the end of 2020. I just didn't feel I had written the best material I could yet. This led to the inception of TAKE COVER.  There were really three main goals with TAKE COVER. The first goal was to introduce our listeners to the bands that inspire us the most. The second goal (and the reason that we incorporated guest musicians on each track) was to introduce people to the talent of our friends and to inspire/highlight community and collaboration. The third goal was to put new tools in our toolbox when it came to writing our own new material. When I was just beginning to write songs for my first band as a young teenager, what shaped me the most as a songwriter was covering my favorite artists' music. I really think that you can learn so much from playing covers.
All of these experiences throughout 2020 into 2021 are what led to the creation of IN THE WAKE OF FIRE, a record that was truly born out of chaos, but also so much consideration and passion. Long-winded answer, I know(Sorry!), but it's all relevant.  It was really a continuous, linear journey that led us here. Much of life is like that.
Did your writing process change at all during the pandemic? Was writing music easier or more difficult? 
As I mentioned in the first question, before 2020 Rosegarden Funeral Party were writing a lot of songs on the road or between tours in rehearsals preparing for the road. When the touring stopped, the songwriting process changed quite substantially.  I reverted back to the way that I had written MARTYR and The Chopping Block. I reverted back to a much more introverted writing style. I would sit at my piano or with my guitar when inspiration struck me and hammer out the bare bones of a song.  Then, I would record a demo video or voice memo on my phone and save it. While we were working on Invested in Nostalgia and TAKE COVER I quietly compiled the songs that I hoped would eventually become the next record for us. As 2021 reached its arch in about August, I began showing the boys my demos and we carefully chose the songs that we felt were the best of the lot. We went into Civil Audio Studio with Michael Briggs shortly thereafter and began writing the record in the studio, which is something we had never done before! Most of the time, I would bring the bones of a song (the lyrics, structure, vocal melody, and chord progression) to the boys in rehearsal (or in the van!) and they would compose their parts for the song during that time. This was the first time that all parts for the songs were composed in the studio–aside from one or two acoustic rehearsals we had in my apartment. It was a completely new experience for us, but, I think, we were fairly well prepared for it after the cover series. All of those covers were recorded in one day, including all the videos by Erin Devany! Everything, music and visuals, were each  completed in their own 10 hour session. That being said, after doing the covers, we became pretty accustomed to working in the studio quickly, rather than hashing things out in the rehearsal room.
I'm not sure if I would say it was more or less difficult, it was just very different.  I'm glad we did it the way that we did.  I really believe we made the most out of the experience and that we learned a lot from everything we did the last two years, but I think I speak for everyone when I say that we're excited to get back into our element and write on (and in between) tours.
Tell us a bit about "Polaroid" – what inspired the track? 
"Polaroid" is about memories, really, and the way that they fade with time.  I struggle to say anything else, honestly.  It's there in the lyrics…
How did the video come together? 
Rosegarden Funeral Party has been working with the same videographer since the very first video and since she has done every single video we have ever put out. This includes all of Invested In Nostalgia and TAKE COVER.  Her name is Erin Devany and her production company is called All Hallows Productions. I truly cannot speak highly enough of Erin. She is as much a part of the band as I am or the boys are. When Rosegarden Funeral Party did our first music video in 2018 for our first single, "Blitzkrieg in Holland," I asked Erin if she would be interested in doing every single video Rosegarden Funeral Party. You can actually watch her tell the story in her words in our fourth installment of Invested In Nostalgia on Youtube. The great thing about having this kind of working relationship with someone, a relationship that is so developed over so many different projects and so much time, is that everything just happens naturally. For this video, all I had to tell Erin was that I wanted to combine certain elements of our video for "Tortured Decline" and our video for "Gates of Heaven" and provided her a color palette.  We shot the video at my apartment building, as well as our local haunt, Three Links in Deep Ellum.  It was an all day affair.  One spent laughing.  It was a true joy to shoot, just as they all are.
Rosegarden's lyrics often cut deep and seem rather personal – can you share a bit about your lyric writing process? 
I write from direct experience. Songwriting has always been my form of therapy and self-psycho-analysis–I think songwriting is that for a lot of artists, I don't think I'm unique in that. It has provided me with the purest introspection. I think that when I sing and I simply let words pour out of me, I don't have time to be dishonest with myself. I have learned so much about myself and my feelings by allowing myself to sing about what I'm experiencing or coming to grips with. The writing process for me is very organic and very natural. Most of the time I just… begin… and the songs find their way from my heart and my mind and out of my voice and fingertips. This sounds a bit poetic, because that is exactly what the process is… poetry…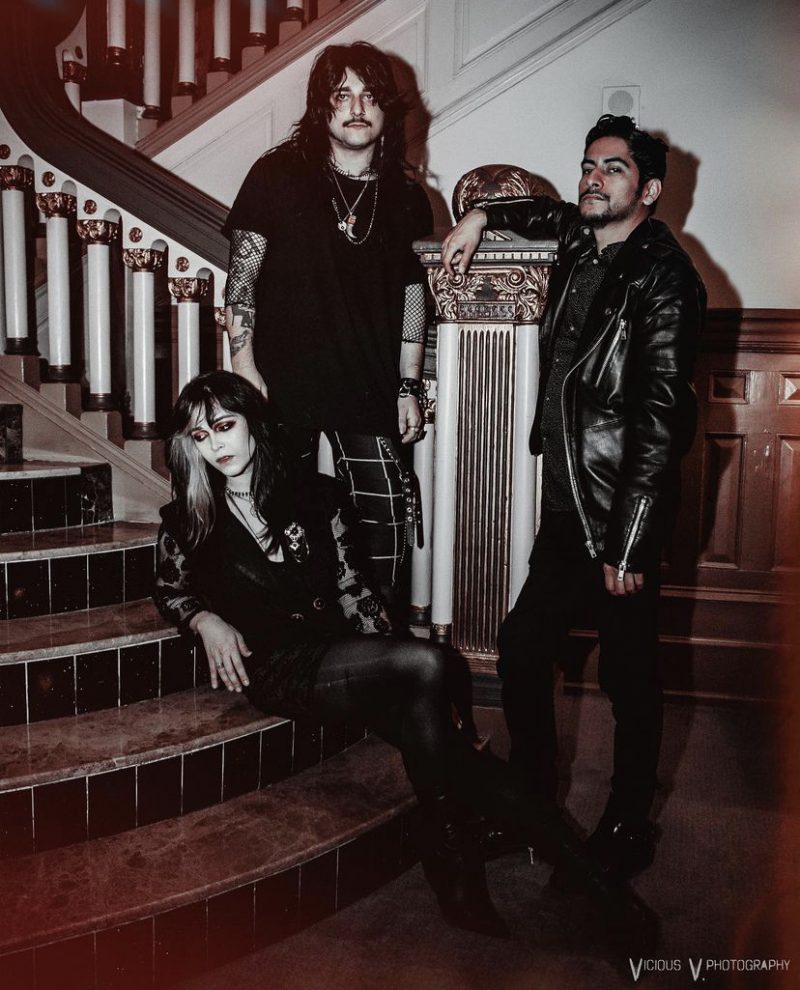 Your live show has always been incendiary, to say the least. I am always blown away by the band's live presence every time I see you all play. Can you speak a bit to your relationship with the stage and the audience? 
First of all, thank you so much for your kind words about our live shows. That truly means a lot to us. When we play live, we feel most in our element as a group. We not only feel the most connected with one another in those moments on stage, but we also feel most connected to our listeners. Honestly, the boys and I have talked about it many times and we truly feel like they (the audience) are as much a part of Rosegarden Funeral Party as we are. They understand what we're saying because they listen. We share such a beautiful moment when we get to listen in the same room together. At the end of every set we've ever played, I say something that I always mean from the bottom of my heart:
"Thank you all for being a part of our family tonight and now forever.  We want to remind you to be kind to each other and remember that we love you."
This is a prayer and a promise. Rosegarden Funeral Party was a product of heartbreak, but it seeks to bring healing, understanding, love, and compassion. The last song on IN THE WAKE OF FIRE was written as a love song to those who attend our shows and listen to our music… I feel like that song says it much better than anything I could say here.
I appreciate that Rosegarden Funeral Party is not afraid to invoke the "goth" card – most bands new and old seem to shy away from it and feel embarrassed by the term. What drives the band's interest in this music? 
You know, the thing about the term "goth" is that it is a term created in hindsight. When that musical movement was actually happening in the late seventies and early eights, no one called it "goth." It was simply the evolution of punk at the time. We don't shy away from the term because we are a band created in hindsight. The vast majority of our influences are of that particular time and "goth" just happens to be what that movement is referred to today. I don't really take the labels too seriously. One thing I will say, however, is that we are absolutely proud to be a part of the goth community. Before I was in Rosegarden Funeral Party, I was in a psychedelic band playing organ and percussion. That scene can be rough around the edges. The people (by and large) weren't the nicest. When I started Rosegarden Funeral Party and began to play shows in the goth scene, I was amazed at the striking kindness and acceptance of the people in the community. And, not only are they kind and accepting, but they are true lovers of music! One of the things I love the most about the goth scene is that they'll dance to "Blue Jean" by David Bowie just as readily as they'll dance to "Promise Land" by Skeletal Family. I love that this scene doesn't pigeonhole its artists. I love the loyalty of the scene to individualism. That's what punk has always been about, right? For a multitude of reasons, we don't shy away from the title of a goth band. Hell, we're bloody proud of it.
That all being said, I appreciate that TAKE COVER takes on some less obvious artists – though we all know Bowie and Roxy can easily be considered early influences on post-punk and goth, I love that you all took on Duncan Browne, Pulp, and Peter Gabriel, amongst others. What inspired your choices for the record?
When I came up with the idea for TAKE COVER I was adamant that we not cover a single song that would be "expected" of a goth or post-punk band. I told the boys, "No Cure, no Bauhaus, no Sisters of Mercy, no Joy Division, no Depeche Mode, etc…" This was for a few reasons, the first of which being that I thought–and still think–that it would be far less interesting to hear us cover Siouxsie and the Banshees than it would be to hear us cover Sparks, for instance! I didn't want to cover any bands or artists that we are already compared to. What's the fun in that?! Another reason that I wanted to do covers by bands that aren't considered to be goth or post-punk is because I wanted to see how far our listeners would go with us on a journey in musical exploration. As I said above, one of the best aspects of the goth community is that they don't ignore other great genres of music. I liked the idea of playing with our audience a little bit. I liked the idea of surprising them with covers that were totally out of left field, but also not that far off if you know your history–which most people do! The third reason that these specific artists were chosen is that I wanted to expose them to our fanbase. This is particularly the case with Metro and with Duncan Browne, two of my absolute favorites. I wanted our audience to see/hear our covers and possibly discover something new and have their own musical journey because of that. It was a really interesting way of sharing music with our listener base.
*Side Note: I am proud of all of the TAKE COVER installments, but there is one in particular that I still can't believe really happened and that is "Middle of the Night" by Metro. That cover features TWO of the original members of Metro, guitarist Colin Wight and lead singer Peter Godwin. It was a dream come true to make that happen. I won't tell the story of how it happened here or we'd be here all day, but if you're interested, the story is in the bio of our "Middle of the Night" cover video on YouTube. Check it out.  Oh, and ALSO, Peter and I have been working on a record together for the last year or so. More news on that to come, but I thought I'd just slip that in!
What's next for the band? I'm rather excited about the tour with Jay Aston's Gene Loves Jezebel this summer. 
We are too!  Very much so!  Jay Aston is such a sweetheart. We had the absolute pleasure of playing with him at SXSW and spent a great deal of time chatting with him after the show. He is such a kind, down to earth, respectful soul. We also will be getting to share some of those bills with two other incredible bands; the Rope and Bootblacks. We truly feel so fortunate. I am so grateful for our booking agents, Joady and Andrew Harper of Rocky Road Touring, for making this possible for us. The road is certainly where we feel most at home and we couldn't be more excited to go to what we do best. After we come off the road with Gene Loves Jezebel, we will most likely (lightly!) begin work on our next record. As I mentioned above, we like to write while on tour, so I'm sure there will be at least a few songs born out of that experience. The future looks quite welcoming currently, although it is never certain and it is rarely clear. David Bowie said it best, "I don't know where I'm going from here, but I promise it won't be boring."
Thank you so much for doing this interview with me.  I truly appreciate it.  I hope you enjoy my answers as much as I enjoyed your thoughtful questions.  Peace and happiness. X
Be kind to each other! We love you!
—–
JAY ASTON'S GENE LOVES JEZEBEL TOUR DATES:
Thu, May 26 – Kansas City MO @ Record Bar
Fri, May 27 – Minneapolis MN @ Hook and Ladder
Sat, May 28 – Madison WI
Sun, May 29 – Chicago IL @ Chop Shop
Tue, May 31 – Toronto ON @ Velvet Underground
Wed, June 1 – Cleveland OH @ House of Blues Cambridge Room
Thu, June 2 – Detroit MI @ Magic Bag
Sat, June 4 – Columbus OH @ Rumba
Sun, June 5 – Pittsburgh PA
Tue, June 7 – Millersville PA @ Phantom Power
Wed, June 8 – Boston MA @ Brighton Music Hall
Thu, June 9 – New York NY @ Bowery Ballroom
Fri, June 10 – Philadelphia PA @ Kungfu Necktie
Sat, June 11 – Richmond VA @ The Broadberry
Sun, June 12 – Asheville NC
Tue, June 14 – Atlanta GA
Thu, June 16 – Tampa FL @ Crowbar
Fri, June 17 – Orlando FL @ Will's Pub
Sat, June 18 – Miami FL @ Gramps
Mon, June 20 – New Orleans LA @ The Goat
Tue, June 21 – Austin TX @ Elysium
Wed, June 22 – Dallas TX @ Trees
Fri, June 24 – Phoenix AZ
Sat, June 25 – Los Angeles CA
Photos by Vera Velma Hernandez