The artist collective of PHAGES is what some would call an electronic music supergroup. With music primarily by Holeg Spies (one-half of the film soundtrack producers, Savage & Spies), the name includes contributions by Ah Cama-Sotz (Belgian artist with releases on Hands and Ant-Zen), Empirion (UK artist with remixes of Front 242 and The Prodigy), Textbeak (US artist with work alongside John Fryer and Mark Stewart), Blazergrad (France), Moscos (Iran/Australia), Thundergate (UK), and La Peste (France).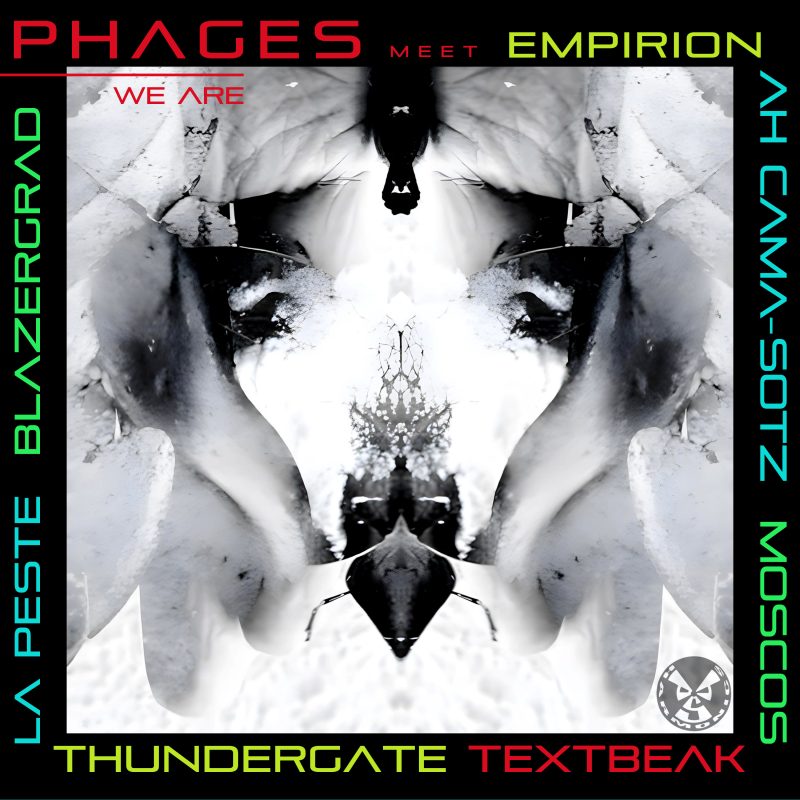 PHAGE's first LP collection titled WE ARE crosses electronic music boundaries and boasts high production dance music that dips into industrial IDM, techno, trance, electro futurism on the Australian-based label Psy-Harmonics. Alongside the artwork of Clara Mantal, the project exudes a diverse aural and visual landscape of futuristic aesthetics that's available today, May 5th on Bandcamp and all other digital stores and streaming services May 22nd.
From the get, WE ARE catapults into PHAGES' "1.2 (Emperion Remix)," a melodic techno offering that feels worthy of a Mute Records release. Blazergrad vs. PHAGES track "1.3" is electronic dance dipped into tough EBM, while Mocos vs PHAGES' "2.3" is hard hitting techno. "1.4" by Thundergate vs PHAGES is a metallicized industrial track and "1.3" has a rowdy rave groove that is suitable for peak time dance floors. The LP closes out with Textbeak vs PHAGES with "4.1"—a track whose ghostly noises swarm and sweep around gritty vocals. No matter the mood, WE ARE touches across all subgenres of dark, blistering electronic music.