Renowned synthpop icons Pet Shop Boys are set to immortalize their illustrious career in an upcoming anthology, SMASH — The Singles 1985-2020. The collection, which compiles 55 of their groundbreaking singles from 1985's "West End Girls" to 2020's "I Don't Wanna" off Hotspot, is poised to hit shelves on June 16.
With this collection, Pet Shop Boys unleash an all-encompassing anthology that promises to refresh their celebrated discography. Inspired by a request from Warner Bros. for a vinyl reissue of their out-of-print 1991 compilation, Discography, the duo of Neil Tennant and Chris Lowe have proposed an alternative approach.
In a recent social media post, the band acknowledged the challenge of defining what constitutes a single in the current era. With tracks being streamed and pushed to radio without a physical release, it can be difficult to determine which songs should be included in a retrospective collection. To resolve this issue, the Pet Shop Boys have decided to include only singles that were released on CD in the U.K. from "Suburbia" onwards. Additionally, in the case of double A-side singles and EPs, only the lead track that received radio play has been included. True to the Pet Shop Boys' ethos, SMASH features 7″ mixes that graced the airwaves, with the exception of "New York City Boy," which showcases the American radio edit favoured by the duo.
This anthology promises to be a comprehensive representation of Pet Shop Boys' musical output, making it an essential addition to any collection. With their innovative approach to curation, the duo continues to demonstrate their artistic prowess and willingness to evolve with the times. Relive the Pet Shop Boys' musical odyssey with the deluxe 6LP vinyl edition or the 3CD/2 Blu-ray set, both available for pre-order now at PetShopBoys.co.uk and Rhino Records.
As their legions of fans await the release of SMASH, Pet Shop Boys continue to break new ground. They're currently working on a new album produced by James Ford, who worked on Depeche Mode's Memento Mori, and will soon resume their "Dreamworld" greatest hits tour across Europe. Additionally, they're set to release an EP, Lost. Lost will present featuring five previously unreleased tracks from 2015. Slated for an April 14 release, Lost is also available for pre-order here.
Meanwhile, dive into Pet Shop Boys' synthpop legacy with the full tracklist for SMASH:
Vinyl (6LP)
Side 1
1. West End Girls
2. Love Comes Quickly
3. Opportunities (Let's Make Lots Of Money)
4. Suburbia
Side 2
1. It's A Sin
2. What Have I Done To Deserve This?
3. Rent
4. Always On My Mind
5. Heart
Side 3
1. Domino Dancing
2. Left To My Own Devices
3. It's Alright
4. So Hard
Side 4
1. Being Boring
2. Where The Streets Have No Name/I Can't Take My Eyes Off You
3. Jealousy
4. DJ Culture
5. Was It Worth It? (7" Version)
Side 5
1. Can You Forgive Her?
2. Go West
3. I Wouldn't Normally Do This Kind Of Thing (7" Version)
4. Liberation
Side 6
1. Yesterday, When I Was Mad (Single Version)
2. Paninaro 95
3. Before
4. Se A Vida E (That's The Way Life Is)
5. Single Bilingual
Side 7
1. A Red Letter Day
2. Somewhere
3. I Don't Know What You Want But I Can't Give It Any More
4. New York City Boy (US Radio Edit)
Side 8
1. You Only Tell Me You Love Me When You're Drunk
2. Home and Dry
3. I Get Along (Radio Edit)
4. Miracles (Radio Edit)
5. Flamboyant (7" Mix)
Side 9
1. I'm With Stupid
2. Minimal (Radio Edit)
3. Numb (Single Edit)
4. Love Etc.
5. Did You See Me Coming?
Side 10
1. It Doesn't Often Snow At Christmas (New Version)
2. Together (Ultimate Mix)
3. Winner
4. Leaving
5. Memory Of The Future (New Single Mix)
Side 11
1. Vocal (Radio Edit)
2. Love Is A Bourgeois Construct (Night-time Radio Edit)
3. Thursday (Feat. Example) (Radio Edit)
4. The Pop Kids (Radio Edit)
Side 12
1. Twenty-Something (Radio Edit)
2. Say It To Me (New Radio Mix)
3. Dreamland (feat. Years & Years)
4. Monkey Business (Radio Edit)
5. I Don't Wanna (Radio Edit)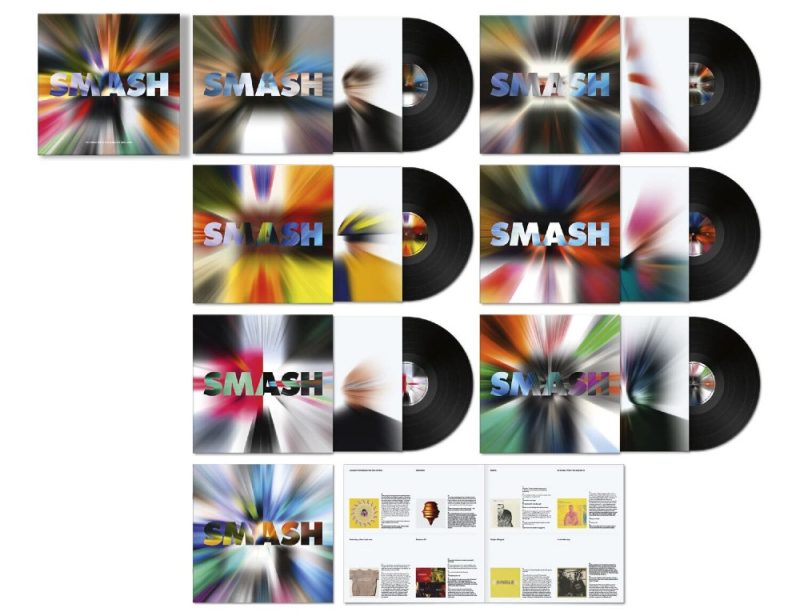 3 CD + 2 Blu-ray Videography
CD1
1 West End Girls
2. Love Comes Quickly
3. Opportunities (Let's Make Lots Of Money)
4. Suburbia
5. It's A Sin
6. What Have I Done To Deserve This?
7. Rent
8. Always On My Mind
9. Heart
10. Domino Dancing
11. Left To My Own Devices
12. It's Alright
13. So Hard
14. Being Boring
15. Where The Streets Have No Name/I Can't Take My Eyes Off You
16. Jealousy
17. DJ Culture
18. Was It Worth It? (7" Version)
CD2
1. Can You Forgive Her?
2. Go West
3. I Wouldn't Normally Do This Kind Of Thing (7" Version)
4. Liberation
5. Yesterday, When I Was Mad (Single Version)
6. Paninaro 95
7. Before
8. Se A Vida E (That's The Way Life Is)
9. Single Bilingual
10. A Red Letter Day
11. Somewhere
12. I Don't Know What You Want But I Can't Give It Any More
13. New York City Boy (US Radio Edit)
14. You Only Tell Me You Love Me When You're Drunk
15. Home and Dry
16. I Get Along (Radio Edit)
17. Miracles (Radio Edit)
18. Flamboyant (7" Mix)
CD3
1. I'm With Stupid
2. Minimal (Radio Edit)
3. Numb (Single Edit)
4. Love Etc.
5. Did You See Me Coming?
6. It Doesn't Often Snow At Christmas (New Version)
7. Together (Ultimate Mix)
8. Winner
9. Leaving
10. Memory Of The future (New Single Mix)
11. Vocal (Radio Edit)
12. Love Is A Bourgeois Construct (Night-time Radio Edit)
13. Thursday (feat. Example) (Radio Edit)
14. The Pop Kids (Radio Edit)
15. Twenty-Something (Radio Edit)
16. Say It To Me (New Radio Mix)
17. Dreamland (feat. Years & Years)
18. Monkey Business (Radio Edit)
19. I Don't Wanna (Radio Edit)
Blu-ray 1 – The Complete Videos: 1985-2020
1. West End Girls
2. Love Comes Quickly
3. Opportunities (Let's Make Lots Of Money) (Version 2)
4. Suburbia
5. It's A Sin
6. What Have I Done To Deserve This?
7. Rent
8. Always On My Mind
9. Heart
10. Domino Dancing
11. Left To My Own Devices
12. It's Alright
13. So Hard
14. Being Boring
15. Where The Streets Have No Name/I Can't Take My Eyes Off You
16. Jealousy
17. DJ Culture
18. Was It Worth It? (7" Version)
19. Can You Forgive Her?
20. Go West
21. I Wouldn't Normally Do This Kind Of Thing
22. Liberation
23. Yesterday, When I Was Mad
24. Paninaro '95
25. Before
26. Se A Vida E (That's The Way Life Is)
27. Single Bilingual
28. A Red Letter Day
29. Somewhere
30. I Don't Know What You Want But I Can't Give It Any More
31. New York City Boy
32. You Only Tell Me You Love Me When You're Drunk
33. Home and Dry
34. I Get Along/E-Mail
35. Miracles (Radio Edit)
36. Flamboyant (7" Mix)
37. I'm With Stupid
38. Minimal (Radio Edit)
39. Numb
40. Love Etc.
41. Did You See Me Coming?
42. It Doesn't Often Snow At Christmas (Live At The O2 Arena, 2009)
43. Together
44. Winner
45. Leaving
46. Memory of The Future (Official Lyric Video)
47. Vocal (Radio Edit)
48. Thursday (Feat. Example) (Radio Edit)
49. The Pop Kids (Official Lyric Video)
50. Twenty-Something
51. Dreamland (Feat. Years & Years) (Official Lyric Video)
52. Monkey Business
53. I Don't Wanna (Animated Lyric Video)
Blu-ray 2 – The extras
1. Opportunities (Let's Make Lots Of Money) (Original Version)
2. Paninaro (1986 Video)
3. Domino Dancing (Extended Version)
4. So Hard (Extended Version)
5. How Can You Expect To Be Taken Seriously?
6. Go West (Extended Version)
7. London
8. Integral
9. All over The World (Live At The O2 Arena, 2009)
10. Invisible
11. Axis
13. On Social Media (Official Lyric Video)
16. Burning The Heather (Official Lyric Video)