New York City post-punk heroes Blacklist return once again with their signature brand of powerful and dark atmospheric anthems. And with what we have collectively endured the past two years, new music from the band has arrived just when we need it most. The group's latest offering, "The Final Resistance",  is a captivating and dense explosion of coldwave and unfettered emotion. the song is a MOTC-style manifesto bridging the previous era of Blacklist to the present, with a soaring battle cry led by frontman Joshua Strawn, with backing vocals from Zohra Atash and Erin Hunter.
We would be remiss to not mention the song has a guitar solo standing toe to toe with the work of Mancunian legends Johnny Marr and Billy Duffy.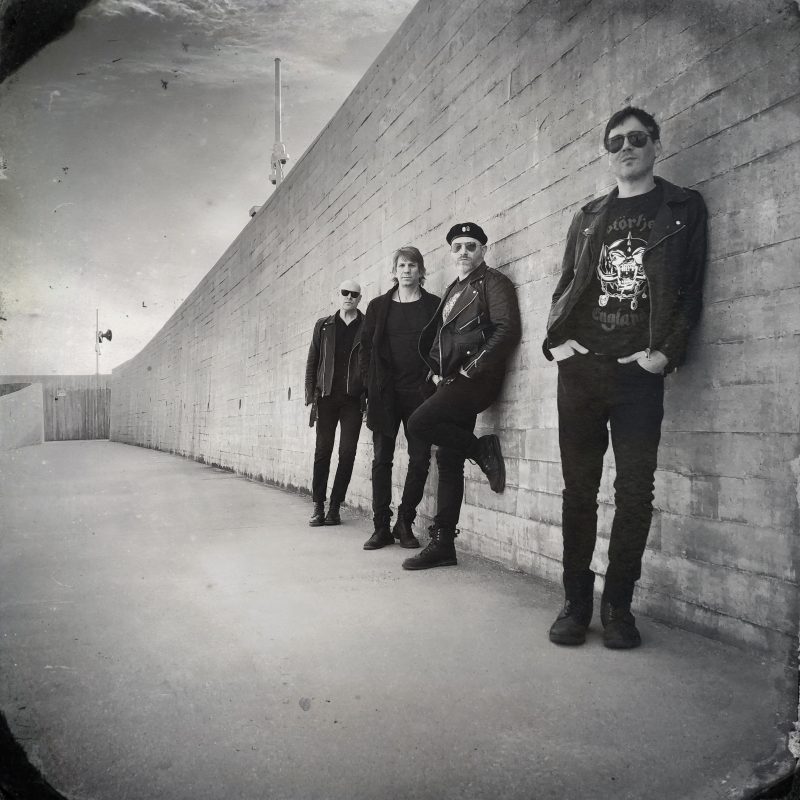 And Blacklist proudly wave the banner of their post-punk and dark rock forebears, citing My Bloody Valentine, Motörhead, and Black Sabbath as influences, alongside bands like Comsat Angels, Killing Joke, and The Sound. In addition to mining this sprawling old-school palette, singer Joshua Strachan's politically charged lyrics also bring to mind The Call, Manic Street Preachers, and The Sisters of Mercy.
"It's really hard to get excited about the idea of yet another white guy screaming about how he has all the answers," Strachan says. "I tried to do less of that. As far as I can tell, our humanity is fracturing and our social selves are withering all as a result of decreasing ability to connect to others. Our word for an intense connection to others is 'love.' I think almost because we still have a hangover from the 60s counterculture's politics of love, it can be easy to imagine that's no longer a good idea or no longer relevant. I got to thinking about the re-energizing of love as a revolutionary idea. This is kind of a personal revolution, it's internal, it's local. It's not at this world-historical ideological scale. I stumbled across a Bell Hooks essay on the politics of love as resistance that really solidified everything. She writes, "A culture of domination is anti-love. It requires violence to sustain itself. To choose love is to go against the prevailing values of the culture."
The visualizer, created by artist Joan Pope, is a hazy, smoky glimpse into the ether.
Blacklist's debut LP, Midnight of the Century, produced by Ed Buller (Suede, Pulp), was released in 2009. The album explored the fear of looming fascism on the horizon bolstered by dangerous religious dogmas. After a long hiatus, the band returned in the summer of 2020 with the "Disorder" single which was inspired by civil rights protests in the United States; the B-Side, "No Secret Islands", took aim at the dystopian fantasies of tech billionaires.
"The world feels like a darker place today…the lyrics come from a much more introspective place. Nearly every song on Midnight of the Century was about one basic idea: that the road to fascism is paved with irrationality elevated to a religious principle, and with nostalgia for imagined golden eras. Some people found that really odd (even annoying) back then. I wrote songs about rejecting and resisting it. It was actually hard for a long time to imagine what I'd write a new Blacklist album about. Every year that passed, those songs just hit harder and harder. But then one day I woke up and we'd crossed into a new zone. Fascism isn't a looming possibility anymore, it's just literally here. To different extents in different places, but it's here nevertheless. So what's next?"
"The Final Resistance" is the lead single from Blacklist's forthcoming new LP due this October, Afterworld (Profound Lore Records).
Find the new single on the Blacklist's Bandcamp page below:
Blacklist is compromised of  Joshua Strachan, Ryan Rayhill, Glenn Maryansky, James Minor, and Chad Dziewior. The band are scheduled to play their first show this year in Brooklyn next week, followed by a long-awaited appearance at WGT in Germany.
Live Shows
Follow Blacklist: