You rearranged me
Not to feel pain
I stay the same
You want to retrain me
You rearrange me
A Bushwick trash room may not appear to be the most auspicious band origin environment, but these humble trappings birthed Brooklyn's Ashjesus, a "young, loud, and saucy" four-piece.
Serving up anthemic, soul-driven diatribes with angular guitars, ample feedback, hard-hitting drums, and a heaping side order of melodrama, Ashjesus formed in that very trash room in June 2019. The current lineup consists of guitarist Cammy Licious (Whiner), bassist Johnny Dynamite (The Bloodsuckers), and, the piece de resistance, the incomparable Emily Ashenden shredding on vocals.
Emily Ashenden is a familiar sight in the Brooklyn music scene, bursting with energy, delivering mile-a-minute wisecracks at a Robin Williams pace, and coiffed with the wonderfully anarchic mane of a toddler who's just discovered the power of scissors. Her spirited karaoke sessions at Alphaville are the stuff of New York legend. Ashenden is a bright young thing, brilliantly witty, and boy can she belt them out: we're talking the roaring decibels of Ethel Merman fronting the Stooges with the passion of Pylon. She is as much of the time as she is bemused time traveler, drawing inspiration from a myriad of sources. Shades of Siouxsie here; shades of the New York Dolls there.
Ashjesus's NYC live shows in The Before Times were a real treat: the petite, elfin Ashenden exploding on stage, screaming about a desire to shed the hellscape of Bushwick to live in Ridgewood, Queens (hey, it worked for Genesis P. Orridge); confronting audience hecklers, pogo dancing as if her feet were made of springs. Flanked by Cammy and Johnny, the core of Ashjesus exploded on the music scene, playing clubs galore in the Lower East Side and Brooklyn.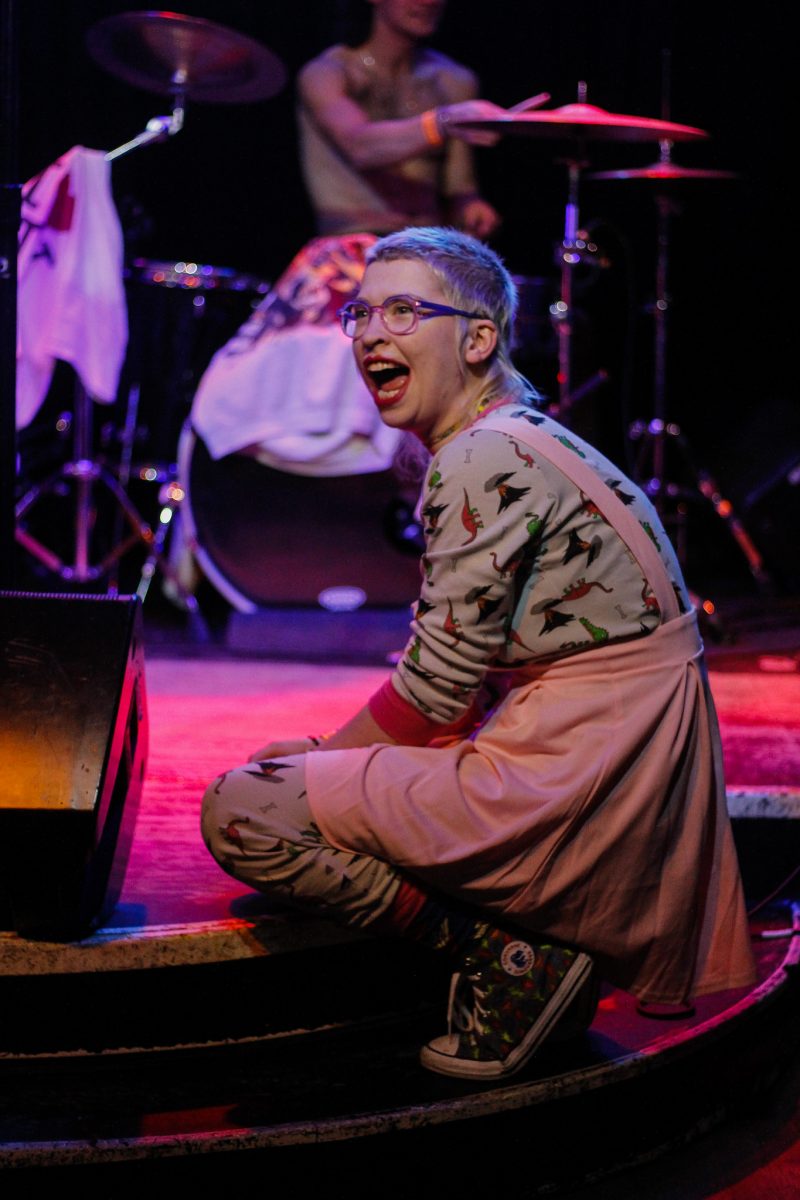 Fortunately, their volcanic energy translates well to the studio. Ashjesus released their first EP, Demo I, soon after forming. They quickly followed up with Demo II in January 2020. After a personnel shakeup earlier this year, Ashjesus reformed with a new drummer, Davie Sarnes. They're set to begin recording a third EP to be released within the year.
The song Deev, off Demo II, is out now with a wonderfully creative video. Opening with a rueful guitar bringing to mind a darker We Got The Beat, Deev launches right into raw anguish and rage. It is an anthem for those who struggle with the echoes of abuse; those shouldering the burden of another's displaced emotional labour through various forms of masochism. Ashenden's deeply personal strife inspired the track, which was written after she stopped using.
"I was starting to shed the numb state I had become used to living in. Being awake in a new way, I felt exposed and started to see relationships more clearly for what they are. I recognized my own tendency to try to find healing within others instead of myself. Which doesn't work, go figure!" says Ashenden.
Around the time of the release of Demo II, artist Laura Belmont began working on a video for Deev. The stop motion animation brings to mind the work of the Brothers Quay on Peter Gabriel's Sledgehammer, but with a much darker twist.
"We had a brief dialogue about the meaning behind the song and envisioned the protagonist overcoming and encountering various obstacles and dangers," says Ashenden. "Originally, there were thoughts of the protagonist being a small animal, like a mouse or squirrel. Laura sculpted a strong, nude woman, which encapsulated a fearless vulnerability. That was the clear choice. The never-ending road Laura dreamt up is the visual of keeping on the 'track.'"
Give Deev a listen here, won'tcha?
And check out more of Ashjesus's offerings here: