NYC goth-grunge act Heavy Halo unfurls a new track, "Crush", off their self-titled debut album, due out November 5th via Negative Gain.
"Crush is about escapism through each other," says the band. "The world has worn you both down. So you reveal your true fucked up sides and are bound together. You crush each other and thirst for more. It's the only way to feel again."
Heavy Halo forged in the NYC underground between McKeever and Gosteffects. McKeever spent years studying composition at Columbia University, all the while playing sweat-soaked DIY venues. Gosteffects, in the meantime, was banging out weaponized techno at illegal raves across the country. Heavy Halo wouldn't come together until after McKeever went through a chaotic spiral that sent him to New Orleans, Los Angeles, a psychiatric ward, and back. Finally, the two met and immediately felt something in common: both would be dead if they didn't create music. They regrouped in New York's pandemic wasteland, holed up in Gosteffect's studio (built in a former hospital). Driven by desperation and claustrophobia, they ended up crafting the most emotional songs either had ever recorded.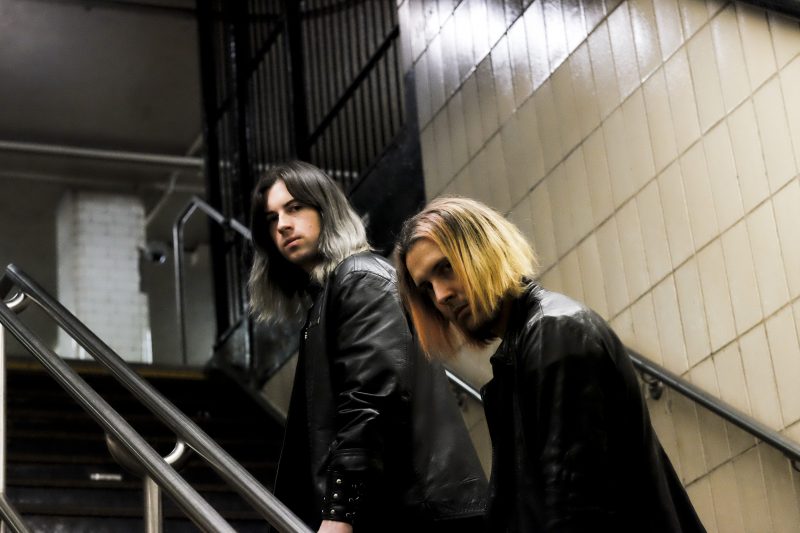 "Heavy Halo is getting up after life beats the shit out of you and spitting back in its face," says McKeever.
The resulting album is pure catharsis. Running with the spirit and existential angst of alternative and industrial, the band filters through the shattered prism of the internet age with jagged guitars and raw electronics exploding over 808's. At their core, Heavy Halo are melody junkies, lacing tracks with shameless hooks and McKeever's unfiltered vocals.
The video, directed by Meta Armory, was filmed at the "seediest themed love motel in Queens we could find," says the band. "We drove out there with our friends Eddie and Eliana to try and capture a sensual catharsis. Mirrors on every wall refracted and distorted the dark romance." The video is pure eye candy filtered through a drunken haze and confused thoughts.
Watch below:
Follow Heavy Halo: